Here is a list of known articles around the time of the tour. If you know of anything that is missing please do let us know.
Some display images are low res, the link goes to high-resolution version. Some of the links especially PDFs are *big* so please hold on!.


Record Mirror archive 1955-1981
Searchable, most editions


Fanzines: Great Collection
Great collection of scanned fanzines from the 1970s and 1980s








NickSheppard Instagram posts • Gramtower
https://www.gramtower.com/hashtag/NickSheppard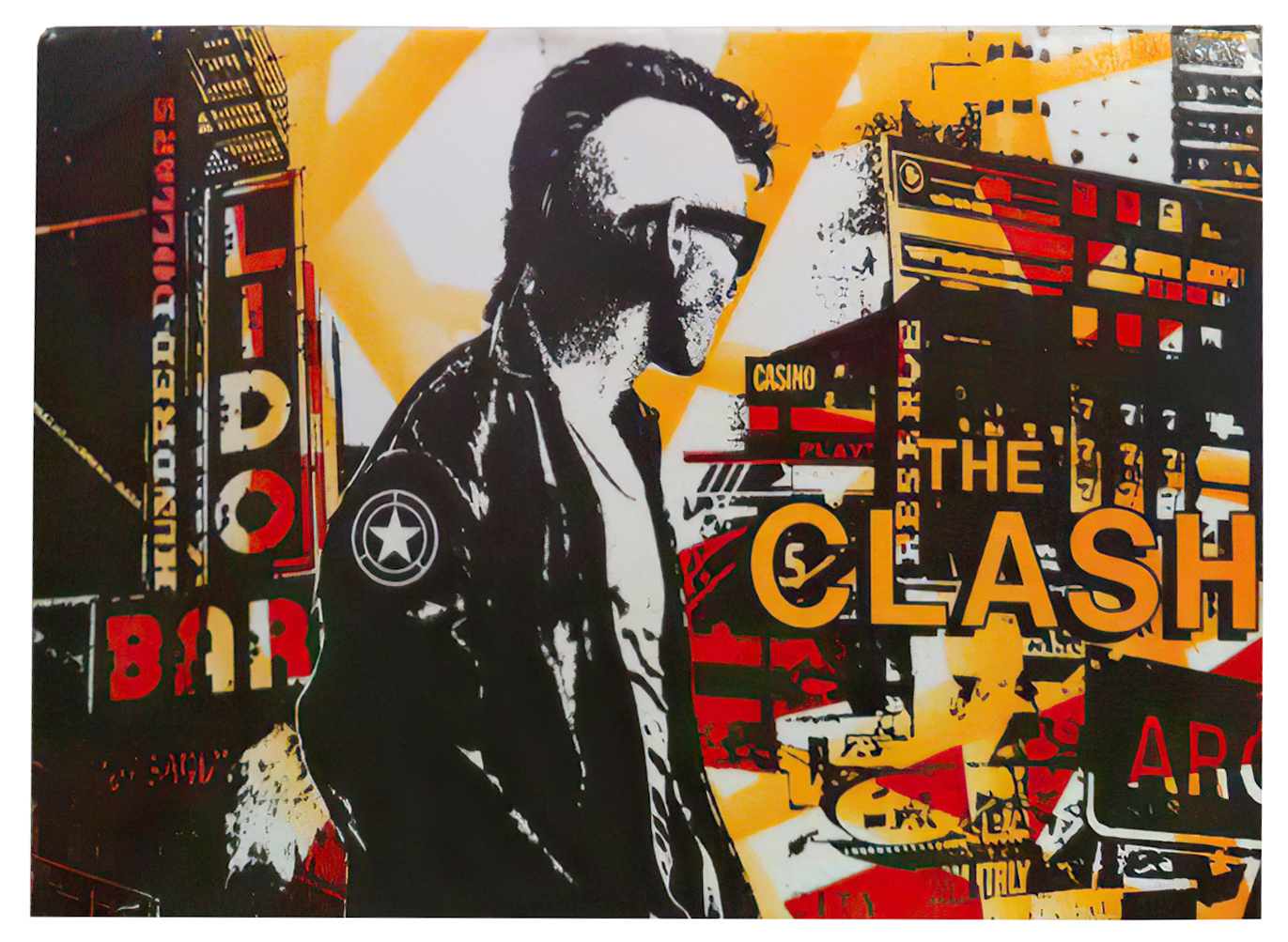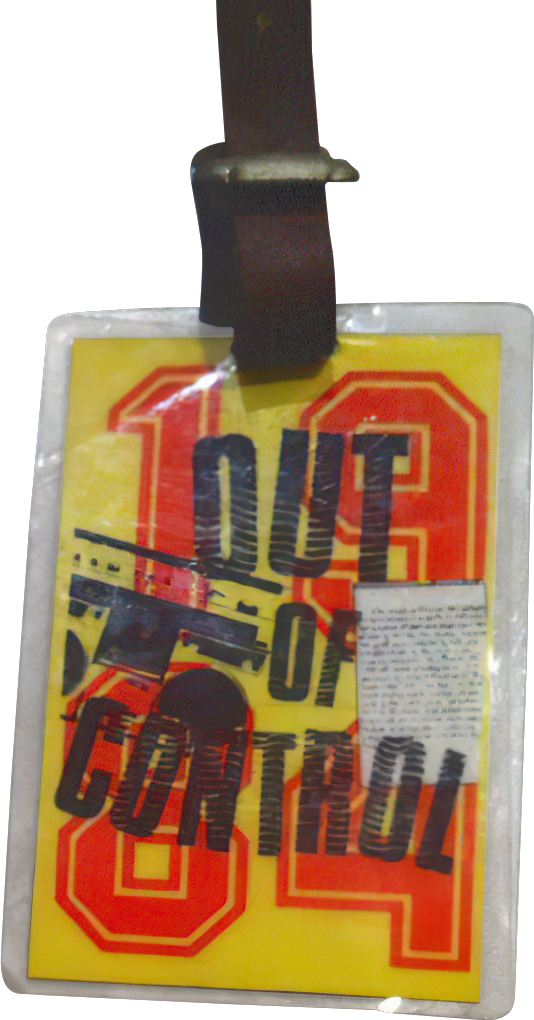 NME 10 Sept 83 – Mick Jones sacked from Clash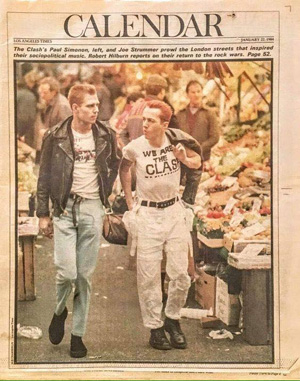 LA Times – 8 page PDF
Robert Hilburn
22 Jan 84
Calendar
A reformed Clash back on the attack
The Clash is a rock band that lives up to its name.
Band leader Joe Strummer and manager Bernard Rhodes were irate a few nights ago about an item in the Sun newspaper.
text only or archived pdf


British band battles youth apathy
Fond Du Lac Commonwealth Reporter Fri Mar 30 1984

By YARDENA ARAR Associated Press Writer
LOS ANGELES (AP)
The Clash, hardy survivors of the British punk revolution, are regrouping as they con-tinue their battle against complacency. "Punk is an attitude that kids need," said singer-song-*writer-guitarist Joe Strummer, still an angry young man at age 30, as he sipped a wine spritzer at a Hollywood hotel. The band was using the hotel as headquarters during a recent series of California performances. The shows were The Clash's first since the depar-ture last year of Mick Jones, who co-wrote many of the band's best-known songs with Strummer, and who shared lead vocals as well. "A friend is someone you ...


Revised Clash Returns to the Music Front
Detroit Citizens Voice
Fri Mar 23 1984

The Clash has returned to the musical bat-tlefield after being missing in action for near-ly a year. Following a turbulent year characterized by internal upheaval and external silence, the Epic band that rocked the world with such socio-political LPs as Sandinista! and London Calling has returned to the front lines. This second coming of the Clash will feature new personnel, new material and new power.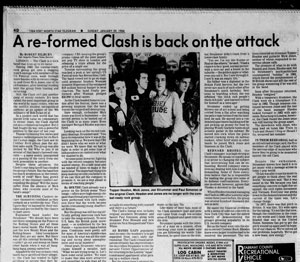 Fort Worth Star Telegram
Sun Jan 29 1984
By ROBERT HILBURN Los Angeles Times News Service LONDON
The Clash is a rock hand that lives up to its name. During 1983. the combat-ready rock group got into a slugging match onstage with members of the US Festival crew, went through more hassles with its record compa-ny and fired Mick Jones, one of its co-founders, after internal feuding kept the group from touring and recording. Still, the Clash isn't just another gang of rowdy rockers. Its been railed the most important group in the world by many critics, who see the outfit's strident sociopolitical anthems as an update of the '60s militancy of Bob Dylan et al ...



USA Press release February
Watch out, America, and all ships at sea. THE CLASH are back!
Following a turbulent year characterised by internal upheaval and external silence, the Epic band that rocked the world with albums like Sandinista! and Combat Rock has returned to the front lines -- with new personnel, new material, and new power


Jan. 19, Arlington Center review & Tour Interview
It was almost the punk summer of 1977 all over again. On Jan. 19, the latest version of the Clash--bolstered by two young, spiky-haired guitarists--made its world debut in front of 2,000 rabid fans at the Arlington Center for the Performing Arts in Santa Barbara. And it was clear from the opening notes of the first song, London Calling, that the new Clash is as angry and self-righteous a political beast as ever.


Fanzine - Beano San Fran Fanzine - Feb

Joe Interview Excellent - 6 pages


Fanzine - Beano San Fran Fanzine - Feb

Joe Interview Excellent - 6 pages


Getty Images: taken in 'Los Angeles' January 1984? (Long Beach?)


USA - Press release April
Spring Tour Takes U.S By Storm -- New Songs Previewed, Ready For Summer Recording. THE CLASH are alive and well -- and blazing a trail of incandescent live performances across North America.


Text version:
Interview The Clash They Want To Spoil Bill Holdship
5 May 1984
Bill Holdship, Creem, October 1984


Pulse Magazine - March 1984
Struggle and Controversy - Just Par for the Course
Written by Ethlie Ann Vare
The Clash has been called "the only band that matters" practically from its inception in 1976. It wasn't until 1979 that Columnia released The Clash in the U.S., but by then the band was already legendary in England and idolized by the cogniscent in America.


Smash Hits
February 1984
Trading Places


The Last Crusade – ©2005 Chris Knowles
This article is courtesy [and copyright] of Chris Knowles, Clash fan and author. Chris's Clash book Clash City Showdown is available from all online retailers.



Vince White's view
And a far cry from the mess of my first Clash gig in Santa Barbara. So if it turns up that would be the indicator of an original recording. Also it was the only show I played completely sober!!! I'd love to hear it. I really had my shit together on that one."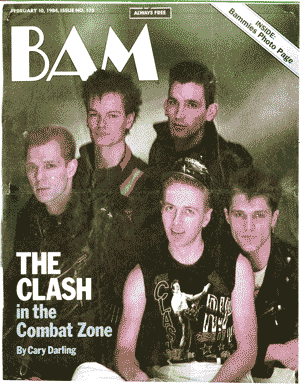 Bam Magazine
10 February 1984
5 page Interview
The Clash in the Combat Zone
"God, is it trendy or what?"
A wave of disgust crosses Joe Strummers face when he talks about the current British music scene...


Rolling Stone Magazine
2 pages (no cover)
1 March 84 – Joe Interview
A fired up Joe Strummer brings his new Clash to America
It ws almost as if it were the punk summer of 1977 all over again


The Clash: They Want To Spoil The Party So They'll Stay
Bill Holdship, Creem, October 1984
CREEM CONTRIBUTOR Mark Norton and I were talking several days before the Clash "invaded" Detroit, and we began discussing the concept of "armchair activism" and how the Clash probably fit into that category.


The Mouth That Roared: The Return of The Clash
John Mendelssohn, The Record, June 1984
Joe Strummer announces the Clash's comeback in no uncertain terms.
CONVERSATION WITH THE CLASH'S Joe Strummer elicits the simplest, most blindingly self-evident solutions to agonizingly difficult political problems since the non-release of Billy Jack Goes To Washington.


Boston Rock 50
3 pages
I call on Joe Strummer and live to tell about it
The Clash Divide and Conquer
Paul and Joe interview
What becomes a legend the most? In the case of The Clash overcoming obstacles and carrying on head held high.


Clash a fiver?


Rust never sleps award
The Clash

Straight To Hell - The Final Days Of The Clash
By Chris Knowles (Classic Rock) April 18, 2005

In 1983, The Clash sacked Mick Jones, hired three new members and tried to return to their punk rock roots. Cue two years of back-stabbing, bullying, busking and blistering rock n roll... PDF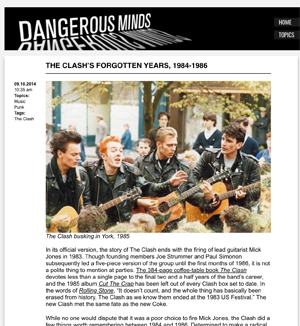 THE CLASH'S FORGOTTEN YEARS, 1984-1986
In its official version, the story of The Clash ends with the firing of lead guitarist Mick Jones in 1983. Though founding members Joe Strummer and Paul Simonon subsequently led a five-piece version of the group until the first months of 1986, it is not a polite thing to mention at parties. The 384-page coffee-table book The Clash devotes less than a single page to the final two and a half years of the bandís career, and the 1985 album Cut The Crap has been left out of every Clash box set to date. In the words of Rolling Stone, ìIt doesnít count, and the whole thing has basically been erased from history. The Clash as we know them ended at the 1983 US Festival.î The new Clash met the same fate as the new Coke. PDF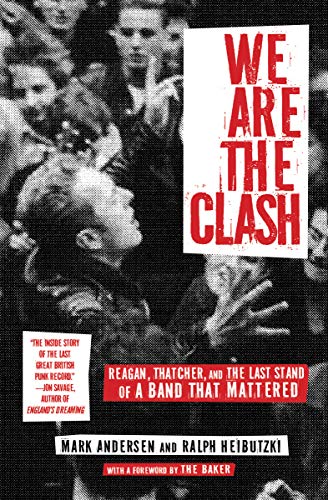 Book
We Are The Clash: The Last Stand of a Band That Mattered
The Clash's bold, tragic last stand, rescued from history's dustbin: at war with Thatcher, Reagan, the Top Ten, & (sometimes) itself...
Mark Andersen & Ralph Heibutzki


Clash City Showdown - Paperback
1 Dec. 2003 - by Chris Knowles



Jun 76 - Black Swan & five piece »
Aug 76 - 100 Club & London Gigs »
Dec 76 - Anarchy Tour »
Jan / Mar - Early 77 Gigs »
May 77 - White Riot UK Tour »
Jul 77 - European Dates »
Oct 77 - Out of Control UK Tour »

Jan 78 - Sandy Pearlman UK Dates »
Apr 78 - UK Festival Dates »
Jul 78 - Out on Parole UK Tour »
Oct 78 - Sort it Out UK Tour »
Feb 79 - Pearl Harbour US Tour »

Jul 79 - Finland + UK dates »
Sep 79 - Take the Fifth US Tour »
Dec 79 - Acklam Hall Secret Gigs »
Jan 80 - 16 Tons UK Tour »
Mar 80- 16 Tons US Tour »
May 80 - 16 Tons UK/Europe »

May 81 - Impossible Mission Tour »
Jun 81 - Bonds Residency NY »
Sep 81 - Mogador Paris Residency »
Oct 81 - Radio Clash UK Tour »
Oct 81 - London Lyceum Residency »
Jan 82 - Japan Tour »
Feb 82 - Australian Tour »
Feb 82 - Hong Long & Thai gigs »
May 82 - Lochem Festival »
May 82 - Combat Rock US Tour »
July 82 - Casbah Club UK Tour »
Aug 82 - Combat Rock US Tour »
Oct 82 - Supporting The Who »
Nov 82 - Bob Marley Festival »
May 83 - US Festival + gigs »
Jan 84 - West Coast dates »
Feb 84 - Out of Control Europe »
Mar 84 - Out of Control UK »
April 84 - Out of Control US Tour »
Sep 84 - Italian Festival dates »
Dec 84 - Miners Benefit Gigs »
May 85 - Busking Tour »
Jun- Aug 85 - Festival dates »


74-76 - Joe with the 101ers »

Jul 88 - Green Wedge UK Tour »
Aug 88 - Rock the Rich UK Tour »
Oct 89 - Earthquake Weather UK »
Oct 89 - Earthquake Weather Euro »
Nov 89 - Earthquake Weather US »
Jun 99 - Comeback Festival dates »
July 99 - Short US Tour »
July 99 - UK Tour »
Aug 99 - Festival Dates »
Oct 99 - UK Tour »
Nov 99 - Full US Tour »
Dec 99 - European Xmas dates »
Jan 00 - Australasian Tour »
May 00 - Mini UK Tour »

Nov 00 - supporting The Who Tour »
Jul 01 - UK & US Instore Tour »
Oct 01 - Full US Tour »
Nov 01 - Japanese Tour »
Nov 01 - Full UK Tour »
April 02 - Brooklyn NY Residency »
Jun 02 - UK Festivals »
Jul 02 - Hootenanny Tour »
Aug 02 - UK Festival Dates »
Sep 02 - Japanesse Dates »
Nov 02 - Bringing it all Back Home »