The Clash on Stage / Blackmarketclash is the most comprehensive biography of The Clash on stage, in the studio, on film with links to rare recordings.
We regularly update the site including any comments/corrections you may send in - a big thx for those that have helped make the site what it is.


07 December 2022
NEW MASTER RECORDING
OAKLAND October 23, 1982
JEMS Master Tape

07 December 2022
MARKY's FULL REMASTER OF BONDS AUDIENCE RECORDINGS
https://www.youtube.com/@theclashliveatbonds6825

12 October 2022
NEWLY DISCOVERED BUSKING VIDEO
14 May 1985, Edinburgh

2 songs 'North South' and 'Cool Under Heat'. This footage was recorded on an old style hand held camcorder outside the Gateway Exchange probably sometime on the 14th. See below for video.
Gateway Exchange Video

17 September 2022
We missed this sad news early this year, RIP Gavin Martin

17 September 2022
Major site overhaul
- Major updates
- Slight redesign

22 August 2022
Major updates
- Corrected the date for 1976 Lanchester Festival gig
- Added date of cancelled concert at Tiffany's


3 August 2022
Updated details/links two missing canceleld gigs, April 1984

3 August 2022
updated several videos
-- -- -- The History Of The Clash 7 part VIDEO .. older, not seen before
79 01 03 London Lyceum Video Don Letts VIDEO .. Don Letts footage
80 06 17 Hammesmith Odeon VIDEO .. Don Letts footage
80 02 18 Lewisham Odeon VIDEO
82 05 02 Asbury pre interview VIDEO

2 August 2022
New Tom Snyder footage plus footage from the 2nd May 81
Files to big to uplaod at moment
Tom Snyder, Magnificent 7 (16:9) footage shot from behind the camera
Tom Snyder, Magnificent 7 (4:3) footage shot from behind the camera
2nd May 1981, Magnificent 7 (v2) (2(16:9) (fullish)
2nd May 1981, Magnificent 7 (v2) (4:3) (fullish and better video sync)

2nd May Original
First half video had no audio, second half had audio but only 15 secs of video.

2nd May Remastered
First half uses DAT master from the corrcet date (2nd) to dub to the video. The second part uses the original audio and dubs video largely from the 1st part plus other sources. There is a now version 2 which is much better alog with bith 16:9 and original 4:3 fomats.

23 July 2022
Advert
Daily Mirror Thursday 21 April 1977

23 July 2022
Finally found all 49 concerts on the US Tour April May 1984!
The last two were cancellations at Hamptom VA, April 7th and Bloomburg PA, April 15th. Years of searching to get them all. Details to follow in the coming days.

19 July 2022
Daily Record (Glasgow, Scotland) Oct 20, 2012
Rare footage has emerged of Clash frontman Joe Strummer busking in a BBC Alba series to be shown this week.
The grainy film shows the legendary musician playing guitar and singing in an unidentified street. It is believed the footage, shot on a hand-held camera, dates back to the mid 1980s.
It was uncovered by a BBC Alba producer researching the history of busking in new series Buskers, which starts this week. The video had been bought by a music fan from an Edinburgh music store.
BBC Alba bosses are excited by the lucky find, and are hoping the footage pulls in a wider audience on digital platforms as well as BBC iPlayer....

20 June 2022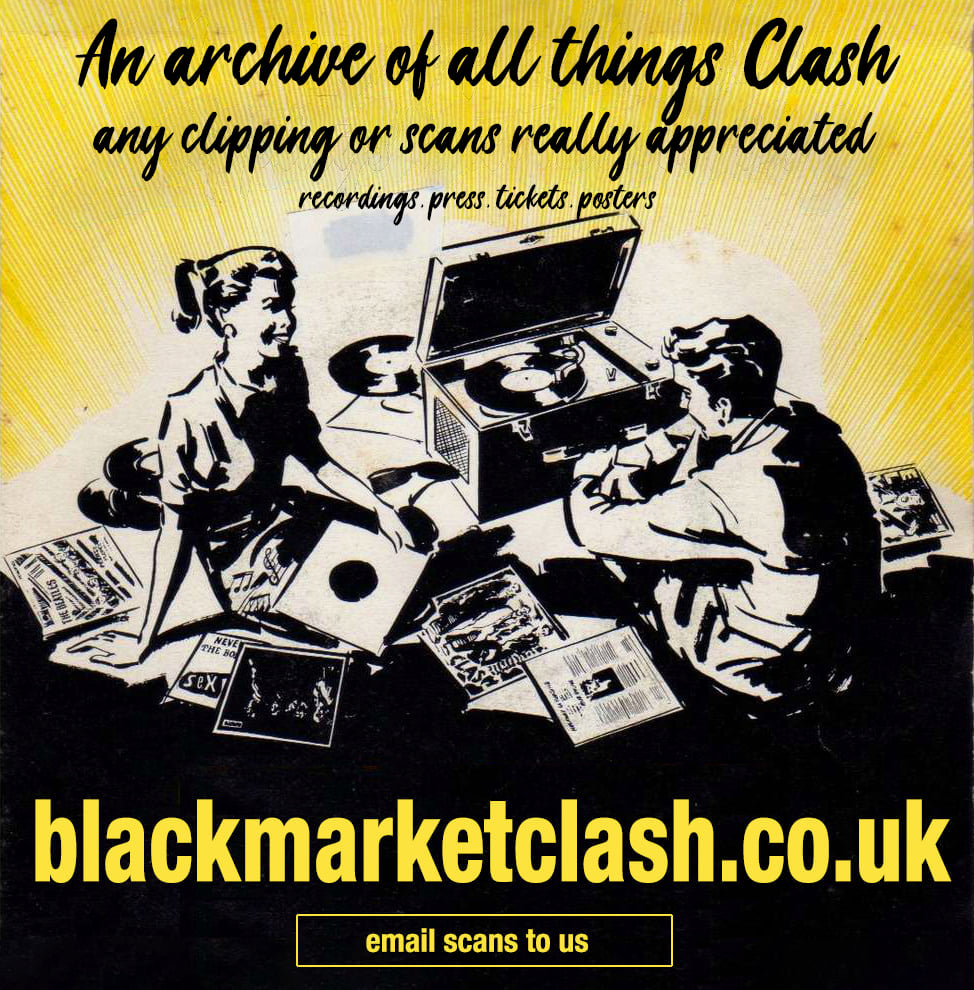 9 June 2022
Added missing gigs December 1978

8 June 2022
Added details of all known studio sessions 1976-1986
Thanks to Andrew at If Music Could Talk for 95% of the info/research.


25 April 2022
Added NEW RECORDING - Davenport IO, 20 May 1984
Thanks to Ben Langston for recording this back in 1984 and sharing it almost 40 years later. Link

Sound 3.5 - 1hr 31mins - 24 tracks - MASTER

16 February 2022
Added/corrected Germany dates, September 1977


5 February 2022
New recordings
- Full recording for Tokyo, 1 February 1982, all 30 tracks NEW.
A full audience version and a hybrid remixed version including the soundboard tracks
- Detroit 30 September 1982 NEW, (DL Link), master source
- Walker Early Drafts
- Walker Alternates & Outtakes

23 January 2022
Back up on a new server and ready for a new Clash year.
Looking for new tapes after last years exciting finds; Sunderalnd busking (the best bucking tape so far), Orlando 84 (1st hour) and Detroit 84.
This year will be the year of the book. A cut down collectors version. It has to get out there and at 900 pages, the current draft is too large.

1 August 2021
iTunes covers
We have our own covers which makes catalogueing in iTunes a bit clearer. Pleae feel free to download. Downloads here
Examples ...

30 July 2021
The Clash in Belfast, October 1977

29 July 2021
Added a list of The Libertines gigs and recordings
I have added a list of The Libertines gigs and live recordings. I have also included Paddingtons live recordings as well as some masters I taped form other bands (2000-2003).
The Libertines are back out on tour but I must be getting old. £45 seems a lot though they are playing small venues.
Here is the link to the Spotify playlist for some of the best indie-punk tracks from the period 2001-2008. The full list is here (though some are not on Spotify).

9 July 2021
Full Alright Now video including Israelites.
John Heston
Live on Tyne Tees show "Alright Now" in 1979. This is time-stamped but in better quality than what is already on YouTube. Also, the only other version of The Israelites on YouTube doesn't have the original footage, only the audio.
https://www.youtube.com/watch?v=50j4hSgK2vU

13 June 2021 (forgot to update the site)...
Videos surfaced last year... Lyceum 22 10 1981
Stewart Copeland, drummer for The Police put this on his Facebook and Twitter back in 2019. There is a discussion on Satch's messageboard here.
"@copelandmusic I've been digging out Super8 films I took of other bands from 1978-82. Until the suits come after me I'll sneak snippets up here."
There are the opening 6 seconds from Clash City Rockers and 35 seconds of London Calling.

2 June 2021 ...
new videos surface... 1977 and 1978
What appears to Don Letts early footage has emerged. Ref: "Kinolibrary x Don Letts from the Don Letts Archive available through Kinolibrary". It's badly titled and clearly Kinolibrary are not aware of teh actual dates. They state 1980.
Pressure Drop is most likely from the White Riot Tour, May 1977 and City of the Dead, Stay Free, Captal Radio and Janie Jones from the Sort it Out Tour late 1978. Could be from the 3x New Year dates at the Lyceum?

30 March 2021 ...
new recording surfaces... Geoff's Flat May 85
A remarkable new tape emerges of the Clash around at Geoff's flat where they play various songs including cover tracks never heard before.

23 Feb 2021 ...
new recording surfaces... Detroit Theatre May 84
Lineage is unknown. It might be the master. It's low-gen if not. This has not been in crculation before. Download here >
We have has ticket scans and a couple news articles but no setlist or recording notes.
Cassette > Technics cassette deck > ProTools (EQ/Volume/Widen/24-48 WAV) > SoundForge (split, Flac).
Sound quality is decent 3/5. Clean but thin distant. Certainly better than the Grand Circus Park show from `82. The band is on fire, despite the loss of Mick & Topper.

14 Dec 2020 ...
Unseen Clash Footage from Bonds
The Clash official Instagram posted (Friday 11th Dec) that there will be a new video by Don Letts of the band in New York, including unseen footage.
The offical Clash Youtube channel has a trailer up with unseen footage and the official Clash site is promoting the film.
We have extensive notes on these reels here and a discussion thread on the annoucment can be found here on If Music CouldTalk messageboard.

This is likely to the extensive footage shot by Don Letts and 'lost' for many years. The footage the footage that was found back in 2005 was deemed very expensive to transfer.
The info we got back in 2006 from helping extensively (an extremely) ungrateful) Julian Temple / 'The Future is Unwritten' was that the reels found in London lock-up <degree of scepticism here> appeared in good condition but were very expensive to transfer.
I was told only bits were transferred but that is hard to believe.
Why guess which ones to do when the others could have great nuggets on unless you just wanted any old random clip was on and how would that work when Don had not ID's the tapes as the editor stated?
I have seen about 2 hours of it and it is silent stuff driving around, hanging about, talking stuff with some backstage doing nothing scenes.
We await.
After a year, a massive site update completed
This year we have rebuilt the site. It has taken all year to rebuild and it is 4x as big.
We have added pages for all gigs (not just those with recordings), improved the year/recordings lists with graphcis, text and images and cleaned them up with numerous correctuions on dates and gigs.
Going from 256k dial up modem in the year 2000 to ultra fast broadband in 2020 has allowed us to put more graphics and pages in. A lot more.
We have scanned a back catalogue of material going back 20 years and thanks to Clash Cty Collectors and Clash on Parole for newly discovered posters and tickets, and If Music Can Talk for info and rareties we have totally rebuilt the site without changing the look.
Follow us on Twitter @blackmktclash
Like our Facebook https://facebook.com/blackmarketclash
A little help is sometimes required
If you want to help co-author the site please let us know
Help needed to;
- check page links, search for anything connected to the gig etc.
- check videos/books section etc and that we have them listed

Contact details
Twitter @blackmktclash
Email email blackmarketclash
Facebook https://facebook.com/blackmarketclash
Website The Clash on Stage / BlackmarketClash
Requests (audio) and iTunes downloads here
We have our own covers which makes catalogueing in iTunes a bit clearer. Pleae feel free to download. Downloads here
Examples ...

Social media adverts for blackmarketclash.co.uk