Updated 24 March 2007
updated 8 Feb 2015 - full gig review



Audio 1 - master
Good sound - Sound 3.5 - 1hr 39min - tracks 26
**missing last track Car Jamming - upgrade wanted
Somebody Got Murdered



Audio 2 -
Good sound - Sound 3.5 - 1hr 40mins - alt source - tracks 27

Somebody Got Murdered


Was this filmed?
This was the Friday night show which was apparently filmed. A second hasty date was added for Sunday after returning from Inverness.

Two different audience recordings circulate of the gig but in varying quality.
The master of the best recording is of excellent quality for an audience recording of the time, using superior equipment to the majority of Clash audience bootlegs. Instrumentation is very clear and detailed revealing much more of the nuances of the performances than most bootlegs from the tour. Being an audience recording, vocals lack that in your face quality of a sound board source and are a little distant. The taper's microphone gets regularly knocked on the early songs before finding a safe place for it and there are some tape wear volume fluctuations. The recording is not complete it starts 2/3rds into London Calling and stops 2/3rds into Complete Control, omitting the final Car Jamming altogether. Some circulating sources of this recording omit the partial London Calling at the start, beginning with Clash City Rockers.
The alternate source is a low gen audience recording of good quality for its time with some limited stereo separation. It just lacks the range, detail and dynamics of the other master recording. It does though start with the usual intro music and a complete London Calling, Complete Control and Car Jamming finishing as the house lights and PA come on. It does though suffer from digital clipping on the last few songs.
Therefore a complete recording of this memorable gig is possible by combining the master source with the missing parts from the lesser alternate source.


The Clash first played the impressive Edinburgh Playhouse in May 77 on the White Riot tour but played other venues in the city before returning in 1982 (and again in 1984). 
A hastily arranged second night was added on the 25th after their Inverness date on the 24th. The demand for tickets presumably a key factor but also surely must have been the reaction of the audience (Edinburgh had long been established within the band as a "Clash city") with exceptionally adding a third encore and playing 26 songs ending with Car Jamming.  
Apparently this gig was filmed but there is no video in circulation. Fortunately however two audience recordings are in circulation, the master of one has very good sound indeed and is one of the best bootlegs of this tour. This master recording is well worth seeking out and if the missing parts are added from the alternative source a complete gig can be assembled of this memorable night in Edinburgh. 
Paul Dorrian: On this day in 1982 we took the train through to Edinburgh to see The Clash at Edinburgh Playhouse. We got through there early afternoon and grabbed some light refreshments which we were enjoying outside the back of the Playhouse. Next thing The Clash have arrived with one or two fans and we are sharing our cider and I think their vodka. A good chat with Joe who then invited us into the dressing room. Got a few autographs some beer and a good chat....a memory that will stay with me forever. Roll forward to about three or four years ago and I am watching ìCombat Rockî (Clash tribute band), and i end up talking to the lead singer - Mark Hannaway, only to discover that it was him and his brother who were with The Clash that day as they came to the back of the Playhouse.....a small world indeed. We missed the last train back to Glasgow and kipped in the station until we caught the first train back to Glasgow in the morning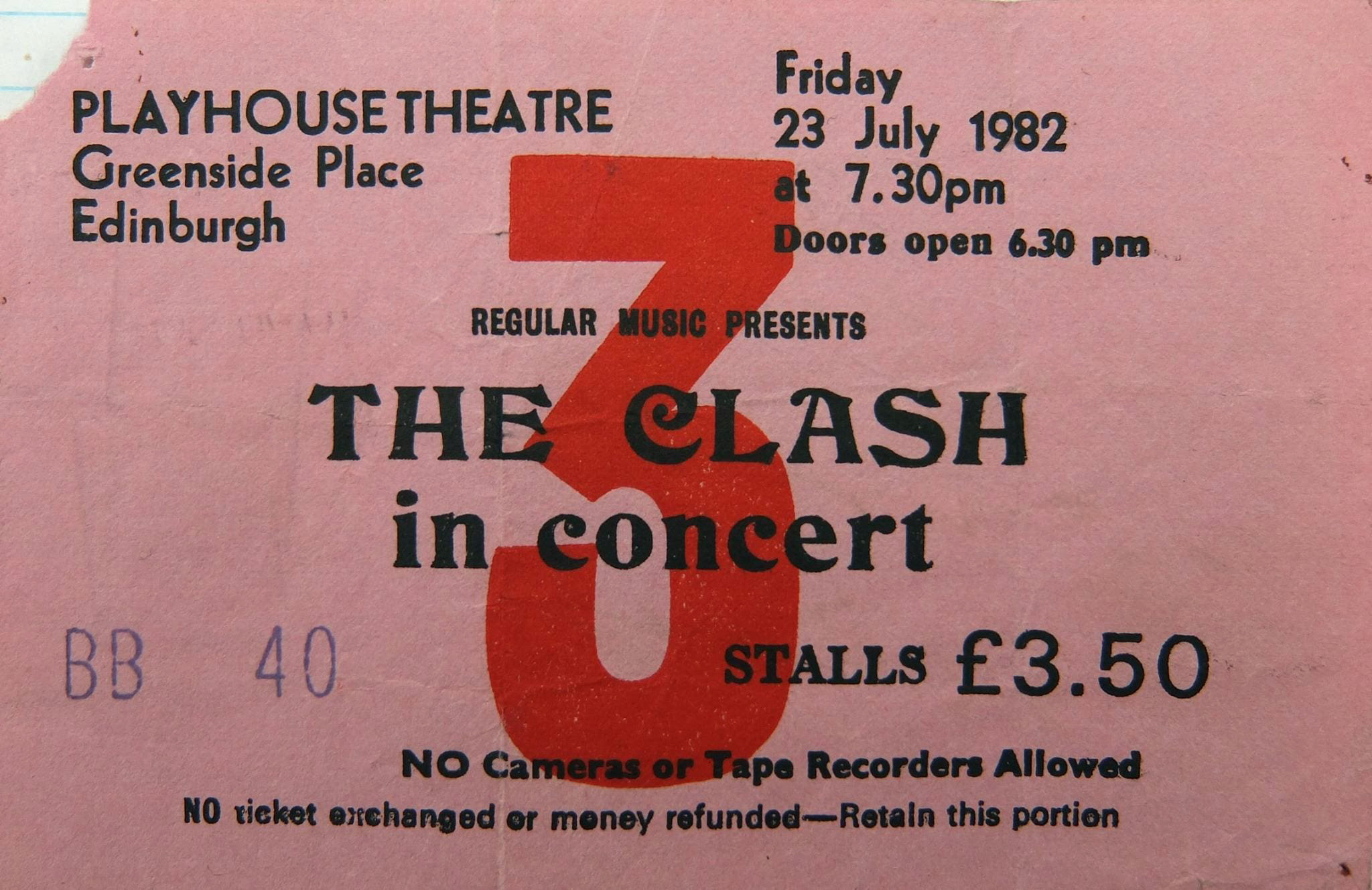 The alternative audience recording begins with the usual Morricone intro before Joe announces to a roar, "Good evening and welcome to you all, this is London Calling to the faraway towns".  The best master recording begins a little over a minute or so from end of a strong performance with lots of knocks on the microphone as the taper finds a safe position presumably not in the stalls.
The quality of this recording is clear on a fine Clash City Rockers, the band audibly pumped up and Joe and Mick's vocal interplay particularly enjoyable. Next up The Leader gets its first outing since Christchurch in February.  White Man in Hammersmith Palais again a highlight on this tour, the recording bringing out the detail of the instrumentation with Terry adding his "chops" to the final extended instrumental ending.   Janie Jones sounds great; "Lucky lady" shouts Mick and the band are clearly working hard responding to the enthusiasm of the audience. There's great clarity now on the master recording, Guns of Brixton sounds excellent picking out  the fills and detail as the band get a chance to stretch out musically. Bass lines are audible if not that prominent.
"He's gonna sing in English and I'm gonna sing in Spanish, I hope!" jokes Joe before a fine Should I Stay or Should I Go. Mick's lead guitar is buried on a rather shambolic start to Know Your Rights with just Terry's relentless monotone thump not helping. It gets better dropping down effectively to emphasise Joe's lyrical advice but the song needing much more of a rockabilly swing as it can sound hard rock turgid live.
Mick's siren effects herald the start of The Call Up, another highlight, a great sounding example of this underrated song live. It  ends as usual on this tour with the audience  taking up alone the "Hup 2-3-4"'s as the band drop out instrument by instrument until Joe interrupts them with a "Don't you ever stop.." and the band launch into Magnificent Seven. This song is sounding tired live generally on this tour now with Mick's lead work again not particularly effective, concentrating on a choppy funky style that does not quite work, much better in 81 to these ears. An OK but not great Mag 7 by any means.
After a short pause, there's very little chat by Joe with the audience between songs, Mick's lead guitar heralds the start of Police On My Back. There's lots of echo on Mick and Joe's vocals, the drop down instrumental section again the highlight. Wrong Em Boyo next with instrumentation including Terry's drum fills clear, is very enjoyable. The superior audience recording for its time helps to make a tight Rock The Casbah very enjoyable.
An edit on the master recording loses the first 10 seconds of Career Opportunities, complete on the alt. source. The most obvious contrast between Terry and Topper is on the crescendo intros to I Fought The Law and here on Somebody Got Murdered; Terry was never able to pull it off like Topper. Otherwise it's a fine performance.
The band blast through Brand New Cadillac and rend end the main set with a good but not great Clampdown; not extended and few adlibs. Terry's drum attack over the final climax sounds great though.
The first encore begins with Ghetto Defendant with great clarity on the superior source recording; Mick's splinter guitar fills sound great. "It is heroin pity "pleads Joe before instructing the segue into Armagideon Time. A song live that needs inventive fills and Mick's are good here with lots of effects too making for a very enjoyable performance. "Welcome to the Mick Jones show! This one is called Stay Free" Mick sings with intensity but the final coda lacks inventive lead guitar on his best versions. Terry tries the crescendo intro to I Fought The Law but again fails to hit the climax! 
The second encore as usual begins with the bass drum thump thump intro to Straight To Hell with probably Mick coming back on stage with his gas mask fitted. It's a fine performance with Micks' guitar clear and effective. The band then charge through a fine if unexceptional Safe European Home before the usual finale of a pumped up Garageland. 
"Adios" says Joe before the band are persuaded to return unusually for a third encore. However an edit is unclear and it maybe the band decides just to continue. Either way the band play an always welcome Jimmy Jazz, with Micks solo lead effective and clear. Only shame is it does not get an extended treatment. Two and a half minutes into a very enjoyable Complete Control the tape runs out on the best source but the alt. tape continues albeit with lesser sound and continuous digital clipping. Car Jamming instructs Joe after which although the audience continues to shouts for more the PA music comes on and a memorable gig is over.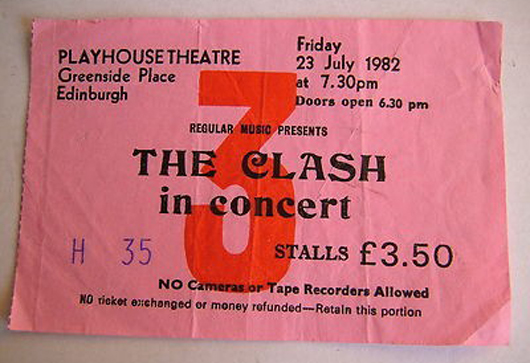 Did you go? What do you remember?
Info, articles, reviews, comments or photos welcome.
Please email blackmarketclash



The grade A listed Edinburgh Playhouse first opened in 1929 as a cinema. Its capacity is 3,059, (Stalls: 1,519, Balcony: 860 and Circle: 680) making it the UK's largest working non-sporting theatre in terms of audience capacity. The building is one of the finest surviving examples of the "super-cinema" built in an era when creating a feeling of opulence and grandeur, as well as maximising seating capacity was top of the list.  Closed to cinema in 1973, and narrowly escaping demolition, it has hosted many bands and performers, as well as now being mainly used for touring musicals.
The building has a unique design, making best use of its steeply sloping site, with a small low facade giving little indication of the scale of the auditorium concealed behind; the grand circle is entered from street level, with stairs down to the stalls, and stairs up to the upper circle.
The venue has hosted almost everyone; in 1982 The Jam, Van Morrison and the Rolling Stones also hit the massive stage but then so did Sir Cliff Julio Iglesias!


1
2
3
4
5
6
7
8
9
10
11
12
13
14
15
16
17
18
19
20
21
22
23
24
25
26
27

London Calling
Clash City Rockers
The Leader
White Man In Hamm Palais
Janie Jones
The Guns Of Brixton
Should I Stay or Should I Go?
Know Your Rights
The Call Up
The Magnificent Seven
Police On My Back
Wrong 'Em Boyo
Rock the Casbah
Career Opportunities
Somebody Got Murdered
Brand New Cadillac
Clampdown
Ghetto Defendent
Armagideon Time
Stay Free
I Fought the Law
Straight to Hell
Safe European Home
Garageland
Jimmy Jazz
Complete Control
Car Jamming

There are several sights that provide setlists but most mirror www.blackmarketclash.co.uk. They are worth checking.
from Setlist FM (cannot be relied on)
from Songkick (cannot be relied on)
... both have lists of people who say they went
& from the newer Concert Database
Also useful: Ultimate Music datbase, All Music, Clash books at DISCOGS

A collection of known articles from coveringr the period of the Tour can be found here..

Tour pass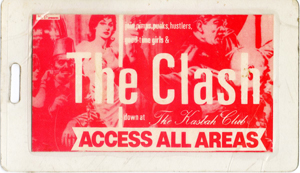 Tour advert with dates
with the original dates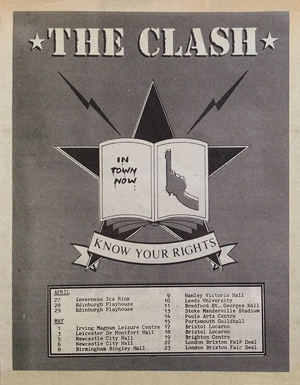 Dozens of newclippings
capturing the whole saga...
Tour dates, runaways, cancellations, reshedules, sackings .... 33 pages so far..
.


If you know of any articles or references for this particular gig, anything that is missing, please do let us know.










If you know any please let us know

Search all of facebook
Search all of Twitter
Search for a local library
Search auction site
Search flickr
Search Instagram
Search the internet


Any further info, articles, reviews, comments or photos welcome.
Submit an article here
We are looking for scans - articles - tickets - posters - flyers - handbills - memorabilia - photos - comments / any information - you might have.


Please like and post on our Facebook page or alternatively email blackmarketclash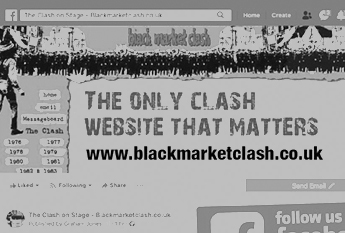 You can also follow us on Twitter
We also have a Clash Twitter list of other notable Clash Twitter accounts here



Radio interview - Joe Strummer Interviewed by Lisa Robinson around June 1982

Radio interview BBC R1 Kid Jensen Joe interviewed after being found

BBC Radio 1- Joe before his disapearance + interview- with the band after including BAD interview


BBC Radio 1 Kid Jensen 1982


BBC Radio 1 Rock On Mick interview on Sandinista & teh realese of Combat Rock


BBC Radio 1 Interview with Kid Jensen May 1982


BBC Radio 1 Interview with Kid Jensen Mick, Paul & Kosmo talking about Joe Strummer disappearing 2 May1982


BBC Radio 1 Interview with the band, -part 2 Mick, Combat Rock Interview



Blackmarketclash Links
Extensive links page can be found here with links to web, twitter, Facebook, traders etc..


If Music Could Talk
The best Clash messageboard and which also has links to downloads on its megalists

www.Blackmarketclash.co.uk
Go here for uploads and downloads. It's not a massive space so its on an as and when basis.


Contact your local library here and see if they can help.
If you are searching for articles in the USA - DPLA Find the local US library link here



WorldCat? - find your local library Link
British Newspaper Archive - United Kingdom Link (£££ / trial period)
Newspaper ARCHIVE - USA+ Link ($$$ / trial period)
Historical Newspapers - USA & beyond $$$ Link ($$$ / trial period)
Elephind.com - international Link (free)
New York Times - USA Link ($$$)
Gallica - France - Not very helpful Link (free)
Explore the British Library Link (free to UK users - ask if you find something)
Trove - Australia National Library Link (free)




The Official Clash
Search @theclash & enter search in search box. Place, venue, etc



Clash City Collectors - excellent
Facebook Page - for Clash Collectors to share unusual & interesting items like..Vinyl. Badges, Posters, etc anything by the Clash. Search Clash City Collectors & enter search in search box. Place, venue, etc



Clash on Parole - excellent
Facebook page - The only page that matters
Search Clash on Parole & enter search in the search box. Place, venue, etc



Clash City Snappers
Anything to do with The Clash. Photos inspired by lyrics, song titles, music, artwork, members, attitude, rhetoric,haunts,locations etc, of the greatest and coolest rock 'n' roll band ever.Tributes to Joe especially wanted. Pictures of graffitti, murals, music collections, memorabilia all welcome. No limit to postings. Don't wait to be invited, just join and upload.
Search Flickr / Clash City Snappers
Search Flickr / 'The Clash'
Search Flickr / 'The Clash' ticket



I saw The Clash at Bonds - excellent
Facebook page - The Clash played a series of 17 concerts at Bond's Casino in New York City in May and June of 1981 in support of their album Sandinista!. Due to their wide publicity, the concerts became an important moment in the history of the Clash. Search I Saw The Clash at Bonds & enter search in red box. Place, venue, etc



Loving the Clash
Facebook page - The only Clash page that is totally dedicated to the last gang in town. Search Loving The Clash & enter search in the search box. Place, venue, etc



Blackmarketclash.co.uk
Facebook page - Our very own Facebook page. Search Blackmarketclash.co.uk & enter search in red box. Place, venue, etc



Search all of Twitter
Search Enter as below - Twitter All of these words eg Bonds and in this exact phrase, enter 'The Clash'



www.theclash.com/
Images on the offical Clash site. http://www.theclash.com/gallery



www.theclash.com/ (all images via google).
Images on the offical Clash site. site:http://www.theclash.com/