Art College, Vics Cafe 12 noon - The Fixx Pub on Miller Street
... your comments ....
BUSKING TOUR...Joe and Paul took the boys on an impromptu busking tour - playing publicly and outside venues acoustically... the 'shows' generated some excitement about the forthcoming album... They all hitched from London by the M1 and agreed to meet up in the pub near Nottingham Railway Station. The Last Days of the Clash - Vince White pg 226
page updated - June 2000 - began
Last updated 7 July 2008 - Added punters view (Mark)
page updated - April 2020 - redesigned and added too


Art College - Vics Cafe 12 noon

Audio- crowd sing a long - Sound 3 - 30min - mast - 9 tracks
Brand New Cadilac (full tape)

The sound on this is quite good and is only betterd slighlty by Newcastle on this busking Tour. The percusion is very high in the mix.

The Fixx Pub on Miller Street


No known audio or video

If you know of any recording, email blackmarketclash

Joe

Strummer Slept Here - Retrospective documentary
A film about memories of The Clash busking tour of 1985 was shot in 2010. This developed into an interactive documentary in 2015 & was first shown to the public at Duke's Bar, Glasgow in the days before Christmas 2015. The film has since been screened again in 2018, and has been the catalyst for a wonderful series of punk events!

Did you go? What do you remember?
We are looking for scans - articles - tickets - posters - flyers - handbills - memorabilia - photos - comments / any info - you might have. Anything welcome.
Please email blackmarketclash or post below on bmc facebook post.


rumours of Carlisle, Liverpool and Birmingham. See The Last Days of the Clash - Vince White pg 235

Thx not only for the tape but for contributing the following notes:

"During 1985, I was in the middle of sitting my Highers at secondary school when I heard that THE CLASH intended to busk their way around the UK. Will they come to Glasgow? I asked myself. Then it happened! 16th May 1985 6pm, I received a phone call from my mate. "THE CLASH ARE IN GLASGOW AND ARE PLAYING TONIGHT! I WILL COME BE AT YOUR HOUSE IN 10 MINUTES!!"

As you can imagine, the studying went out the window and within 30 minutes, we were on a bus that would get us into the centre of Glasgow to see our idols. My mate H. had received info that THE CLASH would be playing in a bar called the Cul de Sac which is situated close to Glasgow University. We made our way to the bar and settled down with a pint which I was almost too nervous to drink! Within an hour, the pub was jam packed.

We were sitting by the door when I saw Paul Simonon and 2 rastas come into the pub, up to the bar and order cans of Red Stripe! I couldn't believe it!! I was so close to one of my heroes, I couldn't let this chance pass me by. I plucked up the courage, walked over to him and just about managed to blurt out "Hello Paul! My name is ..., I'm one of your biggest fans, would you like a drink?"

"Nice to meet you, I've just got a round in but thanks anyway. Sit down and join us" I thought I'd died and gone to heaven!!! Iasked Paul where the rest of the band were. He told me that they were in a pub called Duke's Bar on Dumbarton Road and they were probably going to play there that night as the Cul de Sac was too busy posing a potential safety problem. I commented that although the pub was busy, there was still enough room for the band to appear. Paul laughed and told me to look out of the window.

There were around 150 people trying to gain entry to the pub and were being prevented from doing so by 2 bouncers and 4 policemen. From where I was sitting, it looked like a mini riot. I asked Paul if I could come with them but he said there was no room in the car and that they were stopping people from entering Dukes so I probably wouldn't get in there anyway. I told him how disappointed I was and he took me aside and whispered "Be at Vic's Cafe, Glasgow Art College 12pm tomorrow. Don't tell anyone!!!"

I went straight home that night and phoned all my mates!! This was going to be a day to remember. Bright and early the next day, a crowd of us boarded the bus to Glasgow. It was a warm, dry day and the lager and cider was freely passed around. We arrived at the Art College to find a crowd consisting of young punks, old punks and bemused Japanese tourists milling around outside the building. We were refused entry. "Vic's Cafe is full!!! You can't get in!" We stepped back from the door. "There must be another way into this building" I said. "follow me!"
No way was I going to miss this!!! We walked around the corner and surprisingly, the fire exit door was wide open!!! In we all trooped. "Where are you lot going?" asked an elderly gentleman in a suit, "Fuck off!" was the reply!! as we entered the cafe.

There was no way that the band could play in here I thought. There must have been around 100 people crammed into a space ment for 50 with another large crowd congregatiing outside. I knew from previous nights out at the Art College that there was a large hall, complete with stage that was just upstairs from this cafe. I guessed that if they were going to play, this would be the venue so we all made our way to the bottom of the stairs.

5 minutes later, the band arrived, all dressed in black with their leather bikers jackets around their shoulders. It was the coolest sight I had ever seen. They stood beside us as they consulted with the barman as to the situation in the cafe and it was indeed decided that they would play their set upstairs and let everyone who was outside in to see them. Within 10 seconds, we had all sprinted up the stairs, blagged the front row and I had placed my Grundig tape recorder on the stage with the record button set to ON. The band came on to a tremendous reception.

There must have been approx.500/600 people in the hall but you could have heard a pin drop as the band ran through their set. They all had acoustic guitars and the drummer played on a plastic chair. All through the gig, at the end of every song, my mate who has the loudest voice of anyone I know, shouted "White Man! White Man!"

The band duly obliged! (This was to be repeated with City of the Dead at Strummer's Earthquake Weather gig at the Barrowlands and again with White Man at King Tut's which was a low key warm up gig before T in the Park a couple of years ago. Strummer must think "Who is this loud mouthed yob who turns up every time I'm in Glasgow??") Anyway, back to the Art College. 8 songs later and it was all over.

The band were greeted with one of the loudest cheers that I ever heard. There was no encore and the band made a quick exit! All the office workerswent back to work and we went back to the bus station in a state of shock and euphoria!!! WE HAD JUST SEEN THE CLASH!!!!

As we listened to the recording, an older guy approached us and asked if it was a tape of the previous night's show? When we told him that it was a tape of the show that they had just played 10 minutes ago, I thought that the guy was going to cry! That was the effect that THE CLASH had on a lot of people. The most passionate, exciting and caring band I have ever seen. No one even comes close."


I was at that gig as well.It is nice to read something documented about this show as I'm not convinced any one believes me the show took place.
We had heard from a friend on the Thursday evening! I clearly remember the acoustic guitars and the chair !! and us all going upstairs from the Vic Cafe because of the numbers of people I am not a big fan but went as friends went along.
From memory they actually played a pub called the Windjammer on the Thursday night (which is close to Dukes Bar). I also recall there was a small article in the Daily Record newspaper about the windjammer show either on the Friday or Saturday after. Hope this helps Mark


Just read the Clash busking piece and its spot on.
The band stayed with my mates (a band called Rockers Almighty) in a tenement, my mates Andy and Danny Oji's(14 West End Park St 3 up left) from Rockers Almighty when they were in town, next to the Halt Bar. The two rastas mentioned were Andy Oji and Barry Watson.
Beside Dukes and the rock garden they also played that club on Sauciehall St that had Wed night reggae nights but I forget the name and then they played the Art School. I am attaching a picture from Dukes for you. Thats me far right in the fedora! Bumped into paul over here as well. Stay Free. Great days. David
The final night I had spent all my giro and Simonon said "I'LL cover ya" and we all went to Henry Afrikas (now defunct Oswald St I think) and the owners put a case of Red Stripe in front of us and away we went. They were all great apart from the miserable drummer.

A photo of which reappeared in a Scottish obituary in Dec 2002. See The Last Days of the Clash - Vince White pg 235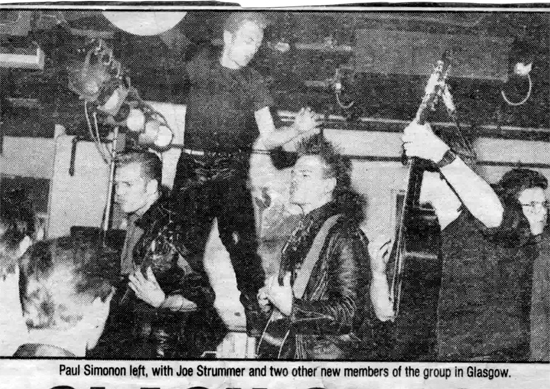 Graham Wilson Remember this well Hamish Mason
Rock Garden, Queen St (DONT USE PHOTO)
DukesBarGlasgow - @DukesBarGlasgow - 6 Nov 2011
Meeting with Alan Fullegar at Dukes today. Alan owned Dukes in the 1980's when The Clash played a gig during their busking tour.
DukesBarGlasgow - @DukesBarGlasgow - 16 May 2015
On this day in 1985, The Clash played at DUKES on their Busking Tour. #TheClash #livegig #livemusic #BuskingTour
Andy Scott - @scottsculptures - 28 Jul 2019
Replying to  - @stupidythings - I was there Chris Moran
@Subterranean_C - 22 Dec 2015 - @humol62 - @ScotsPostPunk - @GCPunkNewWave
 ...definitely played the Rock Garden...met them the night before too.
Tony McCormack - @TonyMcCormack1
New book on The Clash. They used an edited version of an article I wrote about the busking tour in Glasgow 1985 - I'm buzzing.
kennymcdonald
The Clash in the pub. The Clash busking in the Rock Garden pub, Glasgow, Scotland. Took this shot with my kodak disc camera 1985.
https://www.flickr.com/photos/jellymc/9754091913
Jonzip Mcneill - 20 August 2018
On Friday 13th July 2018, there was a screening of the documentary Joe Strummer Slept Here, followed by a Q&A with the documentary's star, Gillian Farmer, and eyewitness accounts of The Clash Busking Tour in Glasgow, 16th-18th May 1985. The private event was held for visiting students from UC Riverside (California), in the basement of Max's Bar, Glasgow, formerly the Rock Garden, where the band pl... See more — with Garry Taylor, Ricky Rodriguez, Lester McCoy, Graham Roberts, Brian Morgan, Derek McKee, Norry Wilson, Tony Gaughan and Gillian Farmer.
Lost Glasgow - @LostGlasgow - 21 Aug 2019
Happy birthday Joe Strummer - the future is unwritten... Just spotted the back of own head, with the lank looking mullet, right, and my old chum Gary, at my back, when the remnants of The Clash played at Glasgow's Dukes Bar, in May 1985. @TheClash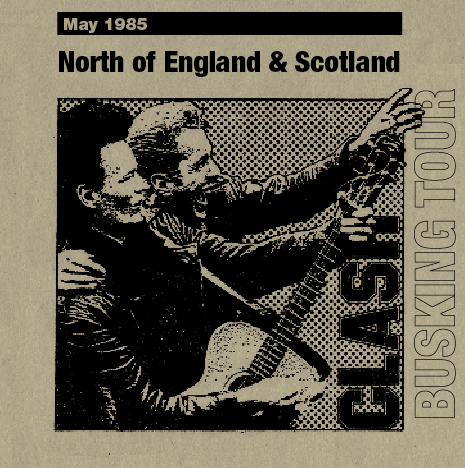 Glasgow Rock Garden

Cool Under Heat
Straight to Hell
Guns of Brixton
White Man
Pressure Drop
Bankrobber
Police on my Back
Brand New Cadillac
White Riot
If you know of any recordings, email blackmarketclash

There are several sights that provide setlists but most mirror www.blackmarketclash.co.uk. They are worth checking.
from Setlist FM (cannot be relied on)
from Songkick (cannot be relied on)
... both have lists of people who say they went
& from the newer Concert Database
Also useful: Ultimate Music datbase, All Music, Clash books at DISCOGS
Numerous articles, interviews, reviews, posters, tour dates from the Busking Tour



If you know of any articles or references for this particular gig, anything that is missing, please do let us know.

The Clash raise the beat - Record Pop exclusive

Clash crash back into city scene

Amazing photos of when The Clash busked their way across Britain and ended up in a Glasgow bar
26 June 2016
The pictures of that night in May 1985 are brilliant - were you there? 
It was seen as a last hurrah for the iconic punk band - and the end destination was set for Glasgow.
Joe Strummer called The Clash's 1985 busking tour of Britain 'the best tour we ever did', after devising a plan few bands would dream of nowadays. The group assembled in one flat, left their wallets on the table and headed off on the road with only a few acoustic guitars and their hitchhiking skills.  PDF

Mural tribute to The Clash unveiled at bar that hosted their last Glasgow Gig
Who remembers the rockers' surprise busking tour in 1985?
Any music fan in Glasgow will remember when The Clash performed a series of impromptu gigs in and around the city to promote their final album.
On May 16 1985 they played the Rock Garden pub on Queen Street, before heading to Dukes Bar on Old Dumbarton Road. The following day, the band took their busking tour to the Vic Cafe Bar in Glasgow School of Art, then the Fixx Bar on Miller Street. PDF

Eye Spy Glasgow: Dukes Bar was calling Clash fans everywhere
11th July 2014 - By Eye Spy Glasgow
So how many of you musicos were there - at Dukes Bar on May 16, 1985?
Maybe the date doesn't ring a bell but the venue certainly should.
After all it's not every evening that one of the greatest punk rock bands descends on a small Glasgow pub for a busking session.
But it happened - and Dukes Bar at the corner of Old Dumbarton Road and Lumsden Street has the evidence to prove it.
A plaque was fixed to the wall of the pub a few years ago. It reads: "Dukes Bar. Live gig. The Clash. May 16th 1985 'Busking tour'. 41 Old Dumbarton Road." PDF


Search all of facebook
Search all of Twitter
Search for a local library
Search auction site
Search flickr
Search Instagram
Search the internet


Any further info, articles, reviews, comments or photos welcome.
Submit an article here
We are looking for scans - articles - tickets - posters - flyers - handbills - memorabilia - photos - comments / any information - you might have.


Please like and post on our Facebook page or alternatively email blackmarketclash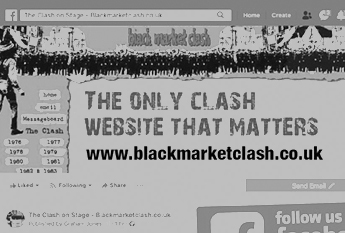 You can also follow us on Twitter
We also have a Clash Twitter list of other notable Clash Twitter accounts here


Blackmarketclash Links
Extensive links page can be found here with links to web, twitter, Facebook, traders etc..


If Music Could Talk
The best Clash messageboard and which also has links to downloads on its megalists

www.Blackmarketclash.co.uk
Go here for uploads and downloads. It's not a massive space so its on an as and when basis.


Contact your local library here and see if they can help.
If you are searching for articles in the USA - DPLA Find the local US library link here



WorldCat? - find your local library Link
British Newspaper Archive - United Kingdom Link (£££ / trial period)
Newspaper ARCHIVE - USA+ Link ($$$ / trial period)
Historical Newspapers - USA & beyond $$$ Link ($$$ / trial period)
Elephind.com - international Link (free)
New York Times - USA Link ($$$)
Gallica - France - Not very helpful Link (free)
Explore the British Library Link (free to UK users - ask if you find something)
Trove - Australia National Library Link (free)




The Official Clash
Search @theclash & enter search in search box. Place, venue, etc



Clash City Collectors - excellent
Facebook Page - for Clash Collectors to share unusual & interesting items like..Vinyl. Badges, Posters, etc anything by the Clash. Search Clash City Collectors & enter search in search box. Place, venue, etc



Clash on Parole - excellent
Facebook page - The only page that matters
Search Clash on Parole & enter search in the search box. Place, venue, etc



Clash City Snappers
Anything to do with The Clash. Photos inspired by lyrics, song titles, music, artwork, members, attitude, rhetoric,haunts,locations etc, of the greatest and coolest rock 'n' roll band ever.Tributes to Joe especially wanted. Pictures of graffitti, murals, music collections, memorabilia all welcome. No limit to postings. Don't wait to be invited, just join and upload.
Search Flickr / Clash City Snappers
Search Flickr / 'The Clash'
Search Flickr / 'The Clash' ticket



I saw The Clash at Bonds - excellent
Facebook page - The Clash played a series of 17 concerts at Bond's Casino in New York City in May and June of 1981 in support of their album Sandinista!. Due to their wide publicity, the concerts became an important moment in the history of the Clash. Search I Saw The Clash at Bonds & enter search in red box. Place, venue, etc



Loving the Clash
Facebook page - The only Clash page that is totally dedicated to the last gang in town. Search Loving The Clash & enter search in the search box. Place, venue, etc



Blackmarketclash.co.uk
Facebook page - Our very own Facebook page. Search Blackmarketclash.co.uk & enter search in red box. Place, venue, etc



Search all of Twitter
Search Enter as below - Twitter All of these words eg Bonds and in this exact phrase, enter 'The Clash'



www.theclash.com/
Images on the offical Clash site. http://www.theclash.com/gallery



www.theclash.com/ (all images via google).
Images on the offical Clash site. site:http://www.theclash.com/