updated Dec 2014 - added full review




Audio 1 -
Sound 3 - 1hr 26min - ? - tracks 24
London Calling



Audio 2 - soundcheck
Slight upgrade - Sound 1.5 - 7min - ? - tracks 3
Soundcheck

Only one recording is known to exist of this gig but it circulates in differing qualities. The most widely circulating has been one with tape fluctuations on the intro music but a better upgrade is very close to the master indeed (generation not known) and has better sound as you would expect from a lower generation source. The recording is of the complete gig with edits in Police and Thieves and between encores.
There is a good level of detail in the recording, bass surprisingly good and guitars quite clear. Vocals suffer from distance from taper to stage as does the general dynamics of the recording which lacks punch. Drum sound is thin. A decent amateur recording but has the deficiencies expected from the quality of equipment used.  Nevertheless one of the better recordings of the tour and well worth seeking out whilst although it's enjoyable it's certainly not The Clash at their best.


After the short and atypical set the night before in Derby, The Clash were back on familiar turf (and a familiar set) at Leicester's De Montfort Hall where they had first played 5 long years ago. 
The unseated De Montfort Hall stalls allowed the audience to pack around the stage as the photo of the gig from the Leicester Mercury [link] shows. This should have made for the sort of response from their audience The Clash thrived on to deliver their best performances but the circulating recording documents a fine but unexceptional show lacking any real inspiration or edge. The fatigue of near constant touring in 1982 coupled with the ever growing chasm between Joe and Paul, and Mick made for an increasing number of professional but uninspired routine shows. Joe famously much later said there were no good nights after Topper was sacked which although an exaggeration (with some notable exceptions) certainly had a good degree of truth.
The Leicester Mercury also noted that the band's efforts to achieve their Casbah Club aspirations were again thwarted; Joe had wanted a comedian as support (as achieved at Newcastle for example) and a late license so the De Montfort could be turned into a club post show. 
The Mercury therefore branded the show "standard format". "The seething mass of punks politely applauded brilliant Leicester support band The Swinging Laurels, twiddled their thumbs through the interval then exploded into rapturous applause for their heroes. The Clash were vitalised if not exuberant, rhythmic, melodic and more than a little loud - a group of talented musicians making extremely good music."
The Clash at De Montfort Hall



The recording begins with usual Morricone walk on music and after a quick "Good evening to you" from Joe the band launch into London Calling. Joe is in good voice the performance tight and as the song ends they crash immediately into One More Time. Always a welcome song in any gig for its relative rarity but also for its quality but here it lacks inspiration; "play music" orders Joe but the band struggle to! 
Two minutes into Know Your Rights as Joe sings the "if you don't mind a little humiliation" line he's had enough of those spitting at him, stops the song and uses the tactic of humiliation himself "Yeah, I can tell which of you has just been let out by your mothers for the first time tonight and this is your first ever punk show...so if this is really your first ever punk show why don't you go outside and draw a picture of yourself and gob on that!" The band restart where they left off and with no further comments about spitting his tactic must have done the trick.
 "Say down the road came a Junco Partner". Paul's bass lines are clear but Terry's accompaniment is repetitive and lacking musicality; the reggae songs a real struggle for him with the notable exception of Guns of Brixton. Strummer's in good form though vocally with his trade mark shrieks and cries.
Complete Control next with Mick playing the intro as on the original (the slow build up intro would again surface later in the year). It's a flat unexciting start but Joe's vocals bring it to life and Micks solo is much better; "my guitar hero" shouts Joe but by 1982 it's more in mock irony than admiration. A passionate if ragged in places performance and its Mick's not Joe's vocals though, that drive it to its conclusion. Although Mick lacked enthusiasm some nights for guitar playing preferring his array of effects, his vocals were consistently committed on this tour with ironically Joe struggling more to ditch the baggage of long built up resentment to Mick and guilt over Topper.
Guns of Brixton is again strong musically with some inspired guitar accompaniment and the extended instrumental ending is effective, a highlight. In contrast "this next selection is Stay Free" is unremarkable. The Call Up next is better and has scarcity value with Mick & Joe's enjoyable vocal interplay a feature; a highlight. The repeated "Hup 2-3-4" is carried on by the audience as the music stops until Joe interrupts with "Don't you ever stop …" and the band launch into Magnificent Seven. Another unexceptional performance with no adlibs or extended instrumental sections. White Man in Hammersmith Palais though next again sounds fresh and invigorated on this tour although the instrumental midsection is unimpressive and the final instrumental section not as good as others earlier in the tour. As the song ends immediately Mick's plays the intro to Somebody Got Murdered - Terry's crescendo start goes on and on without the rising excitement of Topper's versions.
"Turn on the lights Mr. Jackson please" orders Joe to check out the audience and after a pause kick into Police and Thieves. An edit mid song loses no more than a second or two. Joe adlibs a little but it's a routine performance. "This is called Rockin' the fuckin' Casbah" shouts a pissed off sounding Joe. Brand New Cadillac is better, fast and tight.
On Police On My Back Mick's voice has lots of attack and the band's strong performance extracts the maximum drama out of the song especially with the middle drop down to drum and bass section then building back up to the final chorus. Certainly a highlight is the return of English Civil War, not played since 22 June on the US tour (and the band ran through in the souncheck). The audience provide the "Hurrahs" and Joe's vocals are hoarse but passionate. The main set ends with the usual Clampdown, a good if unexceptional performance, Joe bangs away at his guitar scratching out the rhythm  and provides some adlibs (mostly unclear).
After an edit the first encore begins typically with Armagideon Time, plenty of clarity in the sound and Mick adds his guitar fills and Joe his wails but it's an uninspired performance. Should I Stay is better and the short encore ends with an OK I Fought The Law.
An edit into Straight To Hell and a 4 song unexceptional second encore of Safe European Home, Career Opportunities and Garageland.  
The recording unusually includes the soundcheck but the sound here is much poorer and so of limited interest. The start sounds like depth charges from the Das Boot soundtrack but its Terry checking his drums! Then there's a little solo guitar from Mick and some of Paul's bass lines before the band jam a little on the ska part of Wrong Em Boyo. Then the band run through an instrumental English Civil War. The soundcheck recording lasting only 7 minutes.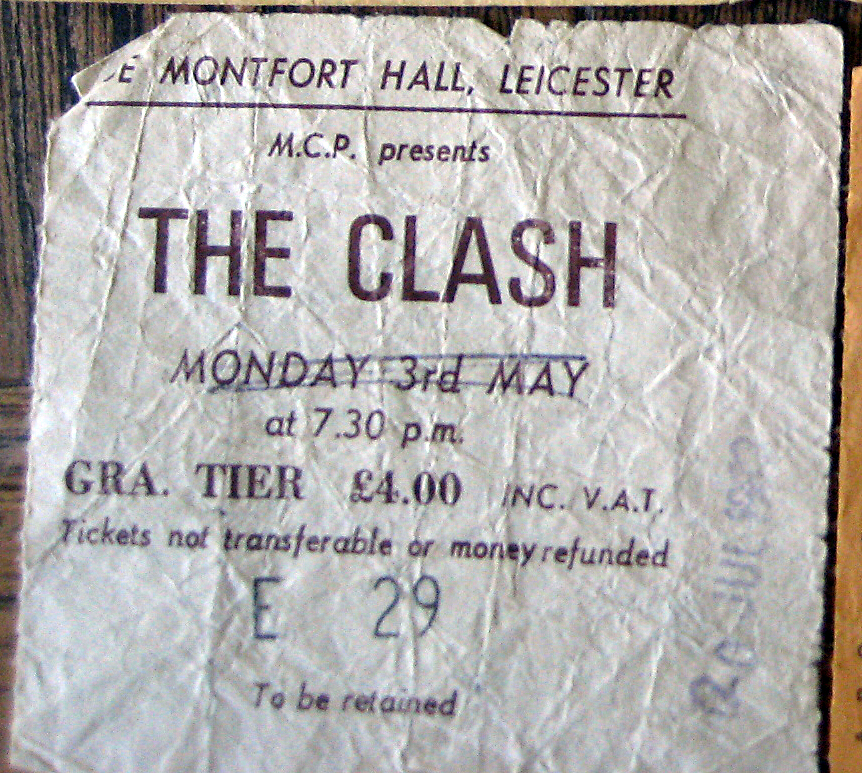 Did you go? What do you remember?
Info, articles, reviews, comments or photos welcome.
Please email blackmarketclash


The Clash had played the famous and grand De Montfort Hall previously on the 1977 White Riot tour, the 1978 Sort It Out tour and the 1980 16 Tons Tour. They would return for the 5th time in 1984.  The band also played with regret also at the Polytechnic and Granby Hall. 
It was built in 1913 but still in use today. Although normally seated, for gigs it would be standing only allowing a capacity of 2,200. It had/has great acoustics and a bar down the length of one side.


1
2
3
4
5
6
7
8
9
10
11
12
13
14
15
16
17
18
19
20
21
22
23
24


1
2
3

London Calling
One More Time
Know Your Rights
Junco Partner
Complete Control
The Guns Of Brixton
Stay Free
Call Up
The Magnificent Seven
White Man In Ham Palais
Somebody Got Murdered
Police & Thieves
Rock the Casbah
Brand New Cadillac
Police On My Back
English Civil War
Clampdown
Armagideon Time
Should I Stay Or Should I Go?
I Fought the Law
Straight to Hell
Safe European Home
Career Opportunities
Garageland

Soundcheck
jamming
Wrong Em Boyo
English Civil War


There are several sights that provide setlists but most mirror www.blackmarketclash.co.uk. They are worth checking.
from Setlist FM (cannot be relied on)
from Songkick (cannot be relied on)
... both have lists of people who say they went
& from the newer Concert Database
Also useful: Ultimate Music datbase, All Music, Clash books at DISCOGS

A collection of known articles from coveringr the period of the Tour can be found here..

Tour pass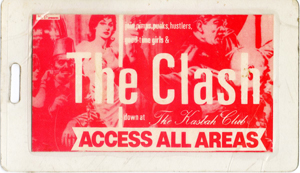 Tour advert with dates
with the original dates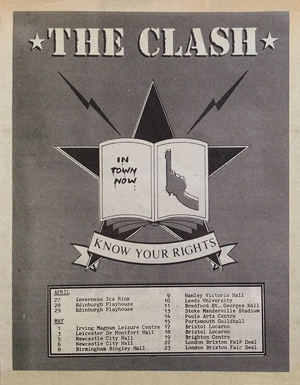 Dozens of newclippings
capturing the whole saga...
Tour dates, runaways, cancellations, reshedules, sackings .... 33 pages so far..
.


If you know of any articles or references for this particular gig, anything that is missing, please do let us know.










If you know any please let us know

Search all of facebook
Search all of Twitter
Search for a local library
Search auction site
Search flickr
Search Instagram
Search the internet


Any further info, articles, reviews, comments or photos welcome.
Submit an article here
We are looking for scans - articles - tickets - posters - flyers - handbills - memorabilia - photos - comments / any information - you might have.


Please like and post on our Facebook page or alternatively email blackmarketclash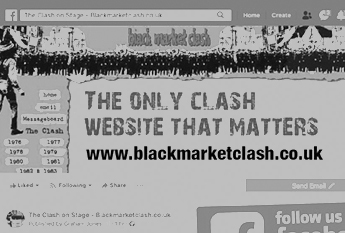 You can also follow us on Twitter
We also have a Clash Twitter list of other notable Clash Twitter accounts here



Radio interview - Joe Strummer Interviewed by Lisa Robinson around June 1982

Radio interview BBC R1 Kid Jensen Joe interviewed after being found

BBC Radio 1- Joe before his disapearance + interview- with the band after including BAD interview


BBC Radio 1 Kid Jensen 1982


BBC Radio 1 Rock On Mick interview on Sandinista & teh realese of Combat Rock


BBC Radio 1 Interview with Kid Jensen May 1982


BBC Radio 1 Interview with Kid Jensen Mick, Paul & Kosmo talking about Joe Strummer disappearing 2 May1982


BBC Radio 1 Interview with the band, -part 2 Mick, Combat Rock Interview



Blackmarketclash Links
Extensive links page can be found here with links to web, twitter, Facebook, traders etc..


If Music Could Talk
The best Clash messageboard and which also has links to downloads on its megalists

www.Blackmarketclash.co.uk
Go here for uploads and downloads. It's not a massive space so its on an as and when basis.


Contact your local library here and see if they can help.
If you are searching for articles in the USA - DPLA Find the local US library link here



WorldCat? - find your local library Link
British Newspaper Archive - United Kingdom Link (£££ / trial period)
Newspaper ARCHIVE - USA+ Link ($$$ / trial period)
Historical Newspapers - USA & beyond $$$ Link ($$$ / trial period)
Elephind.com - international Link (free)
New York Times - USA Link ($$$)
Gallica - France - Not very helpful Link (free)
Explore the British Library Link (free to UK users - ask if you find something)
Trove - Australia National Library Link (free)




The Official Clash
Search @theclash & enter search in search box. Place, venue, etc



Clash City Collectors - excellent
Facebook Page - for Clash Collectors to share unusual & interesting items like..Vinyl. Badges, Posters, etc anything by the Clash. Search Clash City Collectors & enter search in search box. Place, venue, etc



Clash on Parole - excellent
Facebook page - The only page that matters
Search Clash on Parole & enter search in the search box. Place, venue, etc



Clash City Snappers
Anything to do with The Clash. Photos inspired by lyrics, song titles, music, artwork, members, attitude, rhetoric,haunts,locations etc, of the greatest and coolest rock 'n' roll band ever.Tributes to Joe especially wanted. Pictures of graffitti, murals, music collections, memorabilia all welcome. No limit to postings. Don't wait to be invited, just join and upload.
Search Flickr / Clash City Snappers
Search Flickr / 'The Clash'
Search Flickr / 'The Clash' ticket



I saw The Clash at Bonds - excellent
Facebook page - The Clash played a series of 17 concerts at Bond's Casino in New York City in May and June of 1981 in support of their album Sandinista!. Due to their wide publicity, the concerts became an important moment in the history of the Clash. Search I Saw The Clash at Bonds & enter search in red box. Place, venue, etc



Loving the Clash
Facebook page - The only Clash page that is totally dedicated to the last gang in town. Search Loving The Clash & enter search in the search box. Place, venue, etc



Blackmarketclash.co.uk
Facebook page - Our very own Facebook page. Search Blackmarketclash.co.uk & enter search in red box. Place, venue, etc



Search all of Twitter
Search Enter as below - Twitter All of these words eg Bonds and in this exact phrase, enter 'The Clash'



www.theclash.com/
Images on the offical Clash site. http://www.theclash.com/gallery



www.theclash.com/ (all images via google).
Images on the offical Clash site. site:http://www.theclash.com/