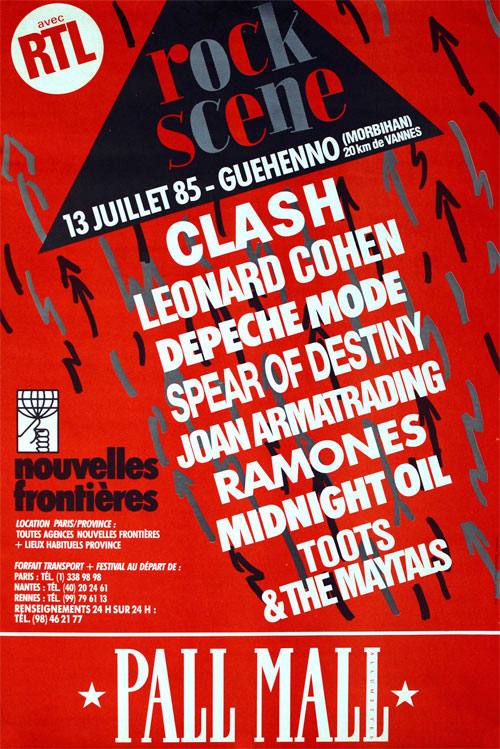 Audio 1 - audience vers. - lesser sound edited - Sound 2.5 - 78min - unknown gen? 20 tracks

Safe European Home (bassy variant)


Audio 2 - FM vers.- from a FM taper - edited - Sound 3.5 - 50min - FM/m - 14 tracks

Safe European Home (bassy variant)


Audio 3 - vers.- poor sound - edited - Sound 2.5 - 64min - unknown gen? 18 tracks
Safe European Home (bassy variant)


Audio 4 - vers.- poor sound - edited - Sound 3 - 18min - unknown gen? 5 tracks
Safe European Home (bassy variant)

Different tapes - different sources?
Differing versions of this circulate coming from a FM broadcast, and the sound qualities vary too. Most omit several tracks and may come from an edited rebroadcast? Probably the last known recording of the Clash live.

One More Time 2cdr (likely source FM radio)
The worst copy (source a) [64.12]and a popular one circulating is very bottom heavy and muddled with some distortion. By about halfway through the sound improves a little. If it came with a second cdr where 4 tracks repeat on the second disc from a poorer source and it had a nice bonus Guildford 77 tucked on after with Fridays (1980) TV performance. (It may go by the name One More Time)

On the four extra tracks a french voice can be heard on I'm so Bored with the USA (which is the fuller audience tape) which is absent on the version earlier on the cdr.
From a radio taper... (source FM radio)
The best version (source b) [49.28] of the four sources ends with Spanish Bombs also schuffling the four encore tracks after Police on My Back. Strangely this runs 64 mins. It came from a radio taper.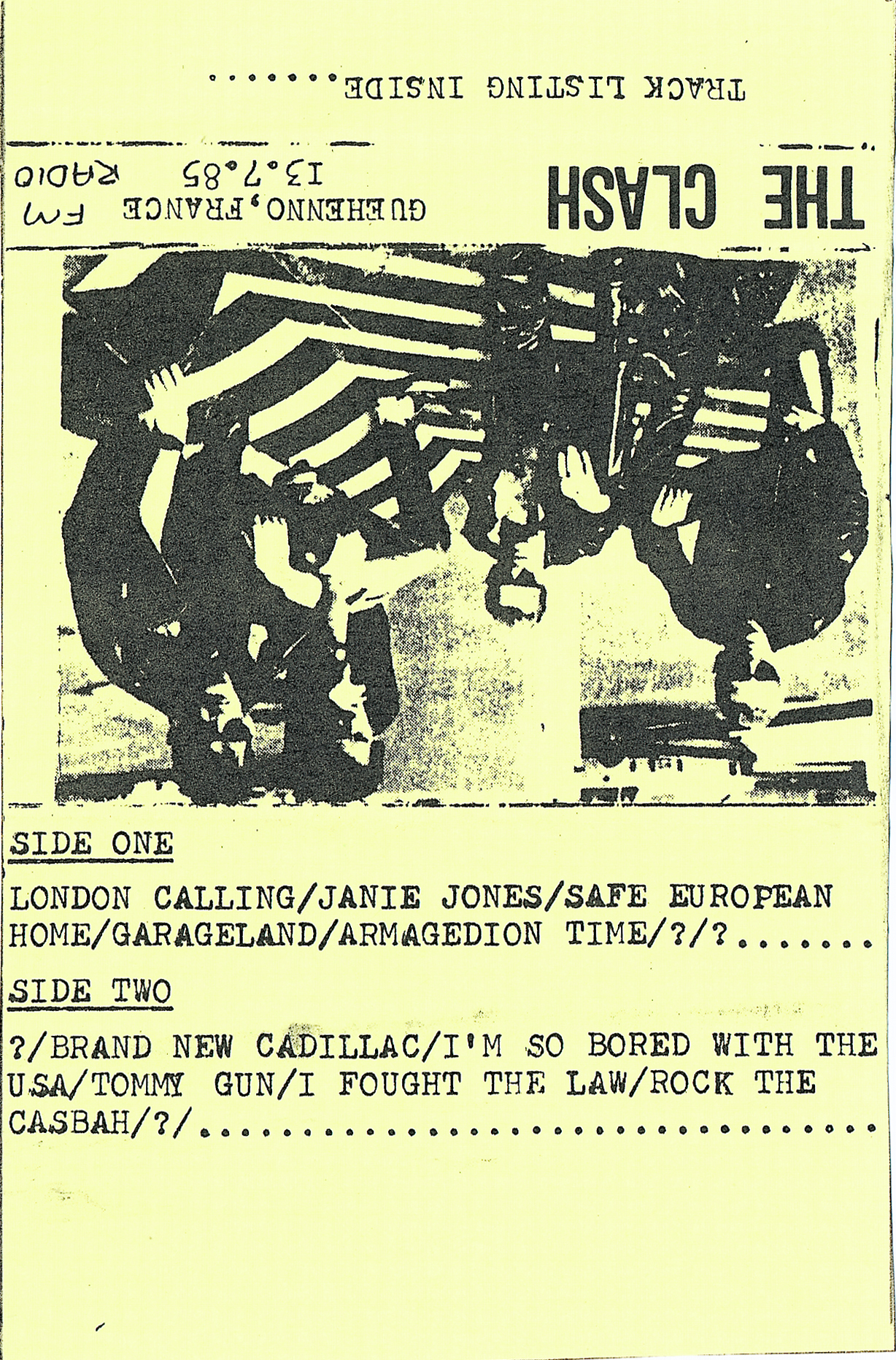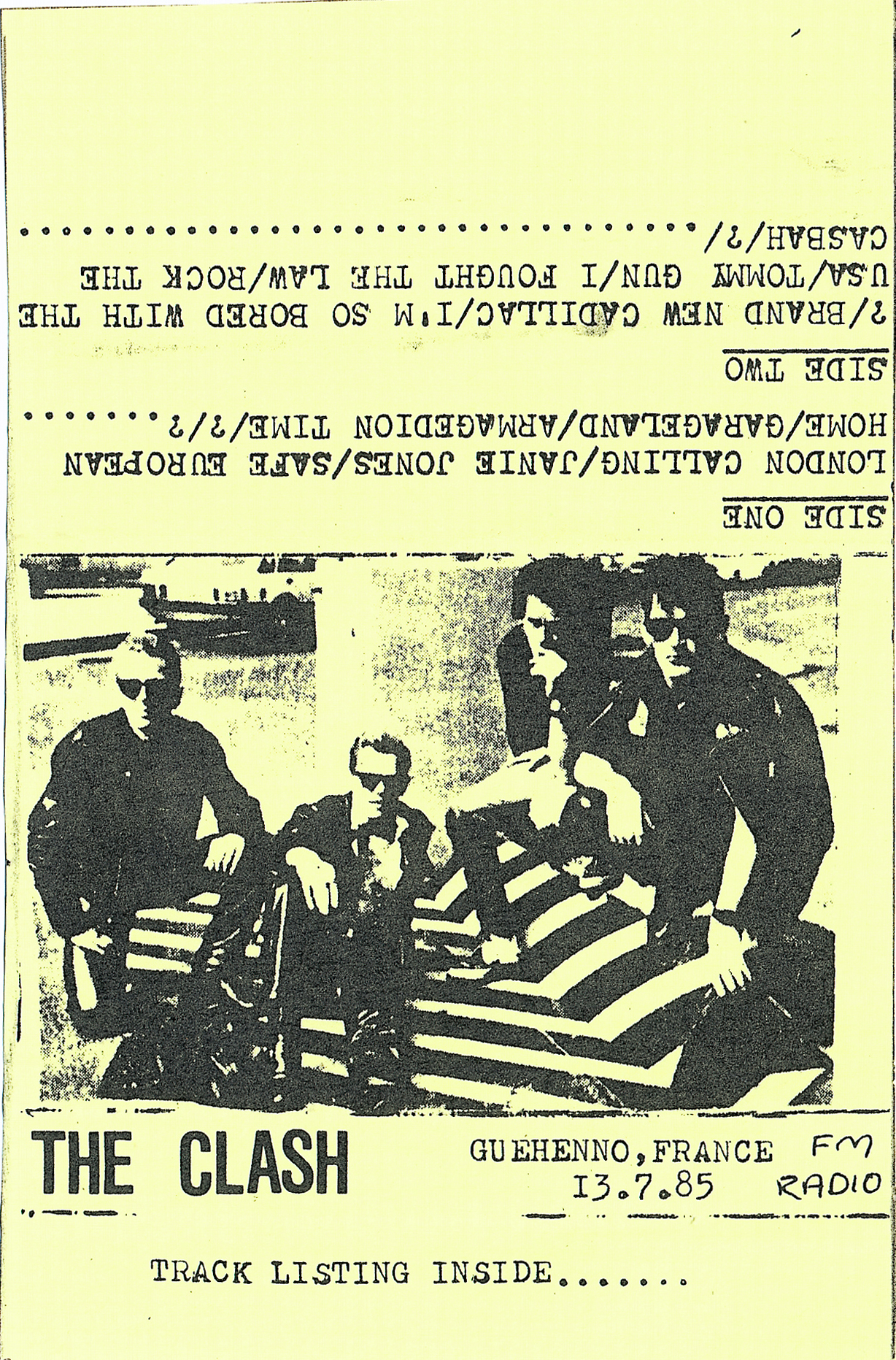 A similar (pink sleeve) (source c) was accidently edited by owner to the first 6 tracks is nearly as good but a little thinner. An identical one to source B also exists in a yellow sleeve but with inferior sound.
Audience version?? (dif source/no radio annoucer)
However a fuller unedited copy (source e), correctly sequenced running at 78 minutes, ends with Bored with the USA which is cut and omits the last two tracks in correct sequence. This has some distortion and is halfway between the best and worst. Again there is no radio announcer, it just flows into whats my name.

Upcoming French documentary
Upcoming French documentary on the festival with heavy Clash lead but no Clash footage. Lot sof audinece shots and brief shots from Athens '85.
Fizztones footage can be found here


The full documenary is here. The Clash (no live footage) is at 1h04

Did you go? What do you remember?
We are looking for scans - articles - tickets - posters - flyers - handbills - memorabilia - photos - comments / any info - you might have. Anything welcome.
Please email blackmarketclash or post below on bmc facebook post.



The March date was cancelled. They played later in July Guehenno Festival... Where a fight happened between Road crews of The Clash and Depeche Mode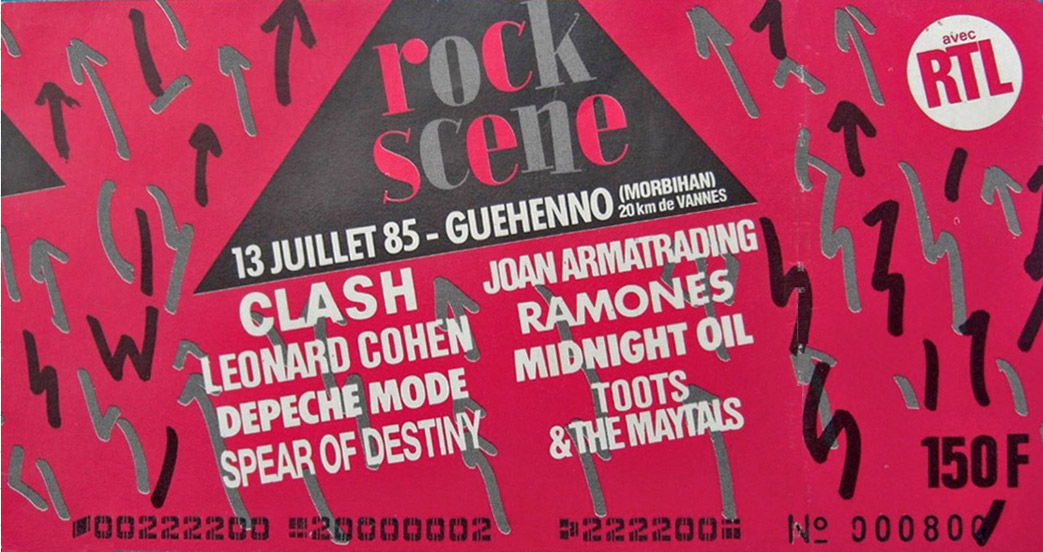 CLASH (THE) - The Clash: Last Gig In France - PDF version
NEW Starting today, our Legacy Editors will be talking about forgotten artists and albums every week and sharing anecdotes with you. We start this new section with LB who tells us the last concert of The Clash in France.
FESTIVAL ELIXIR GUEHENNO, Morbihan
Saturday, July 13, 1985 - Testimony of a French fan
In the beginning, it is necessary to situate the context. In the region we are a good band of punks.
When we go on a concert we can be between 10 and 50 depending on the importance of the show in question. In fact when you are 20 years old, you want to see everything, since there is nothing to do in the daily life of our region. So when RockScene Festival programming falls, we're thrilled. Yes, we will finally see the Clash , live on stage on July 13, 85. And Depeche Mode.
In this memorable time, we drive in the LN Citroën that my parents are unconscious to allow me to drive. 2CV motor, but indestructible. If we fall into the ditch, we go out and put it back on the road. This car has forged our musical culture ...
Well, here we are on the way to Guéhenno, 5 in the vehicle. Auray-Guéhenno is 30 minutes drive. Quickly folded without breaking. On site, there are historical punks from all over France.
Guys from Orleans, Paris, Quimper, from everywhere. It's a hell of a troop. We park and we return to the site. It is very hot in July 13, so we rehydrate until we have to go to refuel. We arrive at the village supermarket (840 inhabitants at the time) and we see a large wooden bar that blocks the entrance. It is certain that to see 15 000 festival-goers, it creates a certain parano with the inhabitants and especially of the only shopkeeper at which the refueling is done. The boss has the shotgun not far ... We order, we pay and we go back to the festival.
Triumphal return. Mission accomplished.
The Clash and Depeche Mode at the time on the same poster, it is not easy to accept for us, young punks, this curious mix of musical genres. The two groups live in Vannes in the same hotel, and their respective stage technicians hate each other cordially ...
It will be said later that the baseball bats were released backstage at the arrival of the 2 tour bus on the site and for a few minutes a general brawl broke out between the two parties.
The concert was in itself dantesque, with a place in the first row dearly defended. At 10:45 pm The Last Gang In Town takes the stage by storm. Joe Strummer tries French between the pieces with a picturesque English accent. That night, we ate dust for 1h25. Superb rough and muscular concert. It will take me a week to get rid of that damn ocher dust that made the site look like a gigantic battlefield. But we were like kids. We finally saw Live THE CLASH ! Even if only Paul Simonon and Joe Strummer were present that night, backed by 3 other musicians (Nick Sheppard and Vince White on guitars and Pete Howard on drums), when you're addicted to Clash , you live at that moment a daydream. The kind of memory you're still talking about 30 years after ...
We had no idea that this concert was going to be their last visit to France and the penultimate gig of their entire career. On July 27, 1985 the group will cease to exist after a last concert in Athens. - LB



More pictures from the festival click here.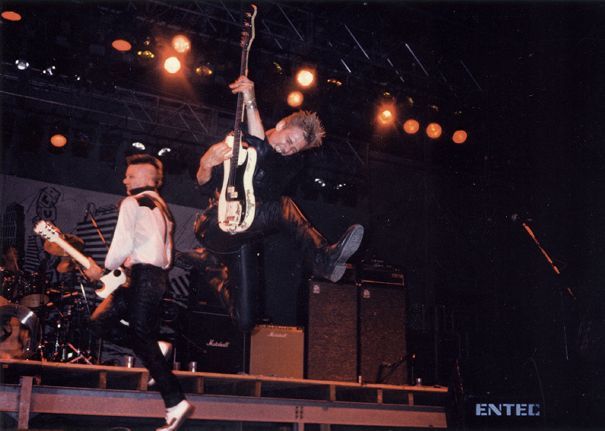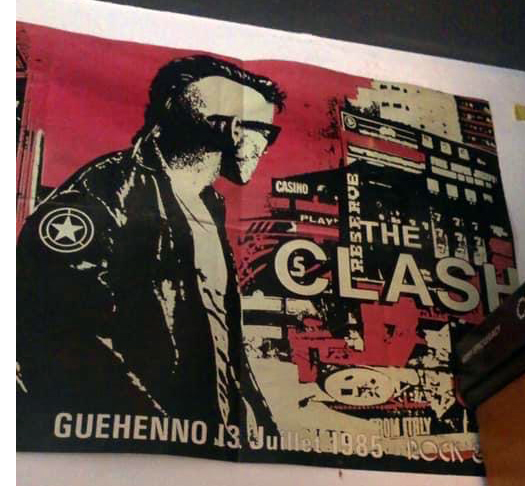 Did you go? What do you remember?
Info, articles, reviews, comments or photos welcome.
Please email blackmarketclash

Andrée Le Gall-Sanquer Les Clash in Guehenno! I don't have a photo but I remember ...
Christian Courtès I was there! and michaëlle too
Cherif Chardoux ahhhhhhhh I was there too !!! .. this cloud of dry earth from the field which rose from the first note of clash. I had never seen such punks, the village had turned into a snack bar, and the world was upside down (or upside down). it did ... it was so good this summer it was the last, after it became industrial
Philippe Routeau Ramones replaced by the Fuzztones I think. Less obviously.
Many punk had fallen asleep on Depeche Mode (sic) which played before the Clash. They woke up to Joe's first chords!
Philippe Routeau I went there for The Clash. There were also: Depeche Mode, Léonard Cohen, Midnight Oil, Fuzztones, Depeche Mode. The rest I don't remember.
Emmanuel Yvon an editorial report, yes ... The production of FR3 only started investing in this type of event from the 90s. Until then only journalists covered in the 80s with their little ones means Elixir (... or the Trans) with a lot of DIY. I always remember the J7 Peugeot rental in which we had tinkered the time code synchronization of the 3 BVUs which linked the 3 ENG cams ... all vaguely lit by an improbable lamp. And after returning to the station, we did the editing. It was a crazy job.
Christophe Servel I was here front stage ...
Denis le Nagard It was fantastic
Jean Michel Lemoine amazing.... I'll give expensive to relive this
Philippe Routeau I'm here somewhere 3th row in the middle. We didn't stop jumper!
Didier Durand It was apocalyptic.. with this earth that our lungs.. The best band...



Complete set
1
2
3
4
5
6
7
8
9
10
11
12
13
14
15
16
17
18
19
20
21
22


Complete Control
London Calling
Janie Jones
Safe European Home
Hate and War
White Man in Hamm Palais
Garageland
Armagideon Time
The Magnificent Seven
Three Card Trick
Police On My Back
Whats My Name
Rock the Casbah
Spanish Bombs
Clampdown
Clash City Rockers
Bankrobber
Broadway
Brand New Cadillac
I'm So Bored with the USA
Tommy Gun
I Fought the Law
Various edited versions
Audio 1 = audience version
Audio 2 = recorded from the radio
Audio 3 = One More Time CDr
Audio 4 = recorded from the radio
1

2

3

4

Complete Control

1

London Calling

2

1

1

1

Janie Jones

3

2

2

2

Safe European Home

4

3

3

3

Hate and War

5

White Man

6

Garageland

7

4

4

4

Armagideon Time

8

5

5

5

The Magnificent Seven

9

6

6

Three Card Trick

10

7

7

Police On My Back

11

8

8

Radio Announcer

8

Whats My Name

12

Rock the Casbah

13

13

13

Spanish Bombs

14

14

14

Clampdown

15

15

Clash City Rockers

16

16

Bankrobber

17

17

Broadway

18

18

Brand New Cadillac

19

9

9

I'm So Bored with the USA

20*

10

10

Tommy Gun missing

11

11

I Fought the Law

12

12

There are several sights that provide setlists but most mirror www.blackmarketclash.co.uk. They are worth checking.

from Setlist FM (cannot be relied on)
from Songkick (cannot be relied on)
... both have lists of people who say they went
& from the newer Concert Database
Also useful: Ultimate Music datbase, All Music, Clash books at DISCOGS
Any articles, interviews, reviews, posters, tour dates from the summer of 1985 - to the end of he year



If you know of any articles or references for this particular gig, anything that is missing, please do let us know.

The Last Days of the Clash - Vince White
page 256

Elixer Festival on Facebook
Les 40 ans du festival Elixir

If you know any please let us know


Search all of facebook
Search all of Twitter
Search for a local library
Search auction site
Search flickr
Search Instagram
Search the internet


Any further info, articles, reviews, comments or photos welcome.
Submit an article here
We are looking for scans - articles - tickets - posters - flyers - handbills - memorabilia - photos - comments / any information - you might have.


Please like and post on our Facebook page or alternatively email blackmarketclash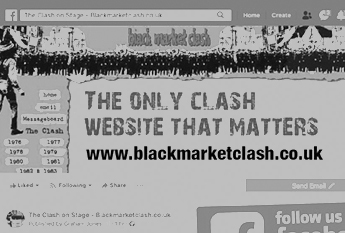 You can also follow us on Twitter
We also have a Clash Twitter list of other notable Clash Twitter accounts here


Blackmarketclash Links
Extensive links page can be found here with links to web, twitter, Facebook, traders etc..


If Music Could Talk
The best Clash messageboard and which also has links to downloads on its megalists

www.Blackmarketclash.co.uk
Go here for uploads and downloads. It's not a massive space so its on an as and when basis.


Contact your local library here and see if they can help.
If you are searching for articles in the USA - DPLA Find the local US library link here



WorldCat? - find your local library Link
British Newspaper Archive - United Kingdom Link (£££ / trial period)
Newspaper ARCHIVE - USA+ Link ($$$ / trial period)
Historical Newspapers - USA & beyond $$$ Link ($$$ / trial period)
Elephind.com - international Link (free)
New York Times - USA Link ($$$)
Gallica - France - Not very helpful Link (free)
Explore the British Library Link (free to UK users - ask if you find something)
Trove - Australia National Library Link (free)




The Official Clash
Search @theclash & enter search in search box. Place, venue, etc



Clash City Collectors - excellent
Facebook Page - for Clash Collectors to share unusual & interesting items like..Vinyl. Badges, Posters, etc anything by the Clash. Search Clash City Collectors & enter search in search box. Place, venue, etc



Clash on Parole - excellent
Facebook page - The only page that matters
Search Clash on Parole & enter search in the search box. Place, venue, etc



Clash City Snappers
Anything to do with The Clash. Photos inspired by lyrics, song titles, music, artwork, members, attitude, rhetoric,haunts,locations etc, of the greatest and coolest rock 'n' roll band ever.Tributes to Joe especially wanted. Pictures of graffitti, murals, music collections, memorabilia all welcome. No limit to postings. Don't wait to be invited, just join and upload.
Search Flickr / Clash City Snappers
Search Flickr / 'The Clash'
Search Flickr / 'The Clash' ticket



I saw The Clash at Bonds - excellent
Facebook page - The Clash played a series of 17 concerts at Bond's Casino in New York City in May and June of 1981 in support of their album Sandinista!. Due to their wide publicity, the concerts became an important moment in the history of the Clash. Search I Saw The Clash at Bonds & enter search in red box. Place, venue, etc



Loving the Clash
Facebook page - The only Clash page that is totally dedicated to the last gang in town. Search Loving The Clash & enter search in the search box. Place, venue, etc



Blackmarketclash.co.uk
Facebook page - Our very own Facebook page. Search Blackmarketclash.co.uk & enter search in red box. Place, venue, etc



Search all of Twitter
Search Enter as below - Twitter All of these words eg Bonds and in this exact phrase, enter 'The Clash'



www.theclash.com/
Images on the offical Clash site. http://www.theclash.com/gallery



www.theclash.com/ (all images via google).
Images on the offical Clash site. site:http://www.theclash.com/