Out of Control Tour '84
updated 2 Sept 2016 with better audio information
major update May 2020




No known audio or video
If you know of any recording, please email blackmarketclash

Did you go? What do you remember?
We are looking for scans - articles - tickets - posters - flyers - handbills - memorabilia - photos - comments / any info - you might have. Anything welcome.
Please email blackmarketclash or post below on bmc facebook post.


Please leave any comments on the facebook page above








The Clash perform in Alumni Arena on April 28, 1984, during the seminal punk band's final North American tour. Photo: University of Buffalo Archives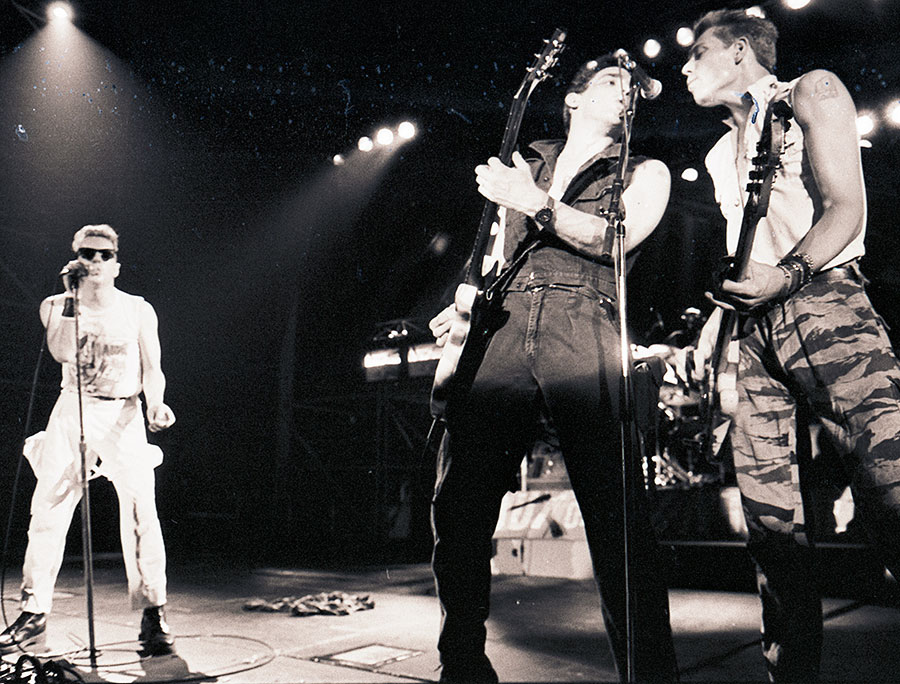 Did you go? What do you remember?
Info, articles, reviews, comments or photos welcome.
Please email blackmarketclash

Karl: I attended the April 28 1984 Clash show in Buffalo NY. It was at State University of New York at Buffalo, in the Alumni Arena on campus.
Somewhere around here I have a setlist that I wrote down from memory that
night, as well as a newspaper ad for the show, possibly my ticket stub, and
a review in the university paper with a photograph.
Just checking to see if you can use this sort of info on your site (which is excellent by the way).
If so, ill start digging it up to scan for you. Thanks.

Advert



Alumni Arena is a multi-purpose arena in Amherst, New York.
The arena is home to the State University of New York at Buffalo men's and women's basketball teams, the women's volleyball team, and wrestling team.
The facility has a capacity of 6,783 people for basketball games. The Arena opened December 3, 1982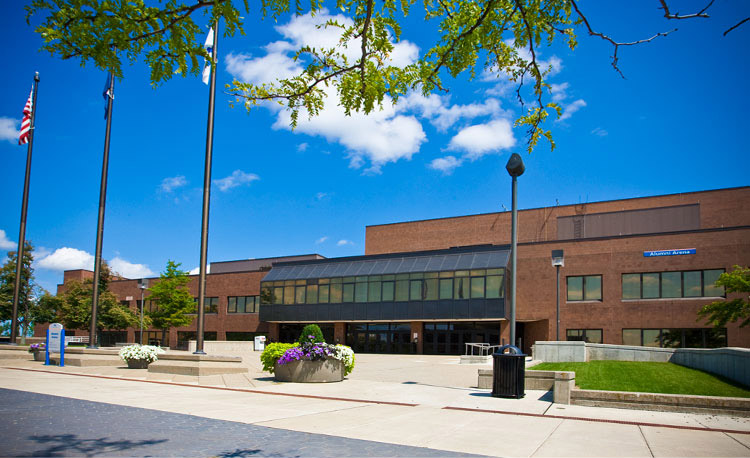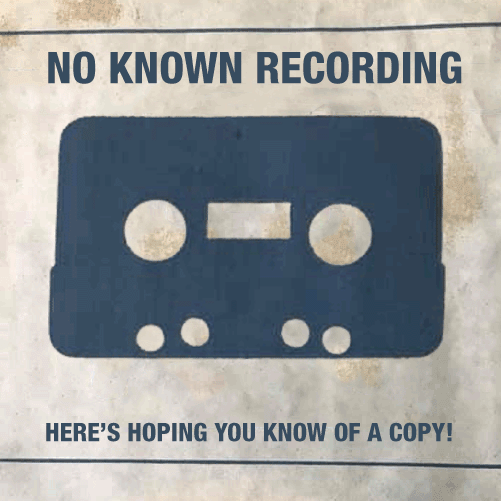 No known audio or video
If you know of any recording, please email blackmarketclash
Clash setlist April 1984 - an upstate NY college (not sure which one). London Calling missing from top.. could be Oswego, St Lawrance or Buffalo.

There are several sights that provide setlists but most mirror www.blackmarketclash.co.uk. They are worth checking.

from Setlist FM (cannot be relied on)
from Songkick (cannot be relied on)
... both have lists of people who say they went
& from the newer Concert Database
Also useful: Ultimate Music datbase, All Music, Clash books at DISCOGS


A collection of interviews, features, articles and tour information from April to August 1984.


If you know of any articles or references for this particular gig, anything that is missing, please do let us know.

Strummer Interview on Jones prior to Clash gig
Canadas Globe & Mail - 28 April 84

Clash Give Excellent Concert But Miss Mick Jones
Griffin Gig report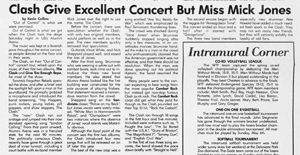 Checkout Vince White's Clash biog, The Last Days of the Clash

We Are The Clash: Reagan, Thatcher, and the Last Stand of a Band That Mattered
By Mark Andersen, Ralph Heibutzki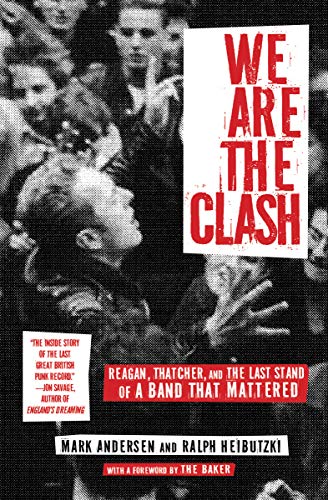 If you know any please let us know

Search all of facebook
Search all of Twitter
Search for a local library
Search auction site
Search flickr
Search Instagram
Search the internet


Any further info, articles, reviews, comments or photos welcome.
Submit an article here
We are looking for scans - articles - tickets - posters - flyers - handbills - memorabilia - photos - comments / any information - you might have.


Please like and post on our Facebook page or alternatively email blackmarketclash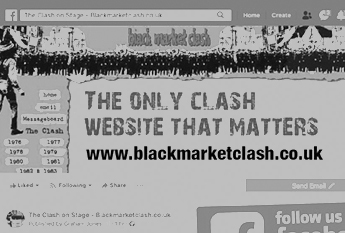 You can also follow us on Twitter
We also have a Clash Twitter list of other notable Clash Twitter accounts here



The Clash - Toronto Bus Interview April 1984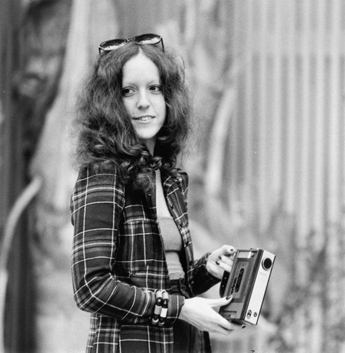 Joe Strummer interviewed by Lisa Robinson for WNYC?
This 2-part interview presents polar extremes of Joe Strummer. The first part most likely takes place in late 1983, after Mick Jones left the band but before the new Clash line-up started touring together. The majority of this segment involves Strummer heatedly discussing all the reasons Jones was fired. He then goes on to talk animatedly about the new incarnation of the band and how everyone in America is on drugs.
In the second part of the interview, recorded in the beginning of 1984, Strummer sounds melancholy and exhausted. However, with the departure of Mick Jones from The Clash being old news by this point, Lisa Robinson is able to steer the questioning towards what Strummer makes of performing, success, and his music.
Part 1
00:00 Why Mick was fired: emotional blackmail
01:15 Bitterness
01:56 Success vs. personal problems
02:48 Mick's vision for the band / guitar synth
03:59 Who/what constitutes The Clash
06:10 Making a not-so-great Clash album: Combat Rock
07:05 Glyn Johns saves Combat Rock (as per Joe Strummer)
07:55 Glyn Johns ruins Combat Rock (as per Mick Jones)
08:35 Forcing Mick Jones to sing "Should I Stay or Should I Go?"
10:22 An honorable way for a band to go out
11:00 The two new guitarists (Vince White, Nick Sheppard)
11:39 Hoping to be possessed
12:40 A divorced writing partnership with Mick / "Death is a Star"
14:02 Writing with Paul Simonon / road-testing new songs
14:55 Pete Howard on drums
15:07 Recording a new album
15:49 The US Festival
16:46 Everybody in America is on drugs
18:29 [phone]: Mick Jones' response
Part 2
00:00 Other aspirations / graphic artist
00:51 Growing up with a diplomat father
01:57 A feeling of homelessness
02:29 Slagged for being middle-class
02:59 The reaction in Britain to the disbanding of The Clash
03:45 Taking some criticisms to heart
04:25 Not enjoying playing in stadiums
05:45 Crowd behavior / whose fault
07:13 The ideal performing situation
07:49 Pros and cons for The Clash getting bigger
08:30 Avoiding the problems of The Who
09:09 The commercial success of Combat Rock
10:48 [A false start]
11:07 Joe's opinion of The Clash's music
12:11 Musical influences
12:45 The blues boom of the 60's in Britain
15:05 Re-selling R&B to the U.S.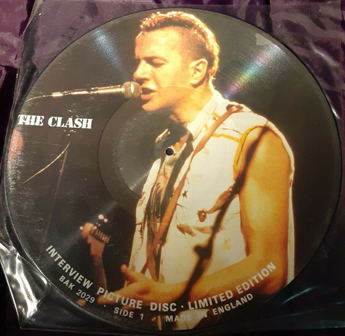 Joe Strummer Interview Ltd Edition picture disk


Blackmarketclash Links
Extensive links page can be found here with links to web, twitter, Facebook, traders etc..


If Music Could Talk
The best Clash messageboard and which also has links to downloads on its megalists

www.Blackmarketclash.co.uk
Go here for uploads and downloads. It's not a massive space so its on an as and when basis.


Contact your local library here and see if they can help.
If you are searching for articles in the USA - DPLA Find the local US library link here



WorldCat? - find your local library Link
British Newspaper Archive - United Kingdom Link (£££ / trial period)
Newspaper ARCHIVE - USA+ Link ($$$ / trial period)
Historical Newspapers - USA & beyond $$$ Link ($$$ / trial period)
Elephind.com - international Link (free)
New York Times - USA Link ($$$)
Gallica - France - Not very helpful Link (free)
Explore the British Library Link (free to UK users - ask if you find something)
Trove - Australia National Library Link (free)




The Official Clash
Search @theclash & enter search in search box. Place, venue, etc



Clash City Collectors - excellent
Facebook Page - for Clash Collectors to share unusual & interesting items like..Vinyl. Badges, Posters, etc anything by the Clash. Search Clash City Collectors & enter search in search box. Place, venue, etc



Clash on Parole - excellent
Facebook page - The only page that matters
Search Clash on Parole & enter search in the search box. Place, venue, etc



Clash City Snappers
Anything to do with The Clash. Photos inspired by lyrics, song titles, music, artwork, members, attitude, rhetoric,haunts,locations etc, of the greatest and coolest rock 'n' roll band ever.Tributes to Joe especially wanted. Pictures of graffitti, murals, music collections, memorabilia all welcome. No limit to postings. Don't wait to be invited, just join and upload.
Search Flickr / Clash City Snappers
Search Flickr / 'The Clash'
Search Flickr / 'The Clash' ticket



I saw The Clash at Bonds - excellent
Facebook page - The Clash played a series of 17 concerts at Bond's Casino in New York City in May and June of 1981 in support of their album Sandinista!. Due to their wide publicity, the concerts became an important moment in the history of the Clash. Search I Saw The Clash at Bonds & enter search in red box. Place, venue, etc



Loving the Clash
Facebook page - The only Clash page that is totally dedicated to the last gang in town. Search Loving The Clash & enter search in the search box. Place, venue, etc



Blackmarketclash.co.uk
Facebook page - Our very own Facebook page. Search Blackmarketclash.co.uk & enter search in red box. Place, venue, etc



Search all of Twitter
Search Enter as below - Twitter All of these words eg Bonds and in this exact phrase, enter 'The Clash'



www.theclash.com/
Images on the offical Clash site. http://www.theclash.com/gallery



www.theclash.com/ (all images via google).
Images on the offical Clash site. site:http://www.theclash.com/