updated 12 Feb 2008 - added clippings & Grand rapids gig review
updated 4 October 2015 - added full gig review



Audio 1 -
master - poor copies circulate - 92min - low? - tracks 22
Audio to follow

The only recording in circulation is very close to the master, stereo micro phoned audience recording. The recording suffers from distance to the stage and a lack of range. Joe's vocals are the clearest (Mick's more distant) but the drum sand guitars sound is weak and ill defined.  Sound quality is better than Chicago the night before but still not enough clarity or range to be really enjoyable.  
The recording appears to be complete however there are two versions of Rock The Casbah, seemingly from the same source? The first loses the last third of the song but has the best sound   and the second is almost complete losing a few seconds at the start. Then abruptly stops at the end.
Despite the sound deficiencies (there are better sounding ones from this tour) it is not at all an unenjoyable bootleg which coupled with the quality of the performances make it well worth seeking out.


After the two nights in Chicago the tour rolled onto Grand Rapids, Michigan and the first of rap legend's Kurtis Blow's support slots for the band. The Clash with their choice of support acts were continuing to innovate, challenge and turn on their mainly white US audiences to the new black American music they were into. 
Kurtis (Walker) Blow, rapper, record producer, singer, actor, DJ, dancer and minister was already in 1982 (when he provided both a support act and master of ceremonies role for these Clash gigs) the first commercially successful rapper and was signed to a major record label.  The band brought Kurtis on to perform with them on Magnificent Seven. A year earlier at Bonds the Clash's handpicked opening act, Grand Master Flash and the Furious Five were booed off the stage on opening night but here Kurtis Blow was treated (with some exceptions) politely even enthusiastically (although from accounts there was some booing at Pier 84 in New York.)
The only circulating recording captures another fine energetic gig and whilst it's decent sound quality is inferior to the best ones from the tour it's still well worth seeking out.  
Kurtis Blow
Kurt Walker was born in Harlem in 1959 and began DJ'ing under the name Kool DJ Kurt. In 1979, aged twenty, Kurtis Blow became the first rapper to be signed by a major label, Mercury, which released "Christmas Rappin'". It sold over 500,000 copies.[4] Its follow-up, "The Breaks", a single from his 1980 debut album, is the first certified gold record rap song. He released ten albums over the next eleven years but towards the end of the 1980s, his recording career waned and he moved into production where he has been responsible for hits by The Fat Boys and Run DMC (Run began his career billed as 'The Son of Kurtis Blow'). Lovebug Starski, Dr. Jekyll and Mr. Hyde, Full Force, Russell Simmons and Wyclef Jean all have been produced by, or collaborated with, Walker. 
In Chronicles: Volume One, Bob Dylan says he knew Kurtis Blow and that it was he who introduced Dylan to the rap genre of the time (mentioning contemporary artists like Ice-T, N.W.A and Public Enemy). Dylan also appears on the first track "Street Rock" of Kurtis Blows 1986 album Kingdom Blow.
Kurtis has spoken out emphatically against racism. He was an active participant in the Artists Against Apartheid record "Sun City". Kurt has worked with Rev. Jesse Jackson's Operation Push and National Rainbow Coalition in Chicago. Kurt has also worked with Rev. Al Sharpton's Action Network in New York City. In 1996 he was featured in a hip hop display at the Rock and Roll Hall of Fame. 
He became an ordained minister in 2009 as the founder of The Hip Hop Church, where he   serves as rapper, DJ, worship leader and minister. 
Will 2013: I saw The Clash in Grand Rapids, Michigan on August 14, 1982, just before my senior year in high school. They were my favorite band too. I had illusions of a new decade of youth rebellion and awesome music (boy, did that turn out wrong). Kurtis Blow was the opening act, and the mostly white audience wasn't hip to rap. There were some racist jerks yelling at him. When The Clash came out Mick Jones wore a camouflage net over his face for like three numbers, until Joe Strummer pulled it off and threw it. I was on the floor, pretty close, and the human stink got really bad, jammed in that crowd. After the show I couldn't find one of my sisters and so my other sister and my friends and I looked around downtown for her. Then we went back to the auditorium where we found out we could go backstage. There was my sister eating from the buffet table and there was the Clash. I was pissed off because we could have been with the band that whole time. Joe was seated in a corner, surrounded by fans, looking like Colonel Kurtz, all mysterious. Mick was holding court, standing in the center of the room. He looked at me so I approached. My idiot friend said, "It was great." Mick and I waited for him to say something else, and he repeated "It was great." I started babbling about the situation in my industrial hometown. Soon it was time for the band to go. We headed out and walked a ways out on the bridge over the Grand River. In a few minutes we saw a station wagon pulling away from the auditorium and we could see the Clash inside. My idiot friend started running full tilt at the car. The driver braked, and I can remember seeing Paul Simonon and Mick looking on nervously. My friend suddenly stopped and waved at them, as we all did. The band waved back, and they drove off into history.
Press review
The Grand Rapids Press August 16th 1982 [link] ran a review and photo of the gig. The reviewer clearly not a fan did admit they were  "the kind of  rock band it's hard not to like " but wrote "The Clash shows an inordinate tendency to avoid the traditional melodic form"! "The enthusiastic near sell-out crowd"  heard a 22 song 90 minute set which was "a mixed bag" There is criticism of making the audience wait 40 minutes after Kurtis Blow and  "To have the funkster trying to pump his soul for almost 20 minutes  was unfair to both audience  and to the artist"  Impossible to make out what Strummer was singing about, he wrote and "The Clash seem to be a perceptive , high minded yet ordinary rock band whose music too often sounds like the band's name." !


The recording starts as the intro music begins, there's some knocking on the mics and there is some chatter at times during the recording but otherwise it captures the again very enthusiastic audience well. London Calling is still played fast and urgent (unlike some gigs later in the tour), Joe again is animated and in good voice, Mick varies his solo yet again; still improvising/experimenting. Next up Know Your Rights is again fast and hard.
"Lighting up Mr Jackson ..is that a crutch I see before me, handle caught my hand (?) that's Shakespeare!"  says Joe in jest half remembering his Macbeth before the band delivers a tight This Is Radio Clash. The sound quality might not be that great but The Clash on stage audibly were that night, the recording capturing the excitement if not the musicality of the performance. Joe adlibs some and skats and woops Strummer style over the extended instrumental ending.
"For those of you who've seen us before I'd like to introduce Mr Terry Chimes on the drum kit" Car Jamming is urgent and tight, the US audience very enthusiastic and more so than on some of the UK tour. White Man in the Hammersmith Palais next up, the drum sound poor bit Joe's in top form, adlibbing over the extended ending. "Mr Paul Simonon to the microphone"; Guns of Brixton an aural assault, Mick adds his effects and guitar fills.
"Ok Mick's gonna sing in English and I'm going to follow in Spanish"; an energetic Should I Stay is followed by "Woop woop warp" and The Call Up but Mick's guitar too buried  in the sound to be really effective. After the "Hup 2-3-4's" from Joe and audience fade Mick shouts" 1-2-3-4 "and the band slam into Career Opportunities. An enjoyable
Junco Partner is followed by Mick's Train In Vain.
Following an edit the recording goes straight into an incomplete Rock The Casbah, losing the last third. Curiously a second Rock The Casbah then follows which is complete except for the start, both versions appearing to sound like they come from the same recording. The recording (second CD) then restarts with Brand New Cadillac followed by Wrong Em Boyo (no gap between the two parts this time) followed by Somebody Got Murdered on which Mick picks out another variation on the intro. The audience roars back on the "Hurrah" on the set staple on this tour to date, English Civil War.
The Clash are varying the songs and the order of songs on this (what will be a long tour) to keep their interest, here ending the main set with Safe European Home (and the gig with I Fought The law). An edit into the first encore (not obvious) and Joe adlibs some on Armagideon Time before Mick belts out Police On My Back. Magnificent Seven is in the encores to bring on Kurtis Blow and to impress on the audience their endorsement of him. Midsong Joe breaks into "Now what do we have for entertainment. I'd like to bring on Mr. Kurtis Blow" who raps a little as the band play on. He then gets into his MC role "If you love The Clash everybody scream". Certainly no boos for him audible only cheers and after the short interlude before Joe comes back in to continue the song. A 6 minute highlight.
Again after a barely audible edit the second encore begins with the usual Straight to Hell. Then another edit; cuts off Joe's introduction to their cover of Toots and the Maytals, Pressure Drop "We're just about to murder one of their greatest hits. Mick's lead guitar here is clearer here and impressive. The gig ends with a charge through of I Fought The Law and an "Adios" from Joe.
By Stephen Holden
Published: September 5, 1982
The Clash's opening-night concert of a three-night stand at Pier 84 last Tuesday was everything that last year's debacle at the Bond International Casino wasn't. The sound system made the band's leftist political slogans relatively clear, and the open-air setting gave both them and the audience room to breathe.
Last year the Clash's handpicked opening act, the New York rap group Grand Master Flash and the Furious Five, was booed off the stage on opening night. This year, Kurtis Blow, a New York rap star who served as master of ceremonies, was treated politely. There were virtually no signs that the Clash had been having its usual share of troubles. Recently the drummer, Topper Headon, left after a dispute about the band's political direction. And their latest album, ''Combat Rock,'' has been roundly trounced by a number of East Coast critics who had originally championed the band.
But for all the Clash's troubles, Tuesday's concert seemed downright jolly. One was impressed by the zany humor of its current dance-rock hit, ''Rock the Casbah,'' which pokes fun at politics in the Middle East. And it's hard-rock rap song, ''The Magnificent Seven,'' holds up as as landmark rock-funk hybrid. Terry Chimes, the group's original drummer, who has replaced Mr. Headon, more than held his own, keeping the rhythms tight and militant while avoiding tedious rat-a-tat-tat, and Joe Strummer's raspy good-hearted singing reminded a listener of the Bob Dylan of the 1960's. Despite all its problems, the band seems here to stay. Steph an rock and roll change anything?
By PETER CARBONARA
W.H. Auden wrote, "Poetry changes nothing." Joe Strummer doesn't buy that. Last Wednesday, Strummer, wearing a Mohawk haircut and what looked like a yellow flak-jacket, led the Clash through a ragged, wandering set at Pier 86. Looking tired and pissed-off, Strummer stopped playing during a few songs, and sang with his hands on the microphone, eyes closed, as if he were trying to pretend he was somewhere else. For a few months in 1977, the Clash were the punk band (just beneath the Sex Pistols, of course). This was working-class fury, this was teenage rebellion, this was rock and roll. But it didn't take long for the English music press to disown the Clash after they signed a contract with CBS records for what were big bills by punk standards. As the band branched out musically, trying to inject melody of all things into punk, they were reviled at home for heresy. "Train in Vain," a love song from the London Calling album was a hit in America, but English rock fans ignored it. What had the Clash done wrong? They had strayed from the path of political correctness that they themselves had helped establish. English punk was supposed to be overtly political, meaning openly leftist. By writing songs that were less furious musically and with lyrics that were stories about people instead of political manifestos, the Clash earned the scorn
of English fans and critics to whom rock is no mere musical form, but in fact a primary propaganda weapon in the ongoing battle against a nebulous them. What used to be called "new wave" seems to have taken two paths. The first is the one the Clash have tried to follow through most of their career—angry, alienated youth speaking out against the system. The Clash cultivated an image of themselves as representative of the bored English kid, under-educated, unemployed, the little guy who had been screwed by them, the politicians, the bosses and factoryowners, the rich and the powerful. The other school of new rock that emerged in the late 70s, responded to hard times by ignoring them. The most talented practitioner is probably Elvis Costello. Writing songs that are self-consciously "pop" tunes, Costello will sometimes touch on politics, but usually as a metaphor for personal relations. The Clash concerned themselves with the people, the opressed masses. Costello is interested in particular people within the mass. Both Elvis Costello and the Clash have released albums this summer and both played in New York in the last two weeks. The concerts said a lot about which vein of rock music seemed richer and also about what Auden said about poetry. The Clash were listless on stage Wednesday night. Strummer seemed annoyed at the crowd, which had responded to a 10 minute-long set by rapper, Kurtis Blow with boos and shouting. The gesture of having a black act open for the band was lost on the white audience. The Clash should have expected no less. When Grandmaster Flash opened for them last summer at Bond's his reception was something less than warm. The way the audience abused Blow created a sour atmosphere that the Clash seemed unable or unwilling to dispel. The group played their old songs without passion and went into extended jams on some of their newer material. The crowd stood up and cheered (especially for the horrific hit single, "Should I Stay or Should I Go?"—another love song) but, the Clash could have cared less. They hurried through the obligatory encores and left. Costello, who played Forest Hills two weeks ago and did two nights at Pier 86 last week, was in rare form. While some of the fury of his early years seemed to have faded, Costello was confident on stage and sang with power and subtlety. Almost all of the songs he did at Forest Hills were about love, usually love lost or otherwise gone wrong. While Costello ocassionally lets himself get cynical, at Forest Hills, both in song selection and performance, he emphasized the romantic aspect of his work. The guarded optimism of his new songs suited him well and his performance was earnest and to the point.
The Clash would probably be horrified to think of their music as entertainment or even art. In a lot of their songs they bemoan or celebrate a situation with a feeling that singing about it will change it. If anything, political rock like the Clash's encourages inaction and apathy. If you listen to a song about El Salvador that encourages you to feel righteous and superior to them— the evil-doers, you're safely rid of a fear of that evil. You don't have to do anything when you can sit by your stereo, knowing that you are morally superior to the Salvadoran security police. Far from being agitprop, the Clash's political songs lend themselves to the kind of selfsatisfaction that went with the protest songs of the early 60s. The Clash kid their audience that listening to the music will somehow put them on the front lines. The white kids who booed Kurtis Blow can't be the kind of advance guard the Clash had in mind. Not that there isn't a place for political rock—it just shouldn't take itself with the leaden seriousness that the Clash are being crushed under. It doesn't matter that much. It can comment on situations, reflect situations, say things that are worth saying. But rock and roll by a band that records for a huge conglomerate, licenses it's name out for cheap t-shirts and charges people 10 bucks each to see them is not going to overthrow capitalism anytime in the near future. The Clash seem to appreciate the contradiction but they haven't been able to think of a way out yet. They probably won't until they reconcile themselves to the fact
that they can't change the world with their music. Until then, they'll The real difference between Costello and the Clash is that Elvis Costello didn't perform at Forest Hills Tennis Stadium to change anything. It was a good performance of good songs, a two hour dialogue between a performer and an audience. It wasn't a pep rally. Costello didn't sing about love because he thought anyone would leave the show intending to change the nature of romance. Costello's music is a commentary, a reflection of an aspect of life and Costello is smart enough not to mistake the reflection for the real thing-
probably make a lot of bad albums and put on a lot of boring shows. Elvis Costello is not in that bind because unlike the Clash, he has not failed to make an intelligent distincition between art and life. Life is what happens to you. Art is how you react to it. Rock songs, no matter how good they are, can't anticipate life, can't get white teenagers from Long Island to fight in South America. Art changes nothing because while it may be about politics, it is not politics. Costello's songs are about his life, not the other way around.
SPECTATOR/ED KEATING I'M NOT ANGRY: Elvis Costello, no longer attacking everyone in sight, is the closest thing his generation's got to Frank Sinatra.en Holden olumbia Daily Spectator, Volume CVII, Number 2, 8 September 1982
2 Responses to "Photos: The Clash, St Paul Civic Center, September 1979- four photos"


Did you go? What do you remember?
Info, articles, reviews, comments or photos welcome.
Please email blackmarketclash


The Civic Auditorium, a neo-classical building completed in 1932, was constructed on the east Constructed in 1932 as the art-deco centrepiece of Grand Rapids, the Welsh Civic Auditorium hosted hundreds of Big Band concerts during the first half of the century, and later welcomed the likes of Simon and Garfunkel and Johnny Cash among a long list of top-name performers. The facility was demolished in 2003 to allow for a $220 million renovation project designed to convert the interior into a ballroom for the DeVos Place Convention Center, which shares a wall with the existing auditorium. The Welsh's original limestone facades and lobby were kept intact.
In 1982 for The Clash gig the 3,800-seat multi-purpose arena was a near sell out, illustrating their rising status as a major act in the US in contrast to the band's static popularity in the UK where smaller venues outside of the "Clash cities" struggled to sell-out.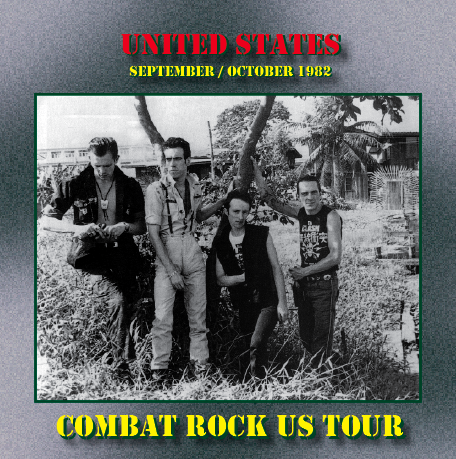 0
1
2
3
4
5
6
7
8
9
10
11
12
13
14
15
16
17
18
19
20

London Calling
Know Your Rights
This Is Radio Clash
Car Jamming
White Man In Ham
The Guns Of Brixton
Should I Stay Or Should I Go?
Call Up
Career Opportunities
Junco Partner
Train In Vain
Rock the Casbah
Brand New Cadillac
Wrong 'Em Boyo
Somebody Got Murdered
English Civil War
Safe European Home
Armagideon Time
Police On My Back
The Magnificent Seven
Straight to Hell
Pressure Drop
I Fought the Law


There are several sights that provide setlists but most mirror www.blackmarketclash.co.uk. They are worth checking.
from Setlist FM (cannot be relied on)
from Songkick (cannot be relied on)
... both have lists of people who say they went
& from the newer Concert Database
Also useful: Ultimate Music datbase, All Music, Clash books at DISCOGS

A collection of articles, interviews, memorabilia from the tour and the period around the tour, August to New Year 1982.

Ebet Roberts
9 excellent photos from New York
musicpictures.com



If you know of any articles or references for this particular gig, anything that is missing, please do let us know.

Grand Rapids Press - Gig Review

ROCK-RAP: THE CLASH
By Stephen Holden - Sep 5, 1982








If you know any please let us know

Search all of facebook
Search all of Twitter
Search for a local library
Search auction site
Search flickr
Search Instagram
Search the internet


Any further info, articles, reviews, comments or photos welcome.
Submit an article here
We are looking for scans - articles - tickets - posters - flyers - handbills - memorabilia - photos - comments / any information - you might have.


Please like and post on our Facebook page or alternatively email blackmarketclash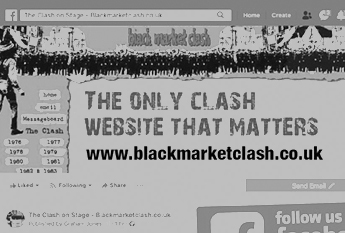 You can also follow us on Twitter
We also have a Clash Twitter list of other notable Clash Twitter accounts here



The Clash Live At Five interview 1982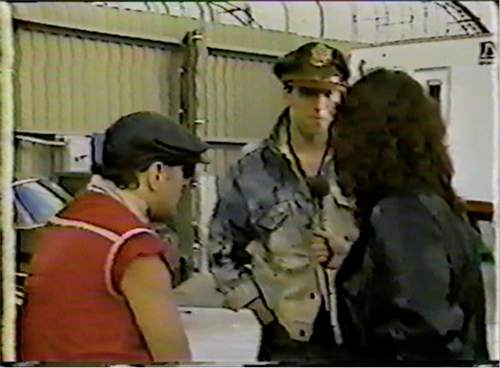 Toronto - at the old Exhibition (Grounds) Stadium - 3 minutes
City Limits - before gig
'City Limits' Clash retrospective - Canadian TV from mid eighties. Two minutes of Tommy Gun live at the O'Keefe plus interview [w/ Pennie Smith?] about torn out seating. Also includes 5 Sep 82 car lot interview and April 84 Tour Bus interview.

SNL Straight to Hell after a mash up of quotes

Joe Strummer & Paul Simonon interviewed on CBS New York News 1982 with a clip outside Shea Stadium

Interview with Mick and Paul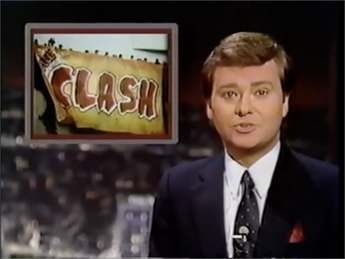 Joe Paul Mick on US Tour, Topper sacked -
Youtube?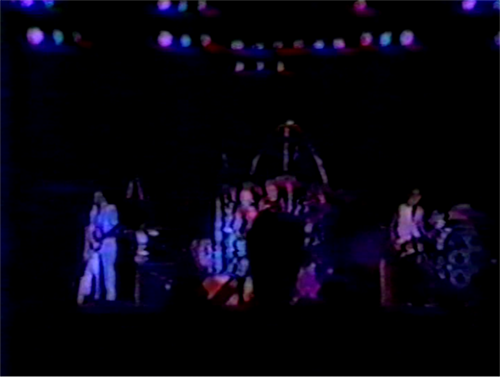 Police on My Back + Interview cut though. Cable news?
Youtube?

May 1982
This very rare interview was filmed just prior to the release of "Combat Rock". It's bookended with Mick Jones and Joe Strummer playing the folk songs "Oh Shenandoah" and Woody Guthrie's "Who's Going To Shoe Your Pretty Little Feet" on a ukulele. We also have other iconic performances from the early punk years by the Sex Pistols, Generation X featuring Billy Idol, the Ramones, Patti Smith, New York Dolls, the Damned, X-Ray Spex, Dead Kennedys, Blondie and other great Clash footage spanning their entire career including a 40-minute set from the London Calling tour.
Reelin' In The Years Productions houses the world's largest library of music footage, containing over 20,000 hours of material covering nearly every genre from the last 60 years. We have live concerts, TV appearances, interviews, in-studio segments, b-roll and more. In addition to music we have thousands of hours of interviews with the most recognizable celebrities, comedians, politicians, athletes, artists and authors of the 20th Century. If you need footage for your film, documentary, TV show, commercial, museum exhibit or presentation, we are your one-stop shop. Visit our online database at http://www.reelinintheyears.com to explore our archive, but please email us as we are constantly adding new material to the archive. We do not supply material to fans or collectors under any circumstance, so please do not contact us if that is your intention.

Jamiaca - Short report 7.45min Interview with Strummer, Simonon and Jones and Police on My Back

Jamiaca -
00:58 Ranking Roger and Mick Jones
01:35 The Clash London Calling (snippet)
01:45 Rita Marley
02:05 Black Uhuru
02:33 The Grateful Dead
02:55 Bill Krautzmann Itw
03:08 Paul Simonon itw
03:16 Peter Tosh
03:23 Joe Strummer (snippet)
03:40 The Clash Police on my back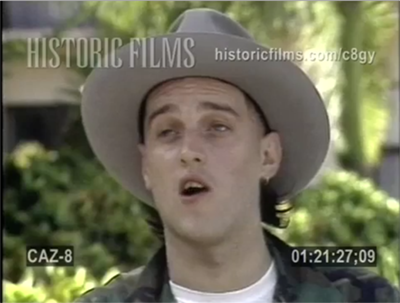 Jamiaca - Interview with Paul Simonon & Kosmo Vinyl of The Clash
Historic Films Stock Footage Archive
info@historicfilms.com / http://www.historicfilms.com

Off the Record with Mary Turner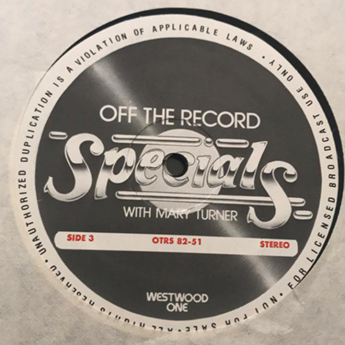 Blackmarketclash Links
Extensive links page can be found here with links to web, twitter, Facebook, traders etc..


If Music Could Talk
The best Clash messageboard and which also has links to downloads on its megalists

www.Blackmarketclash.co.uk
Go here for uploads and downloads. It's not a massive space so its on an as and when basis.


Contact your local library here and see if they can help.
If you are searching for articles in the USA - DPLA Find the local US library link here



WorldCat? - find your local library Link
British Newspaper Archive - United Kingdom Link (£££ / trial period)
Newspaper ARCHIVE - USA+ Link ($$$ / trial period)
Historical Newspapers - USA & beyond $$$ Link ($$$ / trial period)
Elephind.com - international Link (free)
New York Times - USA Link ($$$)
Gallica - France - Not very helpful Link (free)
Explore the British Library Link (free to UK users - ask if you find something)
Trove - Australia National Library Link (free)




The Official Clash
Search @theclash & enter search in search box. Place, venue, etc



Clash City Collectors - excellent
Facebook Page - for Clash Collectors to share unusual & interesting items like..Vinyl. Badges, Posters, etc anything by the Clash. Search Clash City Collectors & enter search in search box. Place, venue, etc



Clash on Parole - excellent
Facebook page - The only page that matters
Search Clash on Parole & enter search in the search box. Place, venue, etc



Clash City Snappers
Anything to do with The Clash. Photos inspired by lyrics, song titles, music, artwork, members, attitude, rhetoric,haunts,locations etc, of the greatest and coolest rock 'n' roll band ever.Tributes to Joe especially wanted. Pictures of graffitti, murals, music collections, memorabilia all welcome. No limit to postings. Don't wait to be invited, just join and upload.
Search Flickr / Clash City Snappers
Search Flickr / 'The Clash'
Search Flickr / 'The Clash' ticket



I saw The Clash at Bonds - excellent
Facebook page - The Clash played a series of 17 concerts at Bond's Casino in New York City in May and June of 1981 in support of their album Sandinista!. Due to their wide publicity, the concerts became an important moment in the history of the Clash. Search I Saw The Clash at Bonds & enter search in red box. Place, venue, etc



Loving the Clash
Facebook page - The only Clash page that is totally dedicated to the last gang in town. Search Loving The Clash & enter search in the search box. Place, venue, etc



Blackmarketclash.co.uk
Facebook page - Our very own Facebook page. Search Blackmarketclash.co.uk & enter search in red box. Place, venue, etc



Search all of Twitter
Search Enter as below - Twitter All of these words eg Bonds and in this exact phrase, enter 'The Clash'



www.theclash.com/
Images on the offical Clash site. http://www.theclash.com/gallery



www.theclash.com/ (all images via google).
Images on the offical Clash site. site:http://www.theclash.com/