Residency - first of seven nights - Supported by Stimulin 

updated 14 June 2007
updated 8 July 2008 - added ticket
updated 1 Aug 2011 - added major audio upgrade vers3
updated 9 Feb 2022 added large poster bottom & added Eve Standard review, added flyer



Poor copies cuirculate. However much better copies have come into circulation including two masters.


Audio 2 - master
Sound 2.5 - time 1hr 56mins - tracks 30
Distortion
I Fought the Law



Audio 3 - alt audience master
Sound 3.5 - time 1hr 49mins - tracks 29 -
Cuts SISOSIG and omits Washington Bullets - includes support Stimulin. major upgrade - clear -
I Fought the Law


Lyceum Bootleggers
Excluding the Hits source which was likely taped specially by the Bootleggers, all the lyceum tapes not made by Derek were taped by the "bruce curtis" gang for sale on the street. My mate "M" taped 60 minutes of the 1st night from the balcony but it sounded so distant he wiped it, peoples conversations were drowning out the quiet songs like broadway. Tim Bucknall
The common circulating tape is awful, though not in quite in the bottom division. beneath the distortion lies a half decent recording. Occasionally segments appear which rise a little, before falling back into a distorted distant sound. The last few tracks are a bit better. It has only 23 tracks.
Derek Harris' master tape is the only circulating recording of the first night. A poor quality recording previously accredited to this night is actually from the 20th. Derek has kindly given an account of his recordings at the Lyceum:
"I worked on the Better Badges stall for all of the Lyceum shows and took my cassette recorder along on most nights, I used Sony's first Walkman recorder, about the size of a house brick and almost as heavy, this was the 3rd model in the Walkman range. That machine had auto record levels which meant that if there was a sudden very loud sound the levels would adjust and there would be an immediate dip in volume followed by a gradual increase in sound until it reached its optimum level. A Sony "Professional" was released in late 82 and this produced excellent results as it had adjustable recording levels, sadly I could never afford this beast.

For the 1st show I stood in the centre of the stalls, thinking I would get a better balance of sound but when I played the tape back I realised that I needed to get closer to the speakers, this meant I had to choose left or right and sacrifice the balance of sound, I chose the right side and as a result Mick's guitar was mostly lost as this was predominantly coming out of the stage-left speakers. 

The later recordings were closer to the right hand speaker stack. On the final tape I stood much closer than on previous nights & the result was the best recording of the bunch, pity I hadn't got closer earlier on and pity I didn't have another C90"
Recorded on a C120 tape it loses the final songs. This first nights recording by Derek has the poorest sound; the most distant and distorted. It lacks decent separation of the instruments but vocals are reasonably clear as are drums and Joe's guitar. Mick's lead guitar is low in the mix and bass is there but blurred. The recording also suffers from an annoying amount of chat near the taper particularly early on.



In keeping with the now established practice since Bernie's return of playing residencies in major cities, The Clash's short UK tour ended with seven nights back at London's Lyceum on the Strand.

They had not played in front of their home town fans for 16 months. By this stage of the tour the band had got wise to the fact that their fans had not swallowed the UK music press line that The Clash were no longer relevant and to prove the point all 7 nights were sold out in advance.

The New Musical Express review of the first night was a typical of the time slagging off. [Young people then and now devour and accept the music press to be hip and anti-establishment. The irony of course is that UK the music press was then and remains almost exclusively owned by IPC Media (Principal shareholder one Michael Heseltine, Conservative Party ex-Minister) whose deliberate policy is one of "build them up to knock 'em down" in order to sell more papers. Six months later the NME was praising the band for Combat Rock] The NME journalist for this first night was Barney Hoskyns (writer of recent books on The Band, West Coast folk rock of the 70's and one on Montgomery Clift!). He laid into support act Stimulin first; "skinny white funk" before describing The Clash as playing decisively unloose funk rock and "wavering sanctimonious pseudo-songs". He said that Mick's guitar playing was the worst the Lyceum had probably witnessed. When Hoskyns strays from the party line  admitting "they can be one shit-ass rock'n'roll band" the Editor adds "Rock'n'bog roll surely" 

It is though a myth that The Clash received negative coverage of the Lyceum residency from the UK press. As can be read from the links here particularly the non music press were very positive and even the Melody Maker included a balanced and insightful piece.

Adam Sweeting in the Melody Maker wrote a piece initially no doubt in line with his editor's wishes concluding "..whose fault is it that, however well they play, their finest hour has passed?" He then though attended 2 more nights and wrote a longer piece "The Clash and the Cocktail Culture" (link to 1st page only) admitting he had warmed to them more and more on each occasion and wondering why it was they were so out of favour with the music press.
"Their sin has been survival & a lot of people seem to feel The Clash should not be here". He likened the current post punk music scene to the era of the flappers of the 20's adding insightfully "this new attitude to me seems like an abject admission of defeat ..Instead of determination we have submission. Instead of heart, we prefer plastic sou.l Maybe everything's too serious and depressing for music to be serious anymore. After the challenges of punk and the early dynamics of it's aftermath I think we're back to worse than square one"
This of course would be a view that Joe would be increasingly drawn to and be particularly vocal about in 1984.

Ned Chaillet writing in The Times (20th October edition so must have seen the 1st or 2nd nights) [link] wrote a highly positive piece although he was obviously a fan even stating that Spirit of St Louis was "atrociously undervalued"! 
"For their return to London they have chosen to give a series of concerts in the Lyceum where dancing is part of the house style and where they are still in touch with the crowd. Not that their new show would disappear in a larger hall for they have come back with one of the most visually extravagant acts in rock. Pulsating lights range across the stage and occasionally flood the Lyceum, slide collages of news events, newspaper pages and people illustrate their songs and an action painter called Futura (2000) scrambles across the screen with spray paints as if decorating a New York subway train….The Clash overpower the visuals and range for more than 2 hours over an extraordinary varied dance repertoire…they are one of the most musically and artistically sophisticated bands in rock..they have grown significantly"   

Simon Frith in the London weekly City Limits [link]wrote a positive pre-residency piece; "..there's no longer any urgency to seize the listener by the arse; the Clash now take for granted their right to make music out of the sounds and signs around them"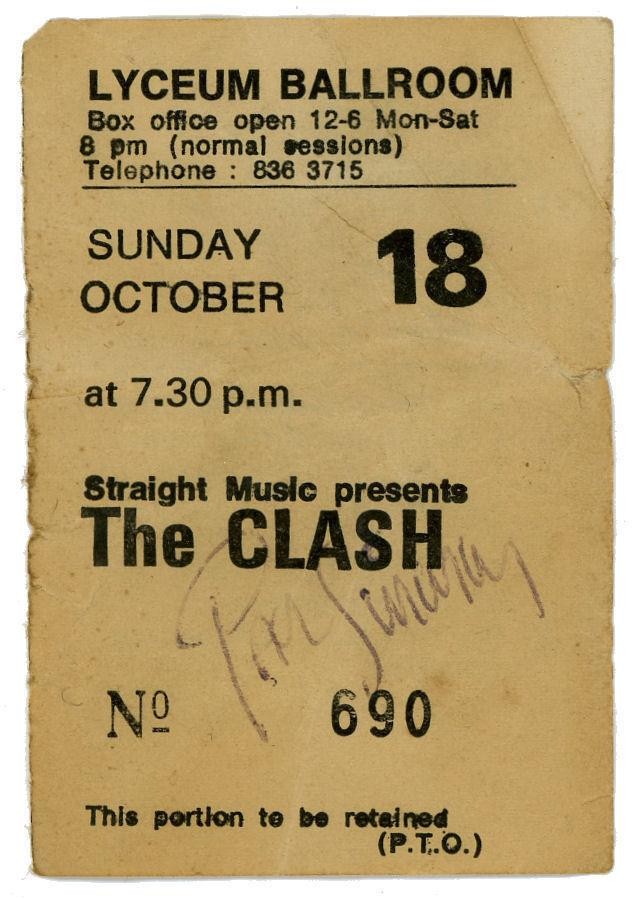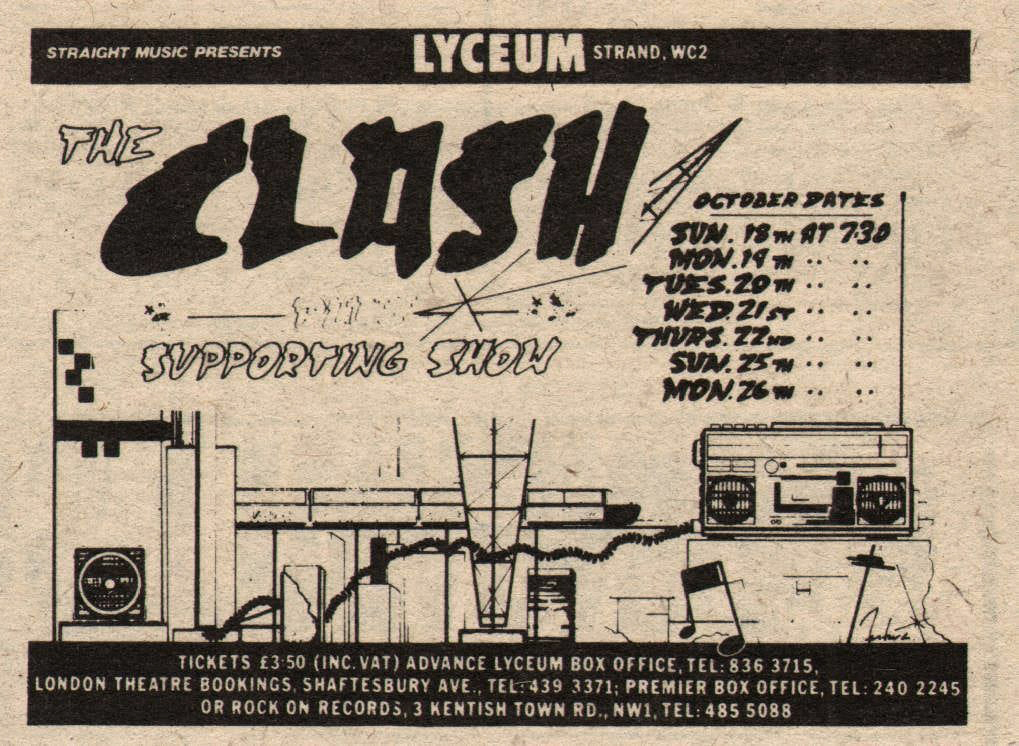 John Blake writing in the Evening Standard (22nd October 1981) [link] wrote a further very positive article;
"They certainly are a motley, looking quartet, all greasy hair, grimy fingernails and clever, wary eyes, more like a cell of the Angry Brigade terrorists than a pop group" "They could have played sell out concerts at Wembley Arena" but Joe interviewed responds "I hate that place. If you are somewhere near the back the band just look like little dots in the distance and the sound is awful. No you wouldn't try to put on a Shakespearean play in Shea Stadium, would you"
One year later presumably he thought he could!
Blake wrote after seeing a Lyceum show
"The Clash are murderous, screaming from one song to the next on a wave of passion and pure energy. Like the Police their music is a fusion of those two dominant sounds of the last decade - punk and reggae. But The Clash have a viciousness and an edge that their rivals lack"


Kris Needs in his book describes how when he went backstage at the Lyceum there "seemed to be a lack of the riotous dressing room unity that I'd encountered on those tours between 1977 and 1979. Both front and back were packed to sardine level. It was more like a reunion with the band members in separate pockets with their own cliques. Topper interviewed by Kris remembers "There'd be two dressing rooms on those tours, Joe, Mick and Paul would be in one with their friends and I'd be in the other with all my druggy mates"

Kris described the Lyceum shows as "a truly eclectic selection now with little to please the fundamentalist spike tops. The Clash were now a mature, spectacularly creative rock'n'roll band, taking you on a sonic world tour rather than coming on like the old commando raid, even if they did start the shows with an air raid siren"

The opinions of Clash fans of the Lyceum performances vary considerably.
Chris Knowles describes the concert on the 22nd as the best Clash gig ever! He wrote "It's as if The Clash understood the power they were capable of wielding and didn't feel the need to play quite so frenetically"
C. Gull remembers "First saw The Clash at the Lyceum, London around this time (1981), being only 14 at the time, it was one of the first gigs I'd ever been to but remains one of the best. Still remember the sheer power of Safe European Home (hairs are standing up back of my neck as I type this), Tommy Gun and London Calling"
This writer saw 3 nights and remembers them as very memorable however in wanting to match the length of time on stage of the likes of the Joe quoted Springsteen inevitably diluted the energy and impact of the live Clash experience. Their set included a significant number of new to their audience songs and the band were now largely ignoring set pacing mixing in the high energy rock'n'roll numbers with the "ragas" even on the encores. Two hours was just too long to sustain total commitment no matter how hard they tried and anyway Springsteen spent half his shows going on about  his adolescence in New Jersey!

Derek Harris (link to Lewis leathers) who thankfully recorded 5 of the nights has provided these recollections:
"As for the performances, the Clash were at their slickest at this point, good live sound, paced and professional they were still very visual and Joe was still his old steam hammer self, but I felt the music plodded a bit compared to previous years, I can't say that I enjoyed these gigs as much as Clash gigs of old and I thought they seemed a bit weary, I particularly enjoyed the Sandinista material when they played it live. 

At the time I knew Futura a bit and introduced him to the Bevington Arms just off Portobello Rd (now an Estate Agents) and just round the corner from Better Badges, I remember introducing him to cockney slang while he introduced me to Grandmaster Flash et al. I always listened-out for Futura's rap as he promised to give me a shout-out and this eventually came and can be heard on one of the tapes but I forget which one.

Better Badges made a badge from a section of the French Mogador gig poster and duly printed-up a few thousand for the UK tour, on the first night, before the doors opened, Bernie Rhodes made a bee-line for the badge stall and, like a magpie, spotted the shiny yellow 1-inch badges and demanded that I give him all of them. I hadn't been briefed on how to deal with this by Joly, Better Badges owner, but I refused to hand them over as they weren't mine and I assured the aggressive Mr Rhodes that we wouldn't rip him off, finally I offered him 500 freebies as a royalty and he was fine with it, it turns out that this was a ritual between BB & BR whenever the Clash did a new tour and the badge royalties were always paid in this manner, apparently 500 badges was the "correct" percentage and I had got it just right. Much to my relief."

With many thanks indeed to Derek Harris there are now recordings circulating of all seven nights at the Lyceum (although not all are complete) so anyone can now make their own assessment of the performances at the Lyceum residency. 



The recording begins as the sirens intro ends and cheers as the band comes on and Joe greets the audience with "Good evening. Welcome to The Clash at the Lyceum, 1981" Joe sings his lyrics to Broadway with emotion and Mick's guitar fills are fine but the audience chat annoyingly near the taper continuously. Why do people talk through the main act that they've paid good money to see? Drinks are cheaper at the pub!

The power of the intro to One More Time comes through despite the sound limitations and the chat around the taper whilst not stopped is at least now largely drowned out by the music! Joe works hard to fire himself and the band up and certainly he's in screaming mode tonight but Hoskyn's comment of "Strummer emitting that strange screech about 5 times during the course of each song" whilst based in fact is somewhat harsh! Certainly Joe and the band are not on top form tonight but still deliver a memorable night for their London faithful.

Joe annoyed at someone in the audience, "This is something that we're writing, Cocksucker, Know Your Rights, all three of them!" A fierce performance, the song developing more and more with each live outing. Next its cheers for Paul "In the left corner"  and Guns of Brixton with a long intro. The lack of separation and harsh sound limits the enjoyment of this recording and thus the performance too. A fine if unexceptional Train In Vain is followed by a dig at journalists there for the first night "and now if there's anybody up there in the bar, I think that's the man from the Daily Telegraph and he's buying the man from The Guardian a drink!" Mick interjects and the band kick into White Man with Joe adlibbing over the ending, "It was just an ordinary Saturday night there was nothing much to do …"

"Well, well, you're lying in your bed and its nice and warm" Joe's preamble is cut short by Topper slamming into Magnificent Seven. Joe gets a bit lost with his lyrics and as the band improvise "take a lunch break here" it gets a little ramshackle but interesting. "Mick's gonna play this one just like it is on the record" and Clash City Rockers is again a highlight of recent concerts. Koka Kola is followed by Ivan Meets GI Joe ("We're gonna force Topper to sing for you!"

"Down the road, down the road" intro's Junco Partner  and Joe uses a funny high pitched voice at start, more grist to Hoskyn's mill! The annoying chat near the taper is still continuing. "Here's an STD number for you" is followed after a few false starts by The Leader which leads straight into I Fought the Law.

Futura 2000 was back for the London dates spray painting a graffiti back drop and singing his rap. Joe introduces him with  "Don't know if you can see behind me, can you see somebody doing something back there? its Futura 2000. Futura come here, never mind that come here! " Graffiti Rap is the same arrangement as at the Mogador and whilst brave was never a natural crowd pleaser!

It's followed by Ghetto defendant with Joe's intro of "This is a new one, you're gonna love this one and all, no I mean it!" Paul's harmonica intro and Joe's vocals and thus the song's lyrical development are fairly clear; the quieter songs are less affected by the recording's deficiencies.

There sounds like an edit just before Spanish Bombs and maybe Mick's playing is not as effective as on some earlier performances of this song in 81 but the rather blown out sound makes comparison's difficult.

With the building intro to a fine Somebody Got Murdered the main set too builds through an intense London Calling (with Joe's screams and cries here very effective) to a climax with a powerful Clampdown (just before though there's a pause and Joe says sarcastically "Hang on, Mick Jones is stuck I'll just push the button!" The momentum gained though is lost again by the inclusion of Radio Clash. It's a very committed performance though with Joe adding at the start "God have mercy for what we are about to receive" Joe barks out the lyrics and the song again gets an extended treatment. As the band leave the stage the cries for more begin after a pause when they realise this is the end of the main set.

The first encore begins with a largely uninspired Charlie Don't Surf complete with some lyric gaffes and followed by Stay Free "A pop song" (Mick's sarky comment). Armagideon Time is a highlight, Joe is in fine voice utilising his vocal chops to great effect here and Mick again adds his ear splitting scream from this tour! A charge through Career Opportunities with Mick in full voice along with Joe is followed by a short but tight Inoculated City. There's next a great long hanging intro from Mick before Joe comes in on a blistering Brand New Cadillac. Without a pause Safe European Home crashes in the audience roaring along; the atmosphere in the Lyceum now electric. Joe's inspired by it to go into an increasingly rare Strummer rant as the band drop it down, "Alright, Rudi told me he was in Jamaica…I told him that in London town …black face skin is gonna get his head put in and Rudi came down to London town, Policeman hit and throwed him down" Much of Joe's adlibbing is unclear but the combined effect with the band building it up to a crescendo is hypnotic. A definite highlight.

The band leave the stage and the audience cheer for more and are rewarded as Topper's drum rolls intro an audience sing-along Bankrobber. Joe sings "this is Mikey Dread singing" in tribute presumably t`o his contribution to the song rather the presence of the absent rasta! Another highlight the band stretch out after Joe's instruction to "head for the hills" featuring Topper's excellent drumming but Mick's guitar fills are too far back in the mix.

"Should I Go or Should I Stay" announces Joe - again putting the title in this word order so presumably no mistake. A typically fast and energetic performance of this new song is followed by Washington Bullets which cuts out as the tape on the C120 ran out. It is probable that a combination of Janie Jones, London's Burning and Complete Control are omitted. 

from the Lyceum residency - night unknown
reproduced from www.repfoto.com - large stockist of Clash photos
repfoto PDf here - other photos here


Did you go? What do you remember?
Info, articles, reviews, comments or photos welcome.
Please email blackmarketclash

First saw The Clash at the Lyceum, London around this time (1981), being only 14 at the time, it was one of the first gigs I'd ever been to but remains one of the best. Still remember the sheer power of Safe European Home (hairs are standing up back of my neck as I type this), Tommy Gun and London Calling.

Also then saw them several times in Brixton through Sandinista and Combat Rock - Straight to Hell what a song!!! Most bizarrely was The Clash busking on the steps of Leeds University Union (1984?) when they were following The Alarm around (crap band -who incidently I first saw supporting The Farmers Boys and they never should have got any higher up the bill!).

Incidently The Clash also had more than one drummer which is enough of a link to the GB's to legitimise this bit of reminiscing, besides which beats working!

C Gull


The Lyceum on Wellington Street, at the end of the Strand, has had various names since the present building was opened in 1834 including English Opera House, Royal Lyceum Theatre but when The Clash graced its Grade II listed stage it was leased to  Mecca as the Lyceum Ballroom hosting concerts and discos.

The venue was chosen because it was the only 2000 plus capacity venue at the time in London with no seats allowing dancing (the upstairs balcony was seated for those who liked to observe not pa rticipate!). 


The Clash and Stimulin at The Lyceum: The Parody Lingers On Barney Hoskyns, NME, 1981

THE PATH of Joe Strummer is, as we know, lined with well-intentioned, golden-hearted errors, and the first of tonight's was Stimulin, whose sound mix was from start to finish a disaster. Diehard Clash zombies didn't care too much for them either. Not that anyone threw beer cans at them, like they did at Grandmaster Flash in New York, but when Alix Sharkey announced that band's last song, there were loud cheers of relief.

Stimulin aren't much more than a very tight drum kit on the best of nights but then their drumperson is a veritable Robbie Mackintosh risen-from-the-grave. Tonight you could hardly hear the guy, which left a sort of muted shuffle of guitar, vibes, and trumpet to struggle under the PA-drowning boom of Alix Sharkey's voice. Sharkey, a kind of Edwyn Collins of the new London art-funk, is ? to put it as briefly as possible ? a bad singer, an ineffectual rhythm guitarist, a nervous stage presence, and a limited songwriter. I guess part of the appeal in this skinny white funk is it's lack of fatback, but pure beat, stripped and streamlined for the Sweat set, is only another meta-music. Tonight's setbacks meant that even their one little bit of glory, 'Strippin' Down', sounded as thought it were coming from under a pile of mattresses.

It's not the Clash's fault that their five-day binge at the Lyceum is really a small-scale replay of the Stones at Earl's Court. It's probably not their fault that a two and quarter hours of The Clash's greatest hits practically bored me to death. The fact remains that the majority of the audience ? the equivalent of Rolling Stones "fans" five years ago ? had "a good time". And who ever said The Clash were exempt from paying the price of fame?

There are more bozos than ever. There's Strummer trying not to be Strummer, but all the same emitting that absurd screech about five times during the course of every song. There's Jones flopping about like a great Pete Townshend puppet and playing some of the worst guitar the Lyceum has probably ever witnessed. And there's Simonon looking more like that oaf in Rude Boy every year. Only Topper isn't desperately trying to avoid self-parody, and thus only he avoids it. What can the poor boys do? They are, after all, inherently ridiculous.

This gig: The Clash aren't terribly exciting on stage ? had you ever noticed? ? and most of their post - Rope songs are just so fake and precious they don't bear thinking about. But then again they can be one shit-ass rock 'n' roll band: you can only love the mess of 'Stay Free', Career Opportunities', 'Brand New Cadillac' ? the only track of real merit on London Cadillac. As for 'Should I Stay or Should I Go?', well, can I just say, thanks, boys?

The major part of the show, however, is all that piffle from London Calling and Sandinista!. You know, those wavering, sanctimonious pseudo-songs like 'Spanish Bombs', 'Somebody Got Murdered', 'Stand By Me', 'Charlie Don't Surf', 'Working For The Clampdown' ... But what's worse is that Jones and Strummer seem to have forgotten how to play guitar, Simonon's bass had no body at all, and every song, rambling on feebly after their last choruses, simply petered out in a flurry of improvised blunders.

Stage appendages: tiger-striped barriers closing over the stage to the sound of air-raid sirens ? in other words, nuked New York ? conscience-appeasing news headlines for 'Guns Of Brixton' (tourist snapshots of Broadway for 'Magnificent Seven'!), Futura 2000 plus cans spraying up a very ugly backdrop and rapping his cameo spot 'Graffiti' ...

Is there any place left for The Clash to go? They're so darned cross-cultural! Playing this set must be like lugging around some encyclopedia of ethnic musical forms. Which isn't so say the lugging hasn't paid off in the past ? 'White Man', 'Armagideon Time', 'Magnificent Seven' ? or that it won't again, but Strummer's earnest attempts to make cultures clash are always a case of hit-or-miss. There are certain Clash signatures which have got pretty wearisome ? the screeches, the painfully-contrived angst, the "genius is pain" grimaces, perhaps the whole Clash beat ? that decisively unloose funk-rock ? itself .

What we got for entertainment? A myth that can only further bind itself in chains, a rock' n' roll legend which can only be effaced by it's own fame. Unless ... but that's another story, an alternative universe.

© Barney Hoskyns, 1981

1
2
3
4
5
6
7
8
9
10
11
12
13
14
15
16
17
18
19
20
21
22
23
24
25
26
27
28
29
30

Intro... Broadway
One More Time
Know your Rights
Guns of Brixton
Train in Vain
White Man in Ham Palais
Magnificent 7
Clash City Rockers
Koka Kola
Ivan Meets Gi Joe
Junco Partner
The Leader
I Fought the Law
Grafitti Rap
Ghetto Defendent
Spanish Bombs
Somebody Got Murdered
London Calling
Clampdown
Radio Clash
Charlie Don't Surf
Stay Free
Armagideon Time
Career Opportunities
Innoculated City
Brand New Cadilac
Safe European Home
Bankrobber
Should I Stay or Should I go
Washington Bullets

There are several sights that provide setlists but most mirror www.blackmarketclash.co.uk. They are worth checking.
from Setlist FM (cannot be relied on)
from Songkick (cannot be relied on)
... both have lists of people who say they went
& from the newer Concert Database
Also useful: Ultimate Music datbase, All Music, Clash books at DISCOGS


If you know of any articles or references for this particular gig, anything that is missing, please do let us know.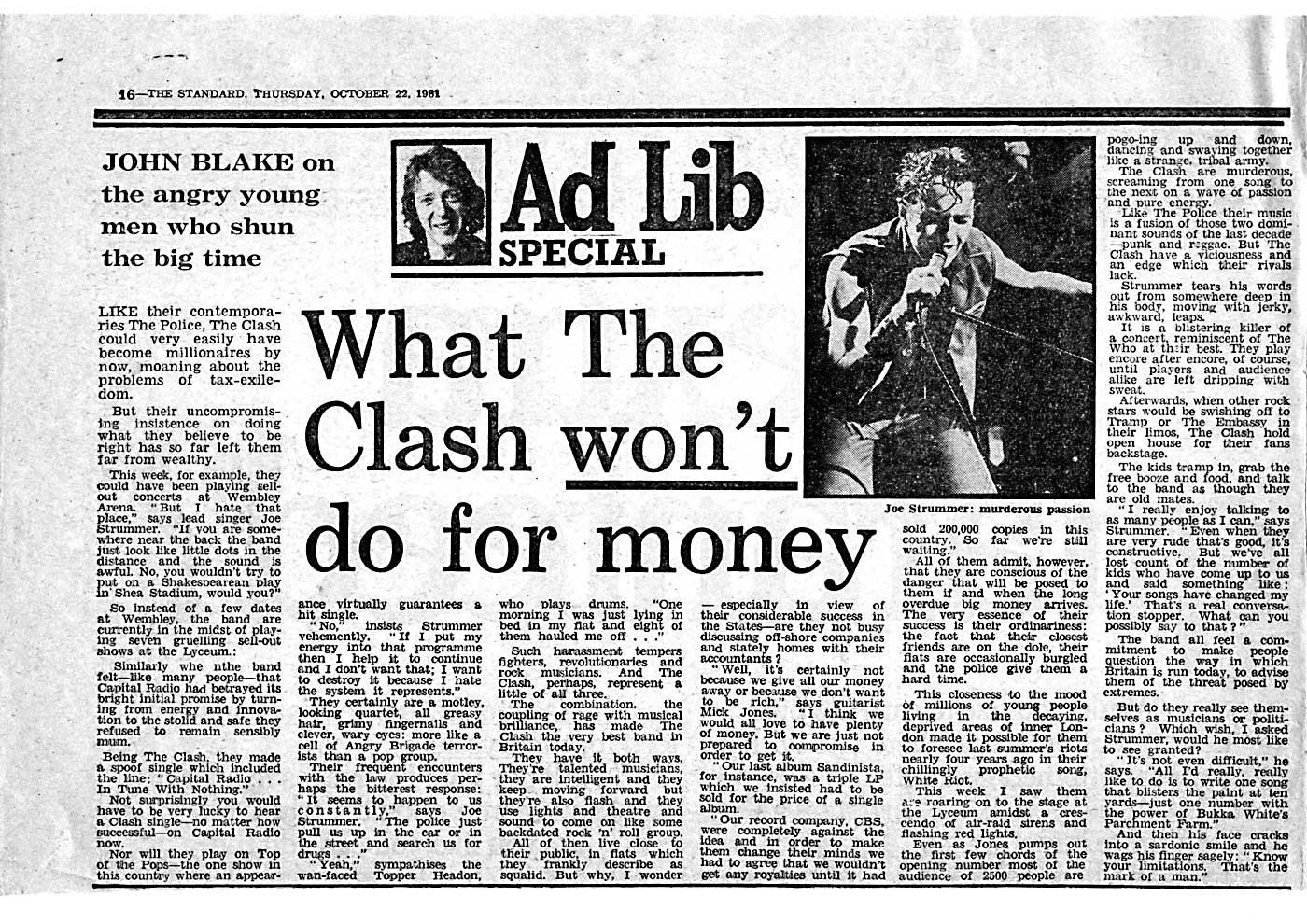 18th October NME gig review
The Clash Stimulin. The path of Joe Strummer is as we know, lined with well intentionedgolden heartederrors and the first of tonights was Stimulin whose sound ix was start to finish a disaster.

18th October The Times gig review
Rock - The Clash - Lyceum - Pub 20 Oct. Apart from producing the best and most varied triple album of rock, Sandinista!; apart from developing a distictand romantic production stylewhich has already...


On the Road with the Clash
Traxmarx - includes this gig








A collection of articles, interviews, reviews, posters, tour dates from the Clash's UK Radio Clash Tour and residency at the London Lyceum. Articles cover the period from October upto the end of the year.


Interview - Electric Lady Studios, NYC - Combat Rock - The Clash

Joe Interview New York (Gun Shaped 7")





If you know any please let us know

Search all of facebook
Search all of Twitter
Search for a local library
Search auction site
Search flickr
Search Instagram
Search the internet


Any further info, articles, reviews, comments or photos welcome.
Submit an article here
We are looking for scans - articles - tickets - posters - flyers - handbills - memorabilia - photos - comments / any information - you might have.


Please like and post on our Facebook page or alternatively email blackmarketclash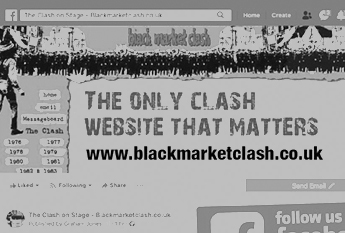 You can also follow us on Twitter
We also have a Clash Twitter list of other notable Clash Twitter accounts here



Blackmarketclash Links
Extensive links page can be found here with links to web, twitter, Facebook, traders etc..


If Music Could Talk
The best Clash messageboard and which also has links to downloads on its megalists

www.Blackmarketclash.co.uk
Go here for uploads and downloads. It's not a massive space so its on an as and when basis.


Contact your local library here and see if they can help.
If you are searching for articles in the USA - DPLA Find the local US library link here



WorldCat? - find your local library Link
British Newspaper Archive - United Kingdom Link (£££ / trial period)
Newspaper ARCHIVE - USA+ Link ($$$ / trial period)
Historical Newspapers - USA & beyond $$$ Link ($$$ / trial period)
Elephind.com - international Link (free)
New York Times - USA Link ($$$)
Gallica - France - Not very helpful Link (free)
Explore the British Library Link (free to UK users - ask if you find something)
Trove - Australia National Library Link (free)




The Official Clash
Search @theclash & enter search in search box. Place, venue, etc



Clash City Collectors - excellent
Facebook Page - for Clash Collectors to share unusual & interesting items like..Vinyl. Badges, Posters, etc anything by the Clash. Search Clash City Collectors & enter search in search box. Place, venue, etc



Clash on Parole - excellent
Facebook page - The only page that matters
Search Clash on Parole & enter search in the search box. Place, venue, etc



Clash City Snappers
Anything to do with The Clash. Photos inspired by lyrics, song titles, music, artwork, members, attitude, rhetoric,haunts,locations etc, of the greatest and coolest rock 'n' roll band ever.Tributes to Joe especially wanted. Pictures of graffitti, murals, music collections, memorabilia all welcome. No limit to postings. Don't wait to be invited, just join and upload.
Search Flickr / Clash City Snappers
Search Flickr / 'The Clash'
Search Flickr / 'The Clash' ticket



I saw The Clash at Bonds - excellent
Facebook page - The Clash played a series of 17 concerts at Bond's Casino in New York City in May and June of 1981 in support of their album Sandinista!. Due to their wide publicity, the concerts became an important moment in the history of the Clash. Search I Saw The Clash at Bonds & enter search in red box. Place, venue, etc



Loving the Clash
Facebook page - The only Clash page that is totally dedicated to the last gang in town. Search Loving The Clash & enter search in the search box. Place, venue, etc



Blackmarketclash.co.uk
Facebook page - Our very own Facebook page. Search Blackmarketclash.co.uk & enter search in red box. Place, venue, etc



Search all of Twitter
Search Enter as below - Twitter All of these words eg Bonds and in this exact phrase, enter 'The Clash'



www.theclash.com/
Images on the offical Clash site. http://www.theclash.com/gallery



www.theclash.com/ (all images via google).
Images on the offical Clash site. site:http://www.theclash.com/