Audio 1 - FM vers.- upgrade dull but better - Sound 3 - 88min - low? - 25 tracks
Safe European Home (bassy variant)

Safe European Home (thiner variant)


Video - full audience recording ciculates
Pro Shot by the venue - Cameras rolled until the band refused to play at Spanish Bombs until teh venue stopped filming - footage thought to be lost.
Copies of this gig vary from crap to above average.

One version is a single cdr with 4 tracks missing. The second was a tape which the reverse of had lost all semblence of sound and was inaudiable losing half the gig.

A third has a better sound but not brilliant. A split mono, the lead, drums and vocals exist but not the bass and the sound range is a bit restricted. Added to this is a slighly distorted sound here, kind of swirling and a touch thin at the top end, though the concert was outdoors.

A fourth one came from a better source but was a bit blown out at the thin end, but not bad. [87.44]

The best one, is an upgrade, full and with reasonable clarity and good mix. It still is affected by the poor acoustics of an outside sound. The sound on theis one is more toward the bottom end. Avoid the other poor ones and get this.

Video - Youtube - Brand New Cadilac

Did you go? What do you remember?
We are looking for scans - articles - tickets - posters - flyers - handbills - memorabilia - photos - comments / any info - you might have. Anything welcome.
Please email blackmarketclash or post below on bmc facebook post.






Backstage Joe meets the White Man from Hammersmith Palais


Next two photos courtesy of



Did you go? What do you remember?
Info, articles, reviews, comments or photos welcome.
Please email blackmarketclash



1
2
3
4
5
6
7
8
9
10
11
12
13
14
15
16
17
18
19
20
21
22
23
24
25

Complete Control
London Calling
Janie Jones
Safe European Home
Hate and War
Garageland
Armagideon Time
The Magnificent Seven
Rock the Casbah
Three Card Trick
Pressure Drop
Police On My Back
What's My Name
Spanish Bombs
Clash City Rockers
London's Burning
Clampdown
Bankrobber
Broadway
Brand New Cadillac
I'm So Bored with the USA
Tommy Gun
I Fought the Law
White Riot
Garageland

There are several sights that provide setlists but most mirror www.blackmarketclash.co.uk. They are worth checking.

from Setlist FM (cannot be relied on)
from Songkick (cannot be relied on)
... both have lists of people who say they went
& from the newer Concert Database
Also useful: Ultimate Music datbase, All Music, Clash books at DISCOGS
Any articles, interviews, reviews, posters, tour dates from the summer of 1985 – to the end of he year



If you know of any articles or references for this particular gig, anything that is missing, please do let us know.

Schlager mag. No 9 1985 - 3 pages
It's from the press conferance the Clash did before the Roskilde Festival gig.The press conferance was in Copenhagen

The Last Days of the Clash - Vince White
page 246, 254.

Chris Knowles
The Essential Clash Bootleg Bible
includes this gig


It's an article (no interview) and photo's from Stockholm 1984 gig.

If you know any please let us know

Search all of facebook
Search all of Twitter
Search for a local library
Search auction site
Search flickr
Search Instagram
Search the internet


Any further info, articles, reviews, comments or photos welcome.
Submit an article here
We are looking for scans - articles - tickets - posters - flyers - handbills - memorabilia - photos - comments / any information - you might have.


Please like and post on our Facebook page or alternatively email blackmarketclash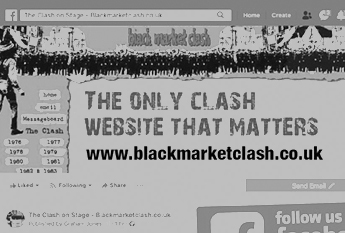 You can also follow us on Twitter
We also have a Clash Twitter list of other notable Clash Twitter accounts here


Blackmarketclash Links
Extensive links page can be found here with links to web, twitter, Facebook, traders etc..


If Music Could Talk
The best Clash messageboard and which also has links to downloads on its megalists

www.Blackmarketclash.co.uk
Go here for uploads and downloads. It's not a massive space so its on an as and when basis.


Contact your local library here and see if they can help.
If you are searching for articles in the USA - DPLA Find the local US library link here



WorldCat? - find your local library Link
British Newspaper Archive - United Kingdom Link (£££ / trial period)
Newspaper ARCHIVE - USA+ Link ($$$ / trial period)
Historical Newspapers - USA & beyond $$$ Link ($$$ / trial period)
Elephind.com - international Link (free)
New York Times - USA Link ($$$)
Gallica - France - Not very helpful Link (free)
Explore the British Library Link (free to UK users - ask if you find something)
Trove - Australia National Library Link (free)




The Official Clash
Search @theclash & enter search in search box. Place, venue, etc



Clash City Collectors - excellent
Facebook Page - for Clash Collectors to share unusual & interesting items like..Vinyl. Badges, Posters, etc anything by the Clash. Search Clash City Collectors & enter search in search box. Place, venue, etc



Clash on Parole - excellent
Facebook page - The only page that matters
Search Clash on Parole & enter search in the search box. Place, venue, etc



Clash City Snappers
Anything to do with The Clash. Photos inspired by lyrics, song titles, music, artwork, members, attitude, rhetoric,haunts,locations etc, of the greatest and coolest rock 'n' roll band ever.Tributes to Joe especially wanted. Pictures of graffitti, murals, music collections, memorabilia all welcome. No limit to postings. Don't wait to be invited, just join and upload.
Search Flickr / Clash City Snappers
Search Flickr / 'The Clash'
Search Flickr / 'The Clash' ticket



I saw The Clash at Bonds - excellent
Facebook page - The Clash played a series of 17 concerts at Bond's Casino in New York City in May and June of 1981 in support of their album Sandinista!. Due to their wide publicity, the concerts became an important moment in the history of the Clash. Search I Saw The Clash at Bonds & enter search in red box. Place, venue, etc



Loving the Clash
Facebook page - The only Clash page that is totally dedicated to the last gang in town. Search Loving The Clash & enter search in the search box. Place, venue, etc



Blackmarketclash.co.uk
Facebook page - Our very own Facebook page. Search Blackmarketclash.co.uk & enter search in red box. Place, venue, etc



Search all of Twitter
Search Enter as below - Twitter All of these words eg Bonds and in this exact phrase, enter 'The Clash'



www.theclash.com/
Images on the offical Clash site. http://www.theclash.com/gallery



www.theclash.com/ (all images via google).
Images on the offical Clash site. site:http://www.theclash.com/