Festa Del Unita Italian Dates as part of the celebrations by the Italian Communist Party who's leader, Enrico Berlinguer, died june 11 1984.
updated 2 Sept 2016 with better audio information



Audio 1.1 - source 1
MASTER - poor but full - Sound 2.5 - 1hr 20mins - 22 tracks
A poor recording but full. The tape turnover is on Guns Of Brixton
Three Card Trick



Audio 1.2 - source 1 but enhanced
1st gen enhanced - average/edited - Sound 3 - 1hr 20mins - 22 tracks
As above but better EQ
Three Card Trick

Just a line to say that in 1984 on 6 of september (i taped the show) i was in Cava de' Tirreni (close to Naples) for a Clash gig at the Stadium.


Audio 2 - source 2
MASTER - alt source - average/edited - Sound 2.5 - 1hr 2mins - 17 tracks
A much better recording though it has some crowd singing. The opening bars of London Calling cut into Police on My Back missing allthe tracks before. The tape turnover is at the end of Brand New Cadilac.
Three Card Trick


Radio interview with Clash fan includes Cava de 'Tirreni
Joe Strummer, the Clash and that raid on the Neapolitan Casbah
Napoli Today 14 April 2014
Potrebbe interessarti: http://www.napolitoday.it/eventi/joe-strummer-i-clash-e-quel-raid-nella-casbah-napoletana.html
It's really a very intense and personal episode, that of "Vacalebrico" broadcast on Monday, April 14, at 10 pm on Europhone Radio ( www.europhoneradio.it). 
n his rock story program, Federico Vacalebre could not miss the story of his expereinecs with the Clash remembering the London meetings just in the year of the explosion of punk, but also an anomalous guided tour of the punk in Naples that on his guitar had written, like Woody Guthrie, "this machine kills fascists". 
The Clash played in Cava de 'Tirreni the sad repertoire of "Cut the crap" and our journalist-narrator took the opportunity to make a ride on a Vespa for Naples to the man who wanted a white revolt worthy of the black ones marked with reggae rhythm: he took him to see the Spanish Quarters,
The reply will be broadcast as usual on the following Saturday, April 19 at 5 pm. However, there is no danger of missing a single appointment: it is possible to listen to the stories of vacalebric notes thanks to the podcasts of each episode aired. You can find them on www.europhoneradio.it in the "Programming" menu, "Vacalebrico" section.
To listen to Vacalebrico from your iPhone or iPad, you can download the free radio application.

Did you go? What do you remember?
We are looking for scans - articles - tickets - posters - flyers - handbills - memorabilia - photos - comments / any info - you might have. Anything welcome.
Please email blackmarketclash or post below on bmc facebook post.


Please leave any comments on the facebook page above


Vince White notes this opening night of the mini-tour in his Clash biography The Last days of the Clash, page 174
I just read on BMC that in Vince White's book he says The Clash played in Salernoalerno on the 4th of Sept. 84.
They played in Cava de' Tirreni that is a small town between Naples and Salerno (15 km to salerno an 40 km to Naples) on the Sept 6. The mistake is due to the fact that at that time the stadium where the Salerno football team played was in Cava (Stadio Simonetta Lamberti).
Cava de' Tirreni is a little town between Naples and Salerno and the gig was held in the stadium there. Joe has been in Naples without the rest of the band several days before the show and he was spotted in several place of the city. Why somnetims it is sugegsted they played in Naples as well as Salerno.
The show was absolutely brilliant: raw, fast and furious. The new songs were absolutely fab, especially TIE. The higlights of the show were Complete and Police on my back (IMHO the best version ever). The lowdowns: Vince' trousers. I should have a couple of pictures taken by me that I will send you when I'll find them. Luca Lanini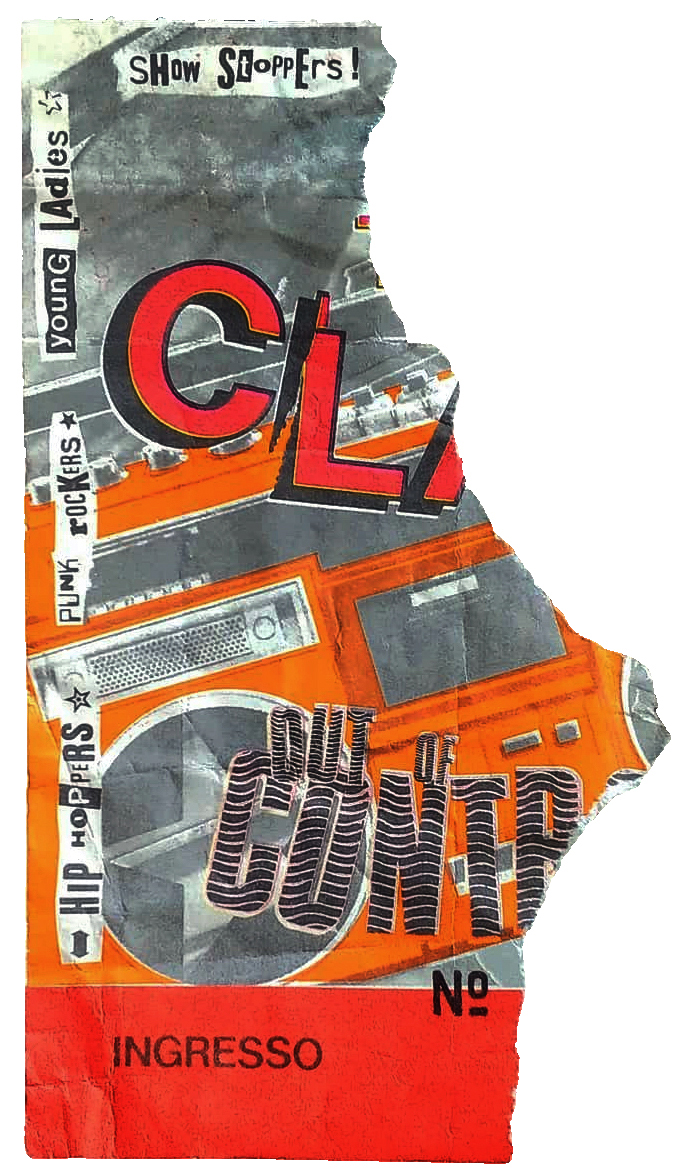 Monday 16 June 2014
THE CLASH - SIMONETTA LAMBERTI MUNICIPAL STADIUM, CAVA DEI TIRRENI

In the 80s the small town of Cava Dei Tirreni (originally an ancient medieval village, located a few km from where I live), in the province of Salerno, was a small "mecca" of live music.
Many remember the legendary Pink Floyd live of 1989 (an event still praised and celebrated with tears by friends and acquaintances) but five years earlier a legendary English punk group had also passed by Cava, almost on the avenue of the sunset: let's talk about The Clash!
At the time, Antonio Pannullo, aka Black Mole , an artist we have already talked about in a recent post, is a young twenty year old fan of punk music and a fan of Joe Strummer and will not miss the opportunity, more unique than rare, to admire one of his youthful heroes.
This is his account ...

How had the city of Cava dei Tirreni prepared for the descent of the legendary The Clash? Was the concert properly advertised? What were your expectations?†

The city, as with all concerts in that period, seemed indifferent to events. The concert was not publicized at all. By chance, walking through the arcades, I came across one of the very few posters stuck around the city and I don't hide the fact that I tore one by taking it home as a relic. Expectations were high, it doesn't happen every day to have a musical legend at home!

What was the location of the concert? How many people attended the event? Were there Italian or foreign bands that played support?†

The concert was held at the Simonetta Lamberti Municipal Stadium. The people who participated were many, the field and the stands were full! No, in those days, at least here, the support group was not used; however, I arrived just before the concert because I had been in Naples hoping to find Strummer who was traveling around the city on a Vespa (obviously he was not driving it).

In the articles of the time (which you can admire in this post) The Clash are painted as a subversive and controversial group. Did this trouble the show? Were there any attempts by institutions to cancel the show?†

No, there were no major problems, only a tight order service and many police officers inside the stadium. At that time, it was 1984, you could not enter with cameras and cameras (the radios yes). However, I did it, the photos testify.

In the Clash that played in Cava dei Tirreni it was no longer the match Mick Jones. At the time there was talk of the second formation of The Clash. Did they live up to their name?†

The show was brilliant also because Strummer, not playing the guitar, could freely sing and jump on stage. The sound was not optimal at the beginning (my cousin recorded the concert with a walkman) the Clash started with London Calling and with it started a hellish pit.

Would I be curious to know the live lineup and which most famous songs were played? Cut The Crap, if I'm not mistaken, was about to be published ...†

They played all their classics White Riot, Tommy Gun, English Civil War, Bankrobber ... I can't remember them in order, however I remember that the new Cut The Crap played This Is England.

How was the Joe Strummer show on stage? Did he use any particular stage gimmick or was it a hard and pure Punk concert?†

Joe was possessed in a white suit with the top of the microphone stand as a radio antenna to spread the verb of Radio Clash. Paul Simonon is also great. Very comfortable the two new guitarists Sheppard and White (with a strange red plaid plaid dress)

I would like to know your personal impressions on this live and if after thirty years it can be considered as legendary?†

Honestly, I was too busy with the event to give you a real judgment on the evening. After so many years I can say I was there and I enjoyed the evening

In 1984 Punk was a slowly fading genre. What was the impact of The Clash on Italian soil and exactly in the south. Were there real punks in the audience?†

More than punk, the audience was the party party! Intellectuals, leftist militants, veterans of the years of lead: all people from Police In My Back

Is there any other curiosity or background that has not yet been revealed after years of this now legendary live?†

At that time in the order service there was an accountant friend of mine who many times made me enter for free at the great concerts of the period and had mentioned to me a possibility of being able to stay down in the changing rooms before the concert. But as said before, in doubt, I had gone to Naples to catch Strummer and I arrived late for the possible visit to the backstage. Shortly afterwards The Clash disbanded definitively.

Did you catch any sign of the end during the live?†

No, the group was in excellent shape, I think it was the aura that had gone out. I don't hide from you that I like the much mistreated Cut The Crap, in fact I have vinyl, tracks like Dictator, Movers & Shakers, Fingherpoppin ', Dirty Punk are good. You can dispute the sound or the production (in my opinion never excellent in any Clash record) but the attitude is that.



Did you go? What do you remember?
Info, articles, reviews, comments or photos welcome.
Please email blackmarketclash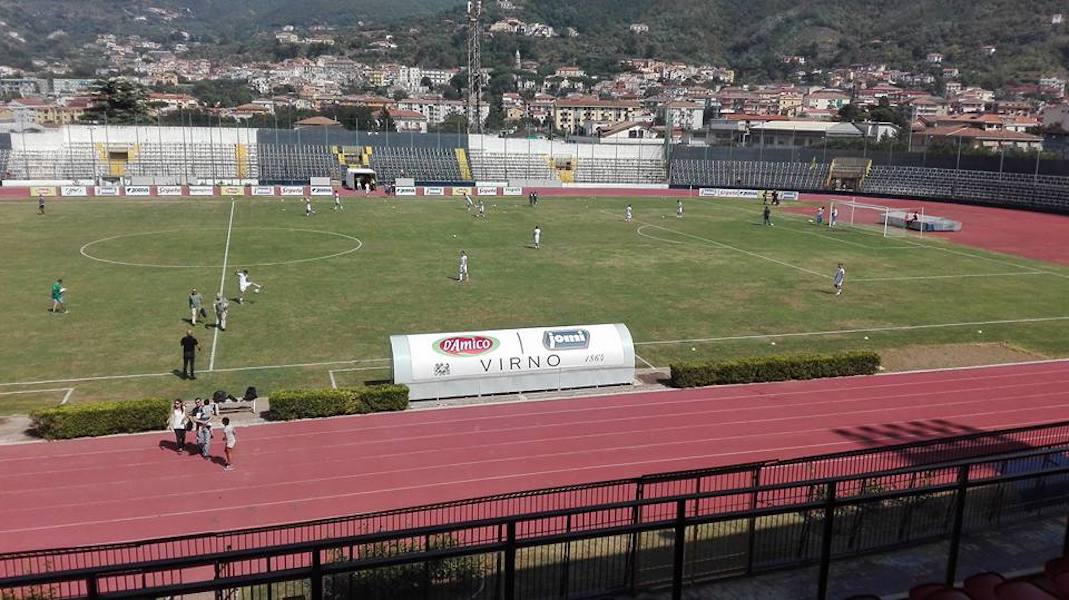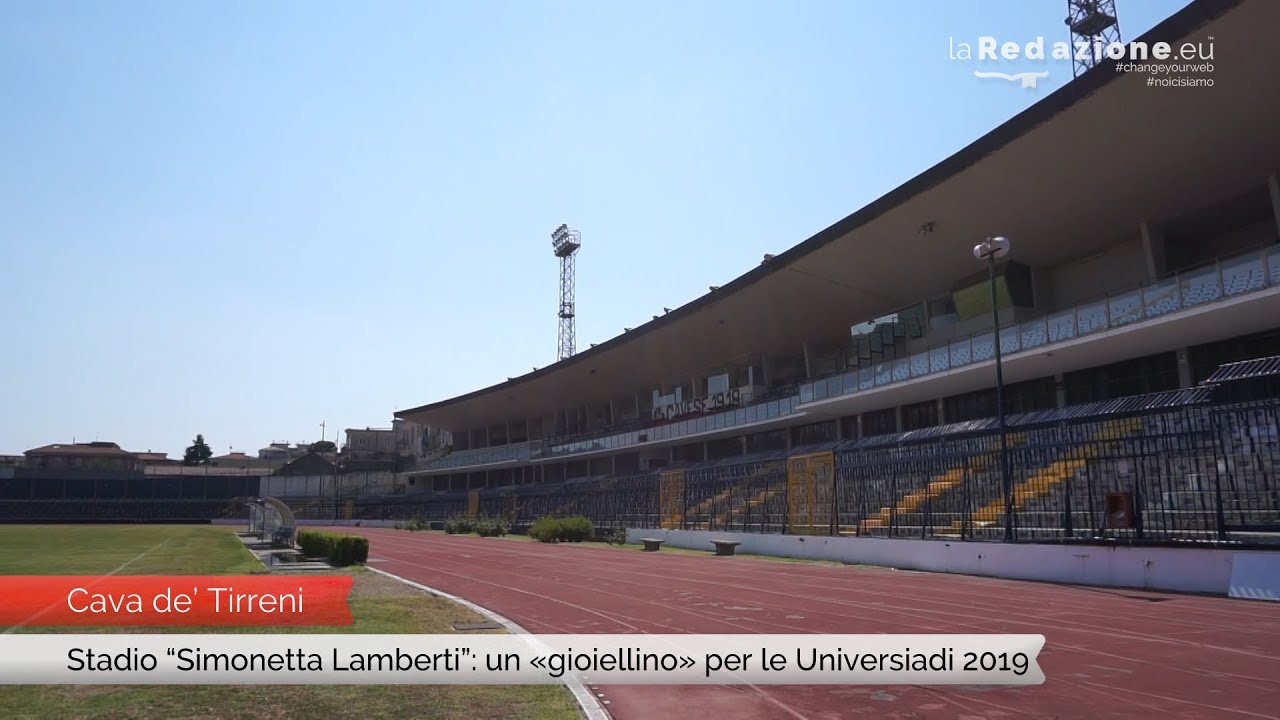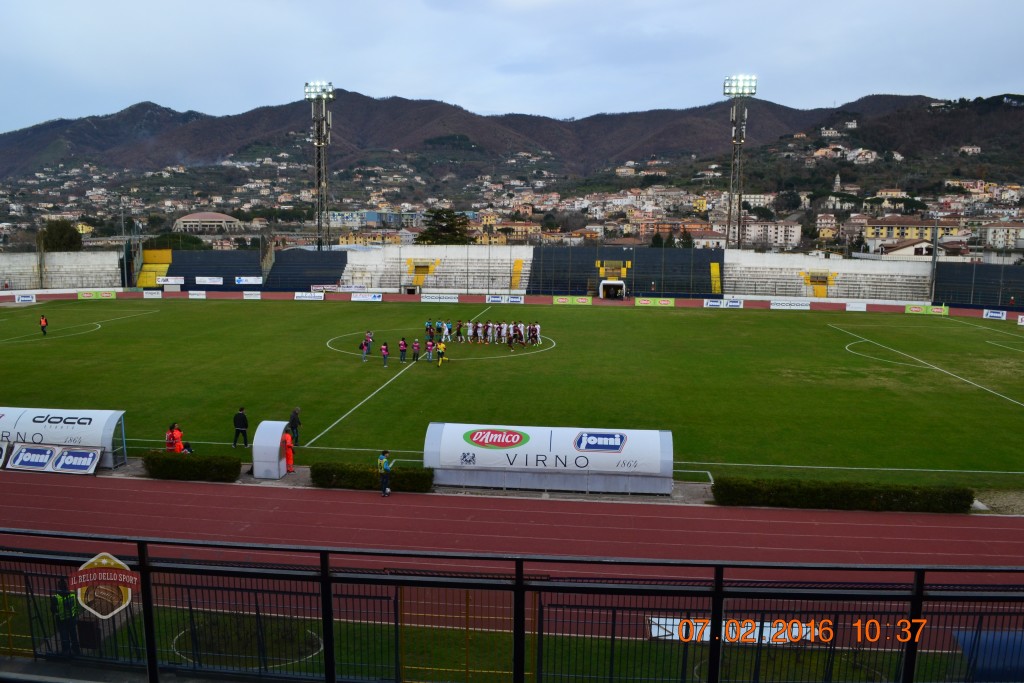 1
2
3
4
5
6
7
8
9
10
11
12
13
14
15
16
17
18
19
20
21
22

London Calling
Safe European Home
Know Your Rights
Complete Control
Are You Ready for War?
Police on My Back
This is England
Police & Thieves
Rock the Casbah
Guns of Brixton
Three Card Trick
Armagideon Time
Clampdown
I Fought the Law
I'm So Bored with the USA
This is Radio Clash
Brand New Cadilac
Janie Jones
Tommy Gun
Should I Stay or Should I Go
English Civil War
White Riot

There are several sights that provide setlists but most mirror www.blackmarketclash.co.uk. They are worth checking.
from Setlist FM (cannot be relied on)
from Songkick (cannot be relied on)
... both have lists of people who say they went
& from the newer Concert Database
Also useful: Ultimate Music datbase, All Music, Clash books at DISCOGS


A collection of interviews, features, articles and tour information from April to August 1984.


If you know of any articles or references for this particular gig, anything that is missing, please do let us know.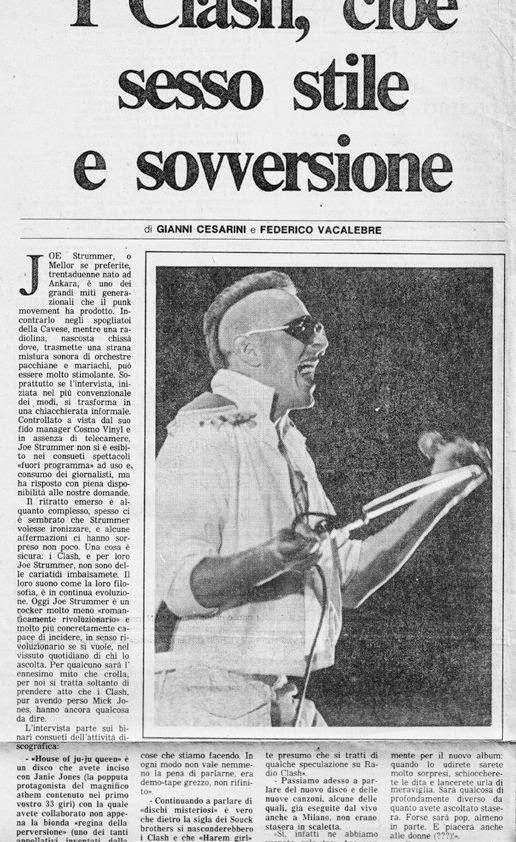 Tour dates - La Stampa – 25 July 1984
La Stampa archives


Rockerilla Mag No50 (Italy) Oct 84
1 page only - english version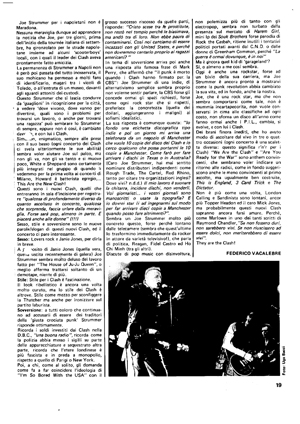 The Clash by di Stefania Bochicchio Oct 84
2 pages only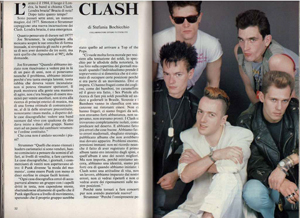 Ciao 2001 (22.04-1984) (italian 1984 music magazine)

Monday 16 June 2014
THE CLASH - SIMONETTA LAMBERTI MUNICIPAL STADIUM, CAVA DEI TIRRENI

PDF - English
English text version

Check out Vince White's Clash biog, The Last Days of the Clash page 174

We Are The Clash: Reagan, Thatcher, and the Last Stand of a Band That Mattered
By Mark Andersen, Ralph Heibutzki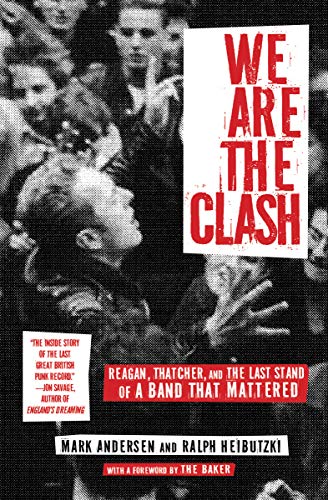 If you know any please let us know

Search all of facebook
Search all of Twitter
Search for a local library
Search auction site
Search flickr
Search Instagram
Search the internet


Any further info, articles, reviews, comments or photos welcome.
Submit an article here
We are looking for scans - articles - tickets - posters - flyers - handbills - memorabilia - photos - comments / any information - you might have.


Please like and post on our Facebook page or alternatively email blackmarketclash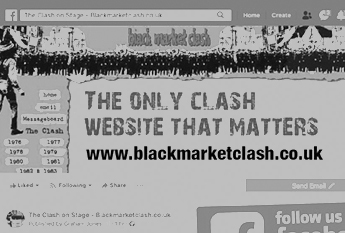 You can also follow us on Twitter
We also have a Clash Twitter list of other notable Clash Twitter accounts here



The Clash - Toronto Bus Interview April 1984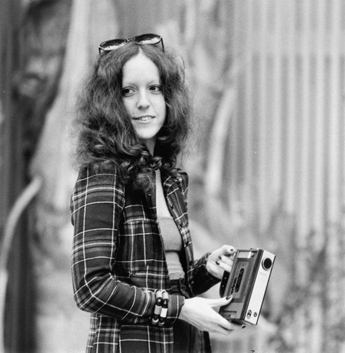 Joe Strummer interviewed by Lisa Robinson for WNYC?
This 2-part interview presents polar extremes of Joe Strummer. The first part most likely takes place in late 1983, after Mick Jones left the band but before the new Clash line-up started touring together. The majority of this segment involves Strummer heatedly discussing all the reasons Jones was fired. He then goes on to talk animatedly about the new incarnation of the band and how everyone in America is on drugs.
In the second part of the interview, recorded in the beginning of 1984, Strummer sounds melancholy and exhausted. However, with the departure of Mick Jones from The Clash being old news by this point, Lisa Robinson is able to steer the questioning towards what Strummer makes of performing, success, and his music.
Part 1
00:00 Why Mick was fired: emotional blackmail
01:15 Bitterness
01:56 Success vs. personal problems
02:48 Mick's vision for the band / guitar synth
03:59 Who/what constitutes The Clash
06:10 Making a not-so-great Clash album: Combat Rock
07:05 Glyn Johns saves Combat Rock (as per Joe Strummer)
07:55 Glyn Johns ruins Combat Rock (as per Mick Jones)
08:35 Forcing Mick Jones to sing "Should I Stay or Should I Go?"
10:22 An honorable way for a band to go out
11:00 The two new guitarists (Vince White, Nick Sheppard)
11:39 Hoping to be possessed
12:40 A divorced writing partnership with Mick / "Death is a Star"
14:02 Writing with Paul Simonon / road-testing new songs
14:55 Pete Howard on drums
15:07 Recording a new album
15:49 The US Festival
16:46 Everybody in America is on drugs
18:29 [phone]: Mick Jones' response
Part 2
00:00 Other aspirations / graphic artist
00:51 Growing up with a diplomat father
01:57 A feeling of homelessness
02:29 Slagged for being middle-class
02:59 The reaction in Britain to the disbanding of The Clash
03:45 Taking some criticisms to heart
04:25 Not enjoying playing in stadiums
05:45 Crowd behavior / whose fault
07:13 The ideal performing situation
07:49 Pros and cons for The Clash getting bigger
08:30 Avoiding the problems of The Who
09:09 The commercial success of Combat Rock
10:48 [A false start]
11:07 Joe's opinion of The Clash's music
12:11 Musical influences
12:45 The blues boom of the 60's in Britain
15:05 Re-selling R&B to the U.S.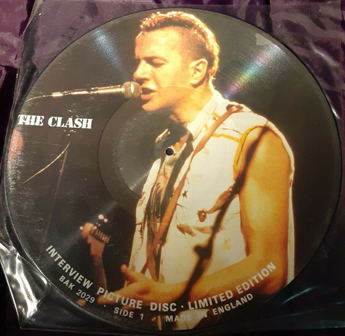 Joe Strummer Interview Ltd Edition picture disk


Blackmarketclash Links
Extensive links page can be found here with links to web, twitter, Facebook, traders etc..


If Music Could Talk
The best Clash messageboard and which also has links to downloads on its megalists

www.Blackmarketclash.co.uk
Go here for uploads and downloads. It's not a massive space so its on an as and when basis.


Contact your local library here and see if they can help.
If you are searching for articles in the USA - DPLA Find the local US library link here



WorldCat? - find your local library Link
British Newspaper Archive - United Kingdom Link (£££ / trial period)
Newspaper ARCHIVE - USA+ Link ($$$ / trial period)
Historical Newspapers - USA & beyond $$$ Link ($$$ / trial period)
Elephind.com - international Link (free)
New York Times - USA Link ($$$)
Gallica - France - Not very helpful Link (free)
Explore the British Library Link (free to UK users - ask if you find something)
Trove - Australia National Library Link (free)




The Official Clash
Search @theclash & enter search in search box. Place, venue, etc



Clash City Collectors - excellent
Facebook Page - for Clash Collectors to share unusual & interesting items like..Vinyl. Badges, Posters, etc anything by the Clash. Search Clash City Collectors & enter search in search box. Place, venue, etc



Clash on Parole - excellent
Facebook page - The only page that matters
Search Clash on Parole & enter search in the search box. Place, venue, etc



Clash City Snappers
Anything to do with The Clash. Photos inspired by lyrics, song titles, music, artwork, members, attitude, rhetoric,haunts,locations etc, of the greatest and coolest rock 'n' roll band ever.Tributes to Joe especially wanted. Pictures of graffitti, murals, music collections, memorabilia all welcome. No limit to postings. Don't wait to be invited, just join and upload.
Search Flickr / Clash City Snappers
Search Flickr / 'The Clash'
Search Flickr / 'The Clash' ticket



I saw The Clash at Bonds - excellent
Facebook page - The Clash played a series of 17 concerts at Bond's Casino in New York City in May and June of 1981 in support of their album Sandinista!. Due to their wide publicity, the concerts became an important moment in the history of the Clash. Search I Saw The Clash at Bonds & enter search in red box. Place, venue, etc



Loving the Clash
Facebook page - The only Clash page that is totally dedicated to the last gang in town. Search Loving The Clash & enter search in the search box. Place, venue, etc



Blackmarketclash.co.uk
Facebook page - Our very own Facebook page. Search Blackmarketclash.co.uk & enter search in red box. Place, venue, etc



Search all of Twitter
Search Enter as below - Twitter All of these words eg Bonds and in this exact phrase, enter 'The Clash'



www.theclash.com/
Images on the offical Clash site. http://www.theclash.com/gallery



www.theclash.com/ (all images via google).
Images on the offical Clash site. site:http://www.theclash.com/