Reunion gig and Tribute night to the late Joe Strummer.
Tom : Acoustic Guitar & Lead Vocals
Clive Timperley : Lead Guitar Vocals
Dan McKeller : bass
Richard Dudanski : Drums/Vocals


Anyhow thanks to John and Richard for some bg info - any additions/corrections welcome

possible CD release from the band

This was a tribute gig for lead singer Joe Strummer.

Richard, Mickey Foote, Dan soundchecking with Roadent checking the cables.
Mickey and Dan at Soundcheck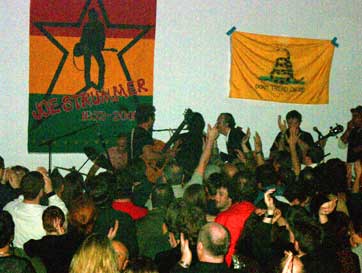 Mick joins on stage for the last three numbers, Janie Jones, Keys to your Heart and Gloria.
Janie Jones with Mick on guitar.